"the universe took its time on you
crafted you to offer the world
something different from everyone else
when you doubt
how you were created
you doubt an energy greater than us both
~
irreplaceable
"
"Adventure may hurt you but monotony will kill you."
– Gurals and MEdia Dragons
"A great way to learn about your country is to leave it."
– Henry Rollins
It's a big wide folkloric world out there.
A world of cultural charms and natural wonders; of mega-cities and remote outposts; of paths to cross and lessons to learn; of limitless kindness and harsh realities.
Travel books, like others, change perspective as we grow older.
Be warned, writes Bouvier, you may "think you are making a trip, but soon it is making you, or unmaking you".
"If we were meant to stay in one place, we'd have roots instead of (folkloric) feet."
– Rachel Wolchin
"Traveling is a brutality. It forces you to trust strangers and to lose sight of all that familiar comforts of home and friends. You are constantly off balance. Nothing is yours except the essential things. Air, sleep, dreams, the sea, the sky. All things tending towards the eternal or what we imagine of it."
– Cesare Pavese


Northern Slovakia Road Trip: Spis castle, Thermal park Vrbov, Tomasovsky Vyhlad

Swimming is the first thing we ever do.
Before we breathe, before we cry, before we crawl, we swim in the waters of the womb. Then the walls close in and we tumble-turn into position, ready to dive into the open air.
- Fiona Capp in Sane Days
In the Thermal Pool Vrbov you will find the right geothermal water, which is considered one of the best mineral waters in Central Europe containing important mineral substances for the human body.
Geothermal water, which the pools are filled by, springs from a depth of over 2000 m and contains minerals with beneficial effects on the musculoskeletal and respiratory system, nervous system, skin and cardiovascular system.

The temperature of the springing water reaches 59 °C. In the pools, the temperature from 26° C to 38 °C is maintained. Substantial relaxation is contributed to by spouts with flushes of running water below which visitors relax their stiff muscles. The swimming pool is very often visited by sportsmen who need to rest and recover strength after hearty skiing or hiking. If anyone needs help from an expert, he or she can benefit from Thai massage with different kinds of massages.

For guests there is a snack bar, you can dine amply at Koliba which is located directly in the area of the thermal swimming pool.
The entry to the pools is located in a newly built glass building, from which a canal leads to the outdoor pools. During the winter season, there are five pools available:

• stainless steel pool with clean water which is equipped with spouts (32° C),
• stainless steel pool - "butterfly" with geothermal water (38° C),
• sitting pool with thermal water (38°C),
• swimming pool with thermal water and temperature (26° C)
• children pool inside the building with clean water (32° C).

Comfort and pleasant relaxation will be certainly evoked by the impressive panoramic view of the Tatra peaks.
"I would rather own a little and see the world than own the world and see a little of it."
– Alexander Sattler
There's something faintly surreal look hi about encountering this spring-fed pool, nestled in a quiet valley clearing within Kosciuszko National Park. This 20-metre concrete rectangle, with an attached kiddie's paddling pool, picnic area and well-manicured lawns, looks like your average community lido, save for two crucial details. Firstly, it's in the middle of dense bushland at least 75km from the nearest town, and secondly, it draws its waters from a reservoir over a kilometre beneath the ground. Warmed to a balmy 27 degrees, this gently mineralised hot spring pool can either be accessed from a nearby carpark, about 700 metres stroll away, or you can make it your reward for completing the three-kilometre River Walk hike. Be sure to factor a visit to the nearby caves – a 12km system with spectacular rock formations.
"I am not the same, having seen the moon shine on the other side of the world."
– Mary Anne Radmacher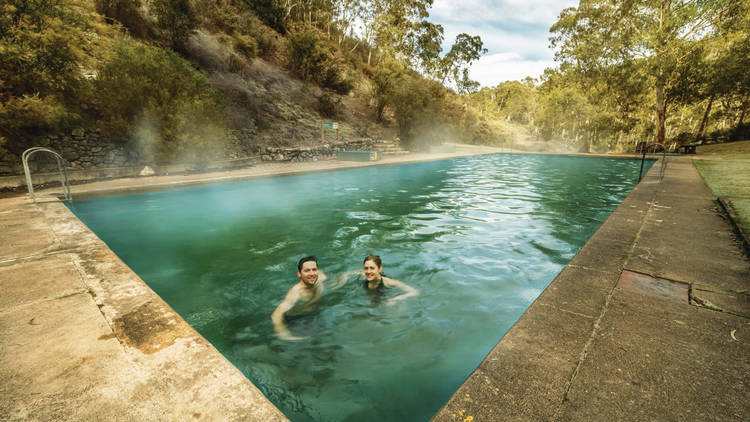 The Yarrangobilly Caves were formed in a belt of limestone which dates back 440 million years. There are an estimated 60 caves in the area, of which four - South Glory Cave, North Glory Cave, Jersey and Jillabenan - are open to the public. The great appeal of Yarrangobilly Caves is that this is much more than an cave experience. It is ideal for bushwalking, trout fishing and there is the mesmerising Thermal Pool where the water, even when there is snow on the ground, is 27°C. And, of course, being in the Snowy Mountains the air seems crisper and cleaner and the night skies are ablaze with stars which seem to shine brighter and sharper.
Yarrangobilly Caves are located 486 km south west of Sydney via the Hume Highway and Snowy Mountains Highway. They are 76 km south of Tumut, 115 km north west of Cooma and 975 m above sea level.
Yarrangobilly Caves Thermal Pool
"Travel is the only thing you buy that makes you richer."
– Anonymous
The Best Travel Books of All Time, According to Authors

Check into the enigmatic and historic 800 year old Jagdschloss Hotel of Count Stolberg-Stolberg and discover Kühtai, a tranquil skiing village high in the mountains of Austrian Tyrol. When Franz Joseph I, the former Austrian Emperor and husband of the captivating empress Sisi, came here to hunt deer and chamois, he had no idea that his beloved Kühtai would one day be one of the most charming ski resorts in the Alps. Nevertheless, until now Kühtai has remained a closely guarded secret. Read more »
"Take nothing but pictures, leave nothing but footprints, kill nothing but time."
– Aliyyah Eniath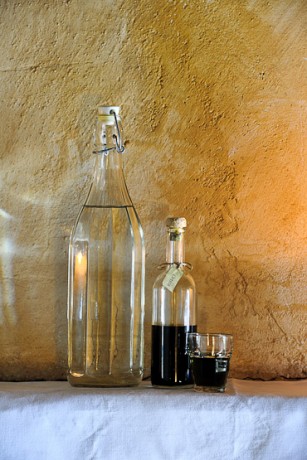 Is the fate of many unique, virtually abandoned villages in the unknown corner of Abruzzo sealed? Not if Swedish-Italian millionaire Daniele Kihlgren can help it. In 1999, a solitary motorbike trip proved to be a revelation for this modern-day idealist. By chance, he stumbled upon the almost-deserted hilltop village of Santo Stefano di Sessanio in the Gran Sasso and Monti della Laga National Park in the Apennines. He was struck speechless, not only by the outstanding beauty of the setting, but also because almost everything was untouched. Read more »
"Traveling – it leaves you speechless, then turns you into a storyteller."
– Ibn Battuta