Have mercy on me, Lord, for I am weak; remember, Lord, how short my time is; remember that I am but flesh, a wind that passeth away, and cometh not again. My days are as grass, as a flower of the field; for the wind goeth over me, and I am gone, and my place shall know me no more.

— Lancelot Andrewes, who died in 1626


Former NSW premier Nick Greiner, who appointed Fahey as a minister, said he had an incredible ability to get along with people right across the political spectrum.
"[He was] a very authentic, very humble guy who was a terrific leader, because he was able to get on with everyone," he told the ABC. "In many ways he was a bit of a boundary spanner."
Fahey was born in Wellington, New Zealand, the son of Stephen Fahey, a farmer, and his wife Annie Fahey of Galway, Ireland.






A young John Fahey had been studying for the priesthood at Springwood seminary when a seismic event on the other side of the world sent his life on a very different course, the Catholic Archbishop of Sydney, Anthony Fisher, told mourners on Friday.
Delivering the homily during a state funeral for the Liberal luminary, Archbishop Fisher said Mr Fahey had been on "silent retreat" towards the end of his first year in the seminary when, "covertly listening to the radio", he heard the news of the assassination of US president John Kennedy and "realised that his calling was to the world".
Faith would remain an enduring pillar of Mr Fahey's life even after his entry into politics, in which the one-time western Sydney solicitor and rugby player rose to become NSW premier, and then later senior federal minister under prime minister John Howard.
Recalling him as a man who was "never one to check his conscience at the cloakroom before entering Parliament or the public square", Archbishop Fisher said that "amid the hurly burly of politics" … [he] always had rosary beads in hand or pocket".
Those same beads were carefully laid on his casket by his wife of more than 50 years, Colleen, at the beginning of the two-hour long service and Mass held at St Mary's Cathedral, which brought together a remarkable collection of current and former political leaders.
They included Prime Minister Scott Morrison, along with three of his predecessors – Tony Abbott, Malcolm Turnbull and Mr Howard himself – and NSW Premier Gladys Berejiklian together with four of her predecessors – Mike Baird, Kristina Keneally, Bob Carr, and Nick Greiner.
Governors and governors-general past and present were also in attendance, as were NSW Opposition Leader Jodi McKay, and a range of state MPs and dignitaries, though the pews were more sparsely occupied than usual because of COVID-19 safety protocols.
Mr Howard said Mr Fahey, whom he had appointed finance minister in 1996, had "achieved something that ... many have tried and failed to do, and that was to make a full success of participation in both state and federal politics".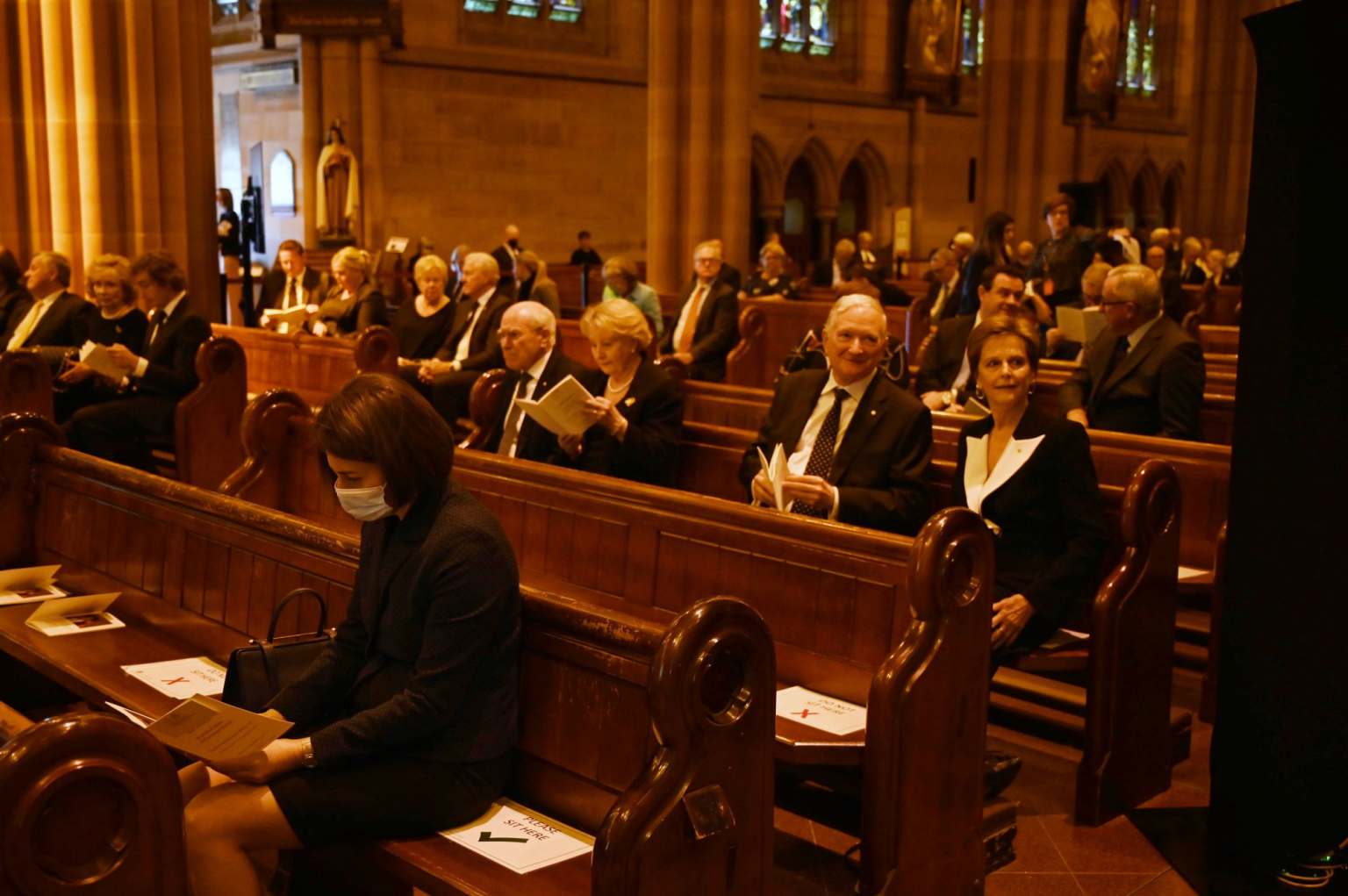 Known for his personal warmth and love of a chat, Mr Fahey had nevertheless "fixed a steady gaze on any minister that had big spending pretensions".
Mr Howard also paid tribute to the "enormous courage" Mr Fahey and his wife had shown after the death of their youngest child, 27-year old Tiffany, in a car accident in 2006, leaving the couple to raise Tiffany's two children, Amber and Campbell.
"It's the character of the man I remember most," Mr Howard said, "the character of a man who brought to the Federal Parliament great decency, high intelligence, diligence and a commitment to the common cause of government … who was respected across the political divide."
Mr Greiner, whom Mr Fahey succeeded as NSW premier in 1992, said Mr Fahey's background had been a "trifle unusual" for a Liberal leader, being "Irish, a Kiwi, from a Labor-voting family ... a Catholic staunch and devout and a touch of Bulldogs rugby league on the side". It had given Mr Fahey his enduring humility and his appeal across all walks of life, Mr Greiner said.
Mr Fahey's surviving daughter, Melanie, speaking by audio link from the US, recalled her father quizzing her teenage suitors on their religion, how they voted, and which football team they supported, the last being "probably the most important question which sealed their fate" if they did not support the Canterbury Bankstown Bulldogs.
She also recalled her father's love of music, quoting lyrics from one of his favourite songs, Simon and Garfunkel's The Boxer: "I am leaving, I am leaving, but the fighter still remains."
There was a moving tribute from Foreign Affairs Minister Minister Marise Payne, a former staffer to Mr Fahey. Usually a picture of composure, Senator Payne struggled to hold back tears as she recalled Mr Fahey's years of mentoring her.
As a member of "JF's team", she said, "you developed a strong passive smoking habit and a big dry-cleaning bill to go along with it, and either an affection for, or livelong aversion to, the scent of black drip-filtered coffee" - but you also "had the most incredible experience".
Our legacy was pretty good': Nick Greiner's 30-year anniversary

Nick Greiner doesn't really do nostalgia.
But the 70-year-old former Liberal premier was in reflective mood as he looked back this week on the 30th anniversary of his coming to power in March 1988, when he unleashed a kind of economic shock and awe on the state's voters through what came to be known as "NSW Inc."
Greiner marked the anniversary with a long lunch at his Eastern Suburbs home last Sunday. Among the 28 guests were those of his former ministers "still living and well enough to be there", a dozen or so former minders, and the triumvirate that helped put his vision into practice: then head of the cabinet office Gary Sturgess, Premier's department head Dick Humphry, and then head of Treasury Percy Allan.
"We rapidly decided that our legacy was pretty good," Greiner says, with his trademark Cheshire Cat grin. "I said in my welcome speech that I thought the reason the government was well remembered, even though it's distant, is that we actually did have a positive vision, whereas most oppositions who get elected do so with either a small target or a big negative approach."