"By all means, marry. If you get a good wife, you will be happy. If you get a bad one, you will be a philosopher."
—Socrates via Simon Longstaff
Happy 14th Wedding Anniversary


The traditional 14th anniversary gift is

ivory

as it is a symbol of patience and stability. The modern gift for the 14 year anniversary is gold jewelry, a perfect gift of beauty to honour 14 years of marriage.

We're out here making our dreams together just like we promised.. .
"Remember that creating a successful marriage is like farming: you have to start over again every morning."
—H. Jackson Brown, Jr


Marriage is a bond between a person who never remembers anniversaries and another who never forgets them.
As sourdough starters turn to sludge in the back of the fridge and spin bikes gather dust in the corner, one pandemic trend is still going strong. Sales of houseplants surged last year and still continue to rise.
One survey
found that two-thirds of nurseries in the U.S. increased their sale of houseplants by 15 percent in 2020. It's kept nursery owners and plant sellers like Enid Offolter not only busy but slammed for the last 18 months.
How can you build muscle without spending hours in a gym each week and spending money on monthly membership dues?


AI Neural Networks typically aim to replicate the functions of the human brain. But with some 86 billion neurons in our brains, well, that makes for a pretty complicated machine. Lots of potential, sure, and fascinating details to explore as they develop, but it's still a lot to handle.
Writing in IEEE Spectrum, Frances Chance proposes a simpler but more efficient solution: modeling AI off of dragonfly brains.
Scientists created a new neural network based on dragonfly brains

We lose so many lives because of misinformation"
Via MetaFilter / hurdy gurdy girl: "The negative effects of disinformation and misinformation around the globe have been clear and disturbing. In response, Stanford University's History Education Group has put together a free curriculum with lesson plans and assessments for teachers and professors. The Civic Online Reasoning curriculum is intended to teach students how to recognize misinformation and disinformation by employing techniques used by professional fact checkers. You have to register (free) to access the lesson plans and assessments, but the videos–hosted by YA author and Crash Course creator John Green–are also available as a YouTube playlist. The curriculum is based on peer-reviewed research and has been tested in real classrooms…"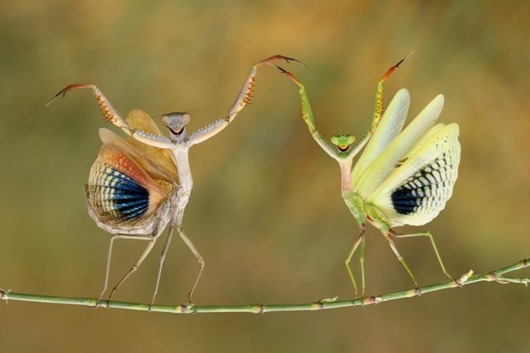 Study – Misinformation on Facebook got six times more clicks than factual news during the 2020 election
Washington Post: "A new study of user behavior on Facebook around the 2020 election is likely to bolster critics' long-standing arguments that the company's algorithms fuel the spread of misinformation over more trustworthy sources. The forthcoming peer-reviewed study by researchers at New York University and the Université Grenoble Alpes in France has found that from August 2020 to January 2021, news publishers known for putting out misinformation got six times the amount of likes, shares, and interactions on the platform as did trustworthy news sources, such as CNN or the World Health Organization. Ever since "fake news" on Facebook became a public concern following the 2016 presidential election, publishers who traffic in misinformation have been repeatedly shown to be able to gain major audiences on the platform. But the NYU study is one of the few comprehensive attempts to measure and isolate the misinformation effect across a wide group of publishers on Facebook, experts said, and its conclusions support the criticism that Facebook's platform rewards publishers that put out misleading accounts…"
An App Called Libby and the Surprisingly Big Business of Library E-books
The New Yorker: "Increasingly, books are something that libraries do not own but borrow from the corporations that do…The sudden shift to e-books had enormous practical and financial implications, not only for OverDrive but for public libraries across the country. Libraries can buy print books in bulk from any seller that they choose, and, thanks to a legal principle called the first-sale doctrine, they have the right to lend those books to any number of readers free of charge. But the first-sale doctrine does not apply to digital content. For the most part, publishers do not sell their e-books or audiobooks to libraries—they sell digital distribution rights to third-party venders, such as OverDrive, and people like Steve Potash sell lending rights to libraries. These rights often have an expiration date, and they make library e-books "a lot more expensive, in general, than print books," Michelle Jeske, who oversees Denver's public-library system, told me. Digital content gives publishers more power over prices, because it allows them to treat libraries differently than they treat other kinds of buyers. Last year, the Denver Public Library increased its digital checkouts by more than sixty per cent, to 2.3 million, and spent about a third of its collections budget on digital content, up from twenty per cent the year before…"
Two brutal tests — can you pass them?
We all give people "tests" when we meet them, whether we are consciously aware of it or not. Here are two of mine:
1. The chess test. When I played chess in my youth, I would commonly analyze games with other players. You would then rapidly learn just how much and how quickly the other player could figure out the position and see imaginative variations. Some players maybe had equal or even inferior results to mine (I had a good work ethic and took no drugs), but it was obvious they were greater talents at analysis. Top chess players who worked with Bobby Fischer also attest that in this regard he was tops, not just "another great player." That was true even before he was good enough and steady enough to become world champion.
When talking ideas with people, the same issue surfaces — just how quickly and how imaginatively do they grasp what is going on? You should put aside whatever they have or have not accomplished. How much do they have this Bobby Fischer-like capacity to analyze? No matter what their recent results have been (remember how Efim Geller used to kick Fischer's butt in actual games?).
2. The art test. Take a person's favorite genres of art, music, whatever. But something outside of their work lives. Maybe it can even be sports. How deeply do they understand the said subject matter? At what kind of level can they talk about it or enjoy it or maybe even practice it?
Remember in Hamlet, how Hamlet puts on a play right before the King's eyes, to see how the King reacts to "art"?
Here we are testing for sensibility more than any kind of rigorous analysis, though the analysis test may kick in as well. Just how deep is the person's deepest sensibility?
If you are investing in talent, you probably would prefer someone really good at one of these tests over someone who is "pretty good" at both of them.
3. All other tests.
Now, people can be very successful while failing both "the chess test" and "the art test." In fact, most successful people fail both of these tests. Still, their kinds of success will be circumscribed. They are more likely to be hard-working, super-sharp, and accomplished, perhaps charismatic as well, while lacking depth and imaginative faculty in their work.
Nonetheless they will be super-focused on being successful.
I call this the success test.
Now if someone can pass the chess test, the art test, and the success test with flying colors…there are such people!
And if the person doesn't pass any of those tests, they still might be just fine, but there will be a definite upper cap on their performance.
Dogs know whether human actions are intentional, study says