Like most things in politics, if you look around you tend to find that something thought of as extraordinary and unprecedented has happened before
One way globalization has increased inequality: via executive pay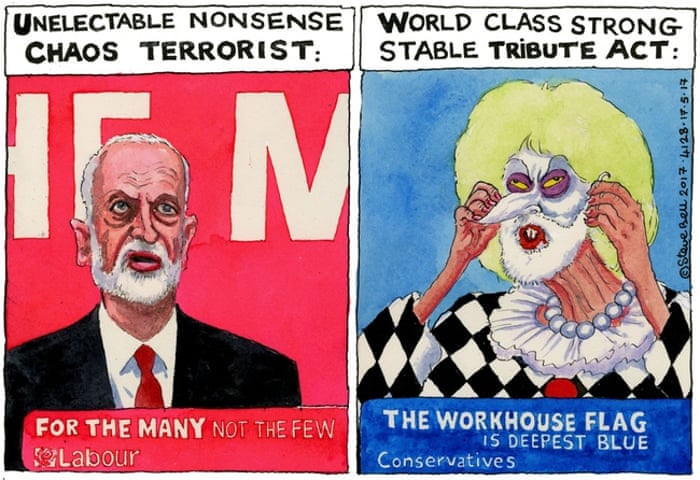 The success of Labour leader Jeremy Corbyn at the UK election hasn't just left the British political class searching for answers.
Predicted to lead his party to a resounding defeat in the UK snap election, Mr Corbyn instead defied expectations, winning an additional 30 seats and sweeping away the ruling Tory party majority, forcing leader Theresa May into a coalition with the Democratic Unionist Party in order to stay in Downing Street
Jeremy Corbyn's success leaves the ALP reflecting on way forward to next election
Corbyn's 'gobsmacking' result confounds critics Financial Times. After nearly 40 years of neoliberal policies, pundits have managed to believe that ordinary citizens are content to get the short end of the stick. The backlash has finally taken place.
Betting companies immediately offered odds on her potential replacements. Irish bookmaker Paddy Power PLC had Britain's Foreign Secretary Boris Johnson in the lead, followed by Brexit minister David Davis and then Treasury chief Philip Hammond.
Dear God, Johnson is a horror and Davis is stupid. Hammond by default is the best of those choices, but was opposed to Brexit. But given that the election appeared to show that voters at most want a "soft Brexit," plus someone who is known to like the EU would have better odds of getting the negotiations on a decent interpersonal footing, he would seem to be the best man the Tories have for the job. Whether they can get their minds around that is another matter entirely.
Pressure in Britain builds on Theresa May to step aside as her top aides resign, her party plots her possible ouster
Like most things in politics, if you look around you tend to find that something thought of as extraordinary and unprecedented has happened before. Or something very like it. It may be no accident that John McDonnell – one of the principal architects ...
For a while, in the early hours of last morning, as millions of votes cast by British voters were being tallied up in counting places by countless faces, it looked as if Labour Party leader Jeremy Corbyn would be putting on his bicycle clips, glo-vest ...
John Wight has written for newspapers and websites across the world, including the Independent, Morning Star, Huffington Post, Counterpunch, London Progressive Journal, and Foreign Policy Journal. He is also a regular commentator on RT and BBC Radio ...
A meditation upon the titles we throw away: "I no longer go to church, since here in the Catskills we have the dump. Ours is the purest iteration of the cathedral: on a windswept rise under a ceiling of sky, the enclosing mountains the choir waiting silently to begin. Beneath the metal eaves of a soaring peaked roof, mortal leavings gather."