Hindsight is preferable to remaining blind ...
Times change, but I have a long memory, which includes Communists who became gods not merely at home but actively parading in public as higher executive beings especially during those Workers Unite May Marches to show off their economic and military powers ... Roosters one day and feather-dusters the next ...
Satan's Credit Card: What The Mark Of The Beast Taught Me About The Future Of Money Buzzfeed
"
History began when humans invented gods, and will end when humans become gods."
My word... I'm starting to sound like a revolutionary ...
Prophet and Professor http://www.ynharari.com aka Yuval Noah Harari
(born same day as our mum not year ;-) 24 February 1976) around a time when MEdia Dragons were recruited as killing robots and drones for the Czechoslovakian Socialist Republic Army... Yuval is Young but wise beyond his vintage at 40 he has already millions of followers on the ner ...
It is hard to miss the warnings. In the race to make computers more intelligent than us, humanity will summon a demon, bring forth the end of days, and code itself into oblivion. Instead of silicon assistants we'll build silicon assassins.
The doomsday story of an evil AI has been told a thousand times. But our fate at the hand of clever cloggs robots may in fact be worse - to summon a class of eternally useless human beings.
As dad used to say big thieves hang those little thieves: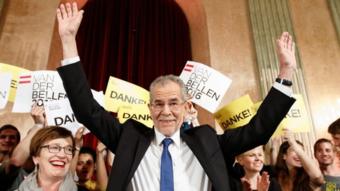 Alexander Van der Bellen has won Austria's presidential election, preventing Norbert Hofer from becoming the EU's first far-right head of state.
Mr Hofer led narrowly after Sunday's election but postal votes gave Mr Van der Bellen victory by 50.3% to 49.7%.
Mr Van der Bellen campaigned on a pro-EU platform backed by the Greens Party
Independent candidate Alexander Van der Bellen has won Austria's presidential election
"I'm not telling you anything that you don't know when I observe that Australia is in the grip of the greatest economic scab grab of my lifetime. By that I mean that the national economic pie is being torn apart by the multitudinous grasping hands of rent seekers "
Discover:
• How eating saturated fat can actively trim your middle
• Why the "eat less, exercise more" prescription fails–and what to do about it
• Why "inner" and "outer" tube fat measurements are important to your health
• How to fight the fat stored inside your liver that leads to hard-to-lose middle-body flab

With The 6-Week Cure for the Middle-Aged Middle the doctor duo that brought you to the low-carb lifestyle shows you how to regain in midlife the figure of sleek, flat-bellied youth.
Squirrel's non existent belly :-)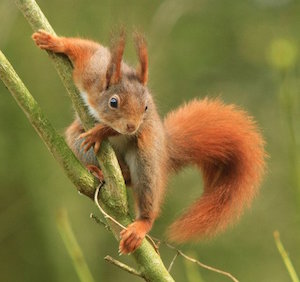 Air Force Gen. Herbert "Hawk" Carlisle, who leads Air Combat Command, said in an interview with USA TODAY that meeting the challenge from the Russian and Chinese to flights in international airspace is essential but dangerous.

"Our concern is a resurgent Russia and a very, very aggressive China," Carlisle said.

Both countries are intent on expanding their spheres of influence — Russia in eastern Europe and the Pacific with China focusing much of its effort over the disputed South China Sea.

"Their intent is to get us not to be there," Carlisle said.
Now where do we pivot?
Iraqi forces backed by airstrikes from a U.S.-led international coalition pounded Fallujah from the ground and the air Monday, marking the start of a bid to retake one of Islamic State's last major urban strongholds in the country.

Iraq's army and counterterrorism forces, police, tribal fighters and the Popular Mobilization Forces joined in the assault, the military's Joint Operations Command said.

Fallujah, about 40 miles west of the Iraqi capital Baghdad, has been held by Islamic State since the Sunni Muslim extremist group captured it in early 2014.
The tragedy is that this city — hard won by Coalition forces led by US Marines in 2004 — was largely at peace before President Obama abandoned Iraq in 2011. Three years later, Obama dismissed ISIS as the "jayvee" days after the group had taken Fallujah. The people there have suffered under ISIS rule since, and now find themselves once again in the middle of a war zone.
Hindsight is preferable to remaining blind, I suppose.
Via Kevin Roberts

A birthday shout-out to Bob Dylan on the occasion of his 75th birthday on May 24. America's great artistic shape-shifter, Bob Dylan was generous enough to give his fans a birthday present just the week before: the release of Fallen Angels, his 37th studio album. A follow-up to last year's Shadows in the Night, the new record finds Dylan in a retrospective mood, tackling twelve classics from the Great American Songbook from the likes of Johnny Mercer, Harold Arlen, Sammy Cahn, and Carolyn Leigh. Each of these songs—which include "Young At Heart," "Polka Dots and Moonbeams," "Skylarks," "That Old Black Magic," "All The Way," "Melancholy Mood," "It Had to Be You," and "Come Rain or Come Shine"—were initially made famous by Frank Sinatra.

While the pairing of crooner and croaker might initially seem unlikely, Dylan at an awards event last year related an anecdote that put his vocal critics in the shade. When Sam Cooke was told he had beautiful voice, Dylan told the crowd, "He said, 'Well that's very kind of you, but voices ought not to be measured by how pretty they are. Instead they matter only if they convince you that they are telling the truth.'" And it is that truth—and Dylan's unerring sense of phrasing—that he shares with Sinatra.

The furthest thing imaginable to an oldies cash-in, Fallen Angels showcases Dylan and his tight combo treating each of these numbers to a wholesale reimagining, with the band leader investing each song with a lifetime's hard-won yearning, humor, and wisdom. And it is perhaps Dylan's distinctly American need and ability to reinvent himself—and the license he gave to generations of artists from David Bowie to Prince to Madonna to Lady Gaga to do the same—that will be his greatest legacy.

In 1967 Paul McCartney, perhaps Dylan's only living peer, wrote a song that asked "Will you still need me/when I'm sixty-four?" At 75 Bob is as young and vital and artist as we have and we need his voice to help us through this crazy world now more than ever... Speaking of how to navigate a crazy world, my new book, 64 Shots: Leadership in a Crazy World, is due out the first day of summer, Tuesday, June 21. Among the heroes, visionaries, leaders, artists, luminaries I write about in its pages is the subject of this article, the man Bono called "our own Willy Shakespeare in a polka-dot shirt."