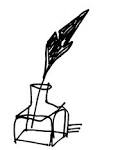 "People don't resent having nothing nearly as much as too little."
~ Ivy Compton-Burnett,
A Family and a Fortune
"We live in the best of times where we have a smorgasbord of intellectual media."
'Fact Checking' the Candidates at the Debate: Whose Job is It?
On front pages the morning after: 'The great debate?'
Researching Current Federal Legislation and Regulations: A Guide to Resources for Congressional Staff
, Jerry W. Mansfield, Lead Information Services Coordinator. September 19, 2016.