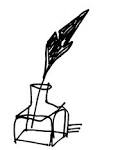 "Men may keep a sort of level of good, but no man has ever been able to keep on one level of evil."
~ G.K. Chesterton, "The Flying Stars" via Tony O
The basic formula of all sin is: frustrated or neglected love...
Are you a jerk? If the question causes genuine worry, you're probably not. But note: Often it's the most educated who are the least self-aware...
Are you frustrated and neglected Russoser or Rooster one Day and Feather-duster the next?
Unique Tourist Destination -
Drowning Fairytale-like Bohemian Towns
Under Slovak National Hymn Symbol, High Tatra Mountains, the community paid respect to Red-Orange Angels - those rare earthy Rescue Heroes caught in a Tragic Accident
..Heroes.. .
Vaclav Havel on Ickiness
Nobelist Robert Shiller writes that the next revolution will be an anti-national revolution
Charles Murray is pessimistic about the state of American politics: The future belongs to authoritarians of the left and the right...
exchanging one brutalism with another ...
Trade has become a highly contentious issue in the United States, as major Presidential candidates line up to denounce trade as "fraudulent" and "disastrous for the American worker
Cao, Lan, Pride and Prejudice in U.S. Trade (September 19, 2016). 7 Notre Dame J. Int'l & Comp. Law (2016 Forthcoming). Available for download at
SSRN:http://ssrn.com/abstract=2840911
A $1 billion tax bill levied on ­mining giant BHP Billiton over its controversial marketing operation in Singapore is shaping as the first of many such actions against companies, with the Australian Taxation Office combing through more than 30 marketing hubs. Ben Butler On BHP As ATO keeps digging
Robert D. Flach, NEVER UNDERESTIMATE THE POWER OF HUMAN STUPIDITY! Sound advice every election season

Australia has become "a nation that can no longer house its own children", Labor's Chris Bowen has warned, with soaring home prices cutting young people out of the market and a generation facing a crisis in affordability Chris Bowens blunt housing crisis prediction...
1862 was a low point for

Marx

. Europe had taken a conservative turn. He was obscure and in poor health. So he pursued a new career:
railway clerk
George Soros offers $500 million to refugees
In their new book Scarcity: why having too little means so much, economist Sendhil Mullainathan and psychologist Eldar Shafir describe what they call "bandwidth tax". Many of us can easily cope with unexpected calls on our finances such as traffic fines or emergency visits to the dentist
Stress Factors
John Quiggin on short term solutions to long term complex human condition issues New Zealands zombie miracle
Boston bombing reporter urges caution in coverage of recent attacks
Leslie Book, African Diamond Scam and Millions in Alimony: (and Some Reasonable Cause and Chenery) (Proceduraly Taxing). "The beginning of some of Judge Holmes' Tax Court opinions resemble screenplays. Take the opening paragraph from last week's Leslie v Commissioner."
SEC Issues $4 Million Whistleblower Award
World-renowned conservation professor 'took part in a £60million tax dodge
Multinational companies are infamous for "offshoring" their profits and "onshoring" their expenses in order to dodge tax. The question is, are they also – while offshoring their jobs – still onshoring their expenses from these offshore jobs? Even from jobs won from government contracts, taxpayer-funded jobs?
Multinational expenses: it's all show
Friday marks the deadline for completing the 2016 Australian census online, in a year where it's made headlines mostly for privacy concerns, website crashes and allegations of hacking
The Dark Side of Census Collection ---
I hope the IRS leaks dirt on Trump and he gets elected anyway. That's probably what it will take to see the Service punished appropriately — the GOP wasn't willing to go to the mattresses over its mistreatment of the Tea Party because much of the GOP saw the Tea Party as a bigger enemy than the Democrats. If they leak on Trump, on the other hand, it'll be personal
Man on trial accused of laundering bank's money
Human rights attorney Amal Clooney is handling a dangerous new legal matter. She intends to put ISIS commanders on trial for their war crimes, and she sat down with Cynthia McFadden of NBC News to discuss her campaign. The full interview is set to air later on the Today Show. [NBC News]
An unusual decision has come to light over the past week, and while it may have William Blackstone rolling over in his grave, this opinion from the British High Court demonstrates a sense of compassion and public service that a lot of judges wouldn't embrace out of inertia, pomposity, or a little bit of both.
Mr. Justice Peter Jackson, most decidedly not the Hobbit, wrote his simple, emoji-laden opinion to better express his ruling in a family law matter to the young children involved. As covered by Legal Cheek:
When policymakers gather in Washington for next month's meetings of the International Monetary Fund and World Bank, one topic will dominate discussions: how to respond to the anger of those who feel they have been left behind by globalisation
Supporters of open markets and liberal values are acutely aware that they are facing a political backlash that threatens the current international order. This week alone, Christine Lagarde, the IMF head, spoke of the "groundswell of discontent" felt in many countries with growing inequality in income, wealth and opportunity. Donald Tusk, president of the European Council, warned EU leaders meeting in Bratislava of the need to restore control over events and processes that "overwhelm, disorientate and sometimes terrify" voters. While Mario Draghi, president of the European Central Bank, stepped outside his technocratic mandate to warn politicians of the intense anxiety felt in a world that had proved "inattentive" to how the benefits of globalisation were shared.
"When customers visit the bookstore and tell her Amazon is cheaper: 'I'm like, 'You cannot come in, soak up what we have, talk to the staff, get recommendations, then go home and
buy the book on Amazon. If you do, I will hunt you down and smack you around.'"
Ann Patchett: 'If writers are to survive we must take responsibility for ourselves and our industry'
Via
think with Google
: "In moments where people need to know, go, do, and buy, relying on our phones has become second nature. Google's VP of marketing, Lisa Gevelber, shares new research
that quantifies how people use digital to make decisions and take action in their daily lives…"
Why do you read what you read? Because the literary market chose it for you. That's why
refusing to read
is not a badge of shame. It's the way of the future...
Future
Senate clerk Rosemary Laing also retiring
Dina Gerdeman – "The American economy is a mess, and our broken political system is largely to blame, according to a Harvard Business School US Competitiveness Project report released today. Harvard's Michael E. Porter, Jan W. Rivkin, and Mihir A. Desai say American economic performance peaked in the late 1990s and since then has experienced a lingering period of weakness, with slower than usual productivity growth, job growth, and investment growth. The report, Problems Unsolved and a Nation Divided: The State of US Competitiveness in 2016, which contains an in-depth analysis of the American economy and the results of surveys of global business leaders and the general public, says the US is "failing the test of competitiveness." Overall prosperity may be growing slowly—but only for a small slice of the population. Large companies and highly skilled, high-income workers are faring well, but many others, including working- and middle-class Americans, are struggling, as are many small businesses. The single biggest thorn in the economy's side: our dysfunctional political system…"
MESSAGE CONTROL:
Entire Media Freaks Out After Trump Over-Performance in Forum.
Suddenly, Lauer is garbage, no better—in the eyes of the mainstream media—than some basement-dwelling right-wing blogger. His sin? He allowed Trump to speak during the candidate forum, and didn't press the Republican presidential nominee on his answers to the liking of the liberal media. This morning, I detailed the extent of the hate being spewed against Lauer by his colleagues in the mainstream media. And it's not letting up. The New York Times editorial board wrote on Friday that moderators should do more than ask questions and let candidates answer—they should engage in rigorous (probably NYT-approved) fact checking
"

How One of DC's Most Powerful Judges Got Accused of Rape: Richard Roberts was the star prosecutor who helped lock up Marion Barry, then became DC's chief federal judge; Now comes the revelation that Roberts slept with a 16-year-old witness in a career-making case 35 years ago; As his accuser doubles down, and an ethics probe plods on, here's a look at how Roberts rose to the top in spite of his past."

Marisa M. Kashino of Washingtonian magazine has this article.
"Why is Judicial Biography So Hard To Write?" At the "Notice & Comment" blog of the Yale Journal on Regulation, Peter Conti-Brown has a post that begins, "I don't envy the reading load that William Domnarski undertook on his way to writing his biography of Richard Posner."
"Female staffers adopted a meeting strategy they called 'amplification': When a woman made a key point, other women would repeat it… giving credit to its author. This forced the men in the room to recognize the contribution — and denied them the chance to claim the idea as their own
Why the War On Terror Has Taken 15 Years, and Will Take Much Longer
Researchers confirm that curiosity overrides security concerns for many users
Most people know that e-mails and Facebook messages from unknown senders can contain dangerous links, yet many users still click on them; and researchers have discovered why
Global Capitalism and Predatory Practices of Transnational Corporations in Developing Countries
by
Awwad Alnesafi
, Stephen Kasumba and Hamed A. Aldhuaina
Preventing Bullying Through Science, Policy, and Practice
Three things for HMRC to consider during its internal restructure
Economic Policy Institute Report By Frank Clemente, Hunter Blair, and Nick Trokel, September 16, 2016
.
"In recent years, corporate profits have reached record highs, and so too has the amount of untaxed profits U.S. corporations have stashed offshore: $2.4 trillion. And it is estimated corporations could owe as much as $700 billion on those profits. In short, corporations are dodging more and more of their tax responsibilities. While the statutory tax rate on corporate income is 35 percent, estimates of the rate corporations actually pay put the effective rate at about half the statutory rate.
In two separate cases, thieves snatching bags from city streets and train stations inadvertently helped law enforcement get the upper hand in an ongoing bomb spree that's hurt dozens of people and spans both sides of the Hudson River, sources said.
The day Ahmad Khan Rahami allegedly planted two bombs in Chelsea — one of which detonated on West 23rd Street — two thieves accidentally helped to disable his second pressure cooker bomb left inside a rolling suitcase on West 27th Street, sources said.
The young men, who sources described as being well-dressed, opened the bag and took the bomb out, sources said, before placing the explosive into a garbage bag and walking away with the rolling suitcase.
In doing so, investigators believe they inadvertently disabled the explosive, sources said. That allowed investigators to examine the cellphone attached to the bomb intact and discover that it was connected to the family of Rahami.
From there, they were able to identify pictures on social media of Rahami's family and of him, and they matched one of his photos to surveillance footage captured in Manhattan.
Here is
the full story of New York Parable
, via
David Montgomery
. This somehow relates to Hume's
Dialogues on Natural Religion
and the watchmaker analogy, but I'm still pondering that one…