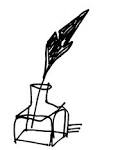 "The more slavishly and dogmatically a person falls for a ready-made ideological system or 'worldview,' the more certainly he will bury all chances of thinking, of freedom, of being clear about what he knows."
~ Václav Havel, letter to Olga Havlová, May 1, 1981 (trans. Paul Wilson, courtesy of Patrick Kurp)
The world is neither meaningful, nor absurd. it quite simply is, and that, in any case, is what is so remarkable about it.
— Alain Robbe-Grillet, born on this date in 1922
This week Media Dragons met Michael Rueben Eagan AO
(Chancellors at Macquarie Uni)

and it is clear that while we have characters like Michael among us who passionately voice their opinion and ideas on a number of issues of public importance then our democracy is safe ... Voices of reason and logic tend to be rarer today than ever before.
Michael was in a good mood and It is lucky for Warren Cahill as Michael is not too eager to collect an outstanding legislative debt (with interest) even though The High Court ruled in Michael's financial favour. Most former Treasurers would be tempted to engage debt collectors of Papadopolos (sic) statutue, but not Michael ...
One thing we have in common as we both share the same respect for media dragon's former Chair Andrew Tink - Historian and great storyteller Andrew received well deserved doctorate from Macquarie Uni ;-)
What a tantalising prospect - getting hold of Michael Eagan's memories and all his secret files! His recollection of Havel's presidential swearing in ceremony is worth gold and The meeting with Prague's Cardinal is filled with promise of many dramatic campfire stories ...
Speaking of thoughtful and caring Andrew
Tink
he was among the first to visit John Brogden in hospital
John Brogden: 'Experiences like mine show there is a way back'
Julia enjoyed singing traditional Rusyn folk songs and was artistic. She loved to draw. Her favorite subjects were angels and cats. She also did embroidery and other crafts, such as bouquets of hand-made flowers made from tin cans and crepe paper. During the Easter season she decorated eggs in the Pysanka tradition. As a widow, she moved to New York City in 1951 to take care of Andy.
It should be noted that Andy often used her decorative handwriting to accompany his illustrations
. She won awards for her lettering, including one from the American Institute of Graphic Arts for an album cover for The Story Moondog, featuring the musician Louis Thomas Hardin in 1958. In 1957 she illustrated a small book called Holy Cats and she also worked on 25 Cats Name Sam and One Blue Pussy...
How Not to Be a Leader Medium
Reality bites Mark Latham ..
.
Creation of some jobs isn't always about economic: it's moral and political. The ruling class has figured out that a happy and productive population with free time on their hands is a mortal danger…
"Our lived lives might become a protracted mourning for, or an endless tantrum about, the lives we were unable to live. But the exemptions we suffer, whether forced or chosen, make us who we are."
"What you do with yourself, just the little things you do yourself, these are the things that count."
"The only transformation that interests me is a total transformation — however minute," Susan Sontag wrote in her diary. It's a sentiment both paradoxical and profound — we tend to think of the total and the minute as polarities, and yet any total transformation is the product of a series of minute, purposeful shifts. That, after all, is the transformative power of habit.
No one has articulated the machinery of transformation more succinctly and powerfully than architect, inventor, and philosopherBuckminster Fuller (July 12, 1895–July 1, 1983) — a man of timeless wisdom and prescience so extraordinary that he envisioned online education, TED, and Pandora decades before these ideas became a reality.
Tim Campbell identifies a problem with the standard view of self-defense. Anyone got a solution?
The Internet has created unprecedented opportunities for individuals to explore a wide range of unfamiliar and often-marginalized desires, and in doing so has also created unprecedented opportunities for the criminal justice system to monitor and punish these sexual desires. An important example of this dynamic is the recent trial of Gilberto Valle, New York City's so-called "Cannibal Cop." Valle, an NYPD officer, was convicted for conspiracy to kidnap several women based on a series of highly fictionalized conversations on a "dark fetish" fantasy website. Although these conversations revealed Valle's fantasies involving kidnapping, torturing, and cannibalizing women, he had made no effort to kidnap, kill, or eat anyone, and there was no evidence that his online discussions went beyond graphic exchanges and digital role-playing.
Thea Johnson and Andrew Gilden have posted Common Sense and the Cannibal Cop (11 Stanford Journal of Civil Rights and Civil Liberties 313 (2015)) on SSRN. Here is the abstract: