Money makes the world go around
From "I regarded him a part of my love circle" to "I'll throw money at Wagga, lots of it, don't you worry about that".

As Gladys Berejiklian fronts the NSW Independent Commission Against Corruption, ICAC – only to be told to stop her pre-rehearsed pleas of innocence and virtue and just answer the question, taped phone calls reveal former love- buddy, Daryl Maguire, had a virtual key to the public treasure chest, along with a key to her home as part of her swinging "Love-circle" – as she fondly dubs her retinue of friends with benefits.
Gladys Berejiklian was shown private texts and phone call recordings, but said she never suspected her secret ex-lover of corruption.
Gladys Berejiklian faces ICAC a second time as anti-corruption probe continues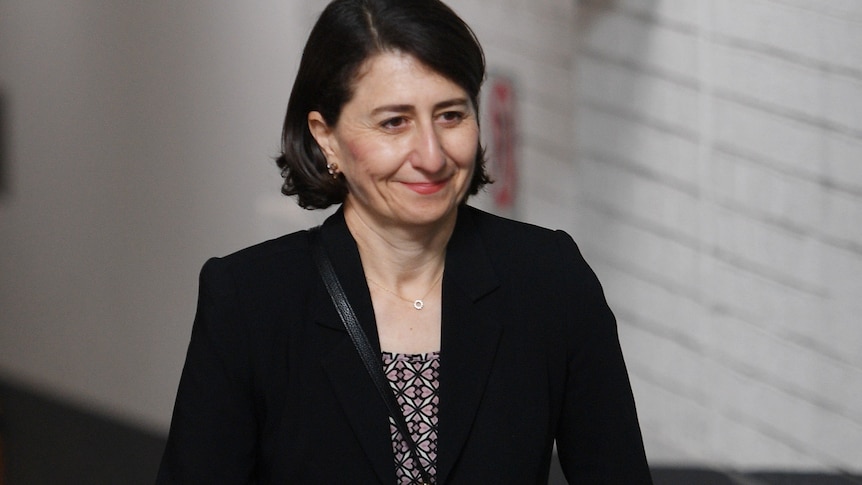 Gladys Berejiklian is a disciplined, practised politician who rarely strays from her talking points. But the witness box in ICAC is a very different beast to the floor of parliament or a TV press conference. There is an art to answering questions in these formats."
Gladys Berejiklian to give second day of evidence at corruption inquiry
Gladys Berejiklian cannot recall if she knew she was Gladys Berejiklian at time of taped phone calls

Gladys wrong all over. Ex-premier breaks all the rules of being a witness of truth
There are rules for what to do and what not to do when in the witness box. Berejiklian broke all of them.
Gladys wrong all over. Ex-premier breaks all the rules of being a witness of truth

Robertson wants to keep pursuing this topic. But he wants to do so in private, away from the public eye, at least in the first instance.
He says he is attempting to balance what is in the public interest with the protection of private matters. This inquiry has had to walk a fine line in that respect.
The commission goes into private hearing mode, with lawyers for Cruickshank and Berejiklian allowed to stay in the room.
But she will be regretting having spoken so openly last year about her 'close personal relationship' with Daryl Maguire a year ago after she admitted the disgraced MP was her secret boyfriend at a previous Independent Commission Against Corruption inquiry.
Shortly after shocking the state with her revelation, the then-NSW Premier seemingly spoke candidly about her doomed love affair with Mr Maguire with 2GB's Ben Fordham, radio presenters Kyle and Jackie O and Sunday Telegraph gossip columnist Annette Sharp.
Defiant Gladys hits back at killer questions as she fronts corruption probe - but says she STILL wouldn't declare her secret love affair with Daryl who had key to her home before she changed the locks

In the NSW ICAC hearing, meanwhile, things take a turn for the worse. Daryl is also a big picture man. Wagga's population may be a mere 65,000. But, boy, can he talk it up.
…. "Wagga is the centre of the universe, I've always said it," Walter Mitty Maguire tells Berejiklian.
"Wagga is going to be the best electorate in the world … keep listening to me and it will be the blazing star of the southern universe.
… That's why we need a stadium, that's why we need a conservatorium, all the things that Sydney has got."
Is his plan fair to other regional MPs?
"F*** them," he says, "Wagga's where it's going to happen."
Revealing the rotten underbelly; the sheer venality of both Liberal and National politics, above all, WaggaGate, live, steamy, seamy and online, exposes Glad's extraordinary power to oil the wheels of NSW state bureaucracy. Or strip its gears completely.
In two hours in 2018, a then Premier could get her puppet Dominic Perrottet, a treasurer who "just does what I ask him to do" to find $170 million to meet Maguire, her stud-muffin's needs. She even brags about her capacity to corrupt due process.
"Just put 140 in the budget" she hears herselfon ICAC playback saying airily to a petulant Dazza who pouts most unattractively. He says he'll need $170 million dollars for Wagga Hospital to sweeten his appeal to voters. His tone is peremptory, hectoring, more coercive control than kiss-kiss. Of course, there's more.
Maguire is insatiable. Demands include $50 million for a Wagga Wagga music conservatorium and the spiking of the guns of the Shooters and Fishers, to the tune of $5.5 million for the already well-heeled members of Wagga's clay target fraternity, surely the beating heart of every regional community.
All grist to ScoMo's mill. Robbing the poor to give to the rich is increasingly The Australian Way.
Michael West reports that ACTA, the Australian Clay Target Association, which runs the Wagga club already has $1.4 million, "in the tin". Daryl's clearly helping those who have a go to get a go, especially given the club got $162,00 from JobKeeper and a lazy $100,000 from Cashflow Boost. It's funding for those who least need it syndrome. And it's the signature of Liberal governments, especially in collusion with Nat$.
As for the poor, Foodbank provides food to more than a million Australians each month.
Maguire redefines altruism, community spirit and next-gen welfare. In other evidence, he's asked by Scott Robertson, counsel assisting ICAC, if the former member for Wagga received a benefit through G8way International, a company linked to Maguire, from a furniture purchase for the Wagga gun club.
"No one works for nothing, Mr Robertson,"Maguire says.
Tell that to charities like Foodbank. Across Australia nearly six million of us volunteer each year. It's the Australian way to cut back on government services, while expecting charities with armies of volunteers to fill the gap, unpaid of course.
Perrottet's pliancy is only possible, of course, with a tame bureaucracy. Is Perrottet in trouble? In rushes stout defender of the public good, The Daily Telegraph, NSW Liberal Party hand sanitizer, to turn the stench of effortless, utter corruption into a funny who-wears-the-pants-chez-Perrottet family story.
"My wife messaged me this morning and said 'why do you do what Gladys tells you to do and not what I tell you to do?"
Or so Dom tells Daily Tele deputy editor Anna Caldwell, in a timely corrective to any wimp-Dom canard.
"My wife" is Helen Perrottet, a senior associate at Bicknell Law and Consulting. At least Helen seems to have a successful career, despite the Tele's hokey, blokey story.
Such a relief. The former treasurer may have been Gladys's lapdog but he's top dog at home. As it should be. Perrottet can't betray the Liberal Party's rich tradition of male chauvinist leaders. Voters love a bloke who's a top not a bottom. Which is why the federal scene is a bit of a worry, recently.
The tail wags the shaggy dog in the hermit kingdom of Australia, "a land of spivs, shonks and charlatans" (and that's just the politicians, warns Bernard Keane), in Roll out the Barrel, another episode in the long-running Coalition soap opera based on the pursuit of power for its own sake.
Berejiklian … mugged by reality.