Pair of travellers from U.S. fined $20K each for fake vaccination documents CBC
Services Australia used 'learner' staff to process complex robodebt refunds

J5 on steroids - Ransomware gangs are collaborating with each other
'The war has changed': Internal CDC document urges new messaging, warns delta infections likely more severe WaPo.


If you weren't worried about Covid, you should be, between rising infections and evidence of CDC incompetence.
Federal election is coming …NSW government to install 1000 new mobile speed camera warning signs
For Vox, Emily Stewart writes about the shortcomings of the, er, system we've developed here in America of outsourcing public needs to private industry: Corporations aren't going to save America.
Across various segments of American life, the private sector has begun to take on tasks big and small that one might think should be tackled by the public sector. Domino's filled in potholes. Dawn's dish soap saved ducks. American Express pitched in on historic preservation. Walmart started sellinglow-priced insulin. A slew of companies help workers pay for school. Much of America's health care system is still handled through private insurers and your job. As people lose faith in government to act on sweeping issues such as climate change and guns, they're increasingly looking to corporate America and asking whether there's something they can do about it. If Congress won't tackle gun violence, maybe Dick's Sporting Goods can try.

It's not a bad thing for brands and companies to try to make the world better. Starting a business often involves identifying a problem to solve, and it's much better for companies to help than to do harm. Corporate social responsibility is fine. There are, however, limits.

"Of course we want businesses to be responsible," said Suzanne Kahn, managing director of research and policy at the Roosevelt Institute. But she emphasized that this does not constitute a plan for how to organize society. "Private companies don't, can't, or won't plan with the same values that we demand and expect the government to."
Freakonomics:
Should We Just Ignore Our Weaknesses? (NSQ Ep. 6
Opinion: Require the vaccine. It's time to stop coddling the reckless. Ruth Marcus, WaPo
Say goodbye to persuasion: Vaccine mandates may be coming — but will they be legal?Jonathan Turley, The Hill. This post from October 2020 is looking pretty good. The topic was contact tracing, but the thinking applies with even more force to vaccination. Quoting Paul Romer: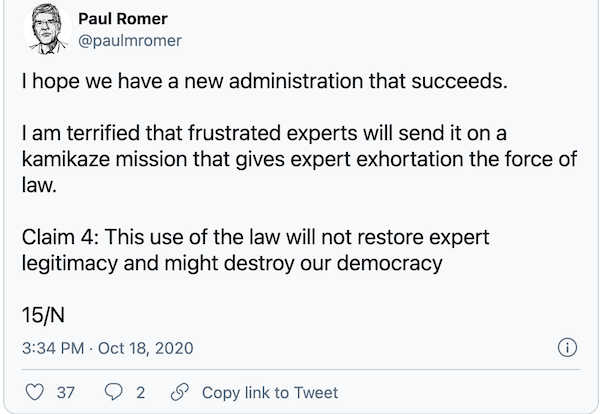 It's very hard for me to believe that anyone would call for mandatory vaccination without regulatory approval, if only because that guts the credibility of the regulators for the next pandemic. Pressuring regulators to fast-track approval — as if the regulators didn't know the tastk was important! — does the same thing. But here we are.
Why I Am Angry - Agnes Callard explains:
… at times it is only the angry who are in a position to apprehend the magnitude of some injustice. For they are the ones willing to sacrifice all their other concerns and interests so as to attend, with an almost divine focus, to some tear in the moral fabric. When I am really angry, it is not even clear to me that I can calm down—the eyes of the heart do not have eyelids—and the person making that request strikes me, to adapt a locution of Socrates', as trying to banish me from my property, the truth. They are calling me "irrational," but they seem not to see that there are reasons to be angry.
DC: Jury convicts man of stolen identity refund fraud
Ross Gittins ("Why Australian politics has gone bad: Bureaucrats down, party advisers up", July 31-August 1) has provided an excellent comment on the operation of government in modern Australia, and as a senior public servant in the NSW Premier's Department in the 1980s I can vouch for its accuracy. The balance of power in government tipped in favour of ministers and their private staff when senior public servants realised how easily ministers could dispense with their services.
Gittins says that between 1996 and 2019, almost 30 per cent of the secretaries of federal departments were sacked. Even Jim Hacker would have found Sir Humphrey much more inclined to toe the party line and say "Yes, minister" if both knew that intransigence could result in dismissal. Ministers and their advisers have a view based as far ahead as the next election, which has played havoc with the old idea that the public service was expected to provide full and frank advice based on the national interest. As usual, the results will be determined by the quality of those involved – the ministers, their political advisers and senior bureaucrats. The public can only hope. James Moore, Kogarah
BOOK SUGGESTION: Michael Walsh's Last Stands: Why Men Fight When All Is Lost. I am re-reading the book and it is even better than I remember.
YOU'RE GONNA NEED A BIGGER BLOG: 5 Examples of Hypocrisy That Make It Impossible to Take Liberals Seriously.
Israeli firm NSO Group has created spyware which can hack a smartphone, beat encryption and access every bit of our data, live-time, just like reading over somebody's shoulder. Human rights activist and cyber-security expert Manal al Sharifexamines the implications. This is the first exclusive in Manal's Tech4Evil series of investigations which expose the threat of Big Tech on our minds, our humanity and democracy itself.
"They listen to and see everything on your smartphone as if they are next to you. No end-to-end encryption, no privacy settings, no secure connection can stop them. There is nowhere to hide".
State of Surveillance: if Pegasus can hack Jeff Bezos' phone, is there anywhere to hide?

Couple's anniversary dinner on river interrupted by cruise of nudists Metro UK
The return of Britain's meat-eating plants BBC
Tokyo Olympics: Japanese 13-year-old Momiji Nishiya wins gold in skateboarding street finalSouth China Morning Post
Horrifying robot plays basketball at Olympics NY Post
Trucks Move Past Cars on the Road to AutonomyWired
JUSTICE: Democratic Megadonor Ed Buck Convicted Of All Charges."Democratic Party megadonor Ed Buck, the perverted creep who lured young black men to his home to administer frequently fatal methamphetamine overdoses to them, has been convicted of all nine charges."