by David Cay Johnston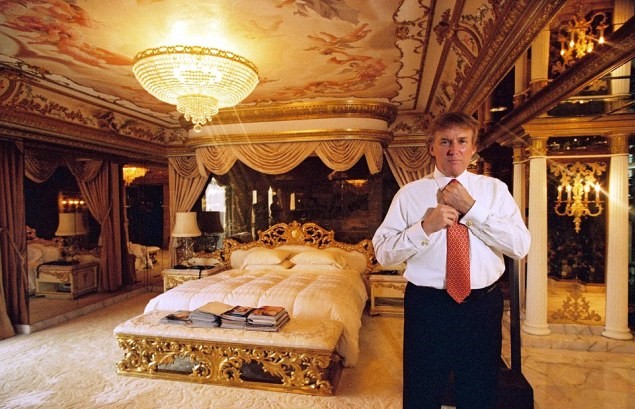 While Trump's tax affairs have been widely reported, statistics show that US authorities are going after the poorest families. Just seven of the 23,400 households earning on average $30 million were audited (0.03%). Yet more than a third of households earning an average $12,600 were audited – nine times the rate for the richest. David Cay Johnston reports.



Read »

A woman walks past a voting sign painted on a wall in Los Angeles. (AP Photo/Jae C. Hong)
Good morning, everyone. WE MADE IT! It's Election Day — a day that many of us thought we would never reach, and yet a day filled with so much uncertainty, dread and stress that we're not quite sure we want it to be here.
We truly have no idea what's going to happen. Forget the polls. Forget the projections. Forget the spin on cable news. Ultimately, you — the voters — will decide the next president and we're just going to have to wait and see how it all plays out.
As we watch it unfold, Poynter is a go-to source for media coverage of today's (and tonight's and tomorrow's) events. My colleagues and I will be constantly updating a live blog on Poynter.org with the latest media news and coverage. And if you see something noteworthy, let me know by sending me an email at tjones@poynter.org.
Hang in there. It's almost over. Now on to today's newsletter …
Tonight's coverage

CBS News' Norah O'Donnell at the CBS News election headquarters. (Courtesy: CBS News)
Barring any major breaking news, the big three networks — ABC, CBS and NBC — will begin their election night coverage starting at 7 p.m.
ABC's coverage will be anchored by George Stephanopoulos alongside "World News Tonight" anchor David Muir and "ABC News Live Prime" anchor Linsey Davis.
CBS' coverage will come from their election headquarters and be anchored by "CBS Evening News" anchor Norah O'Donnell, "CBS This Morning" co-host Gayle King and "Face the Nation" moderator Margaret Brennan.
Lester Holt, Savannah Guthrie, Chuck Todd and Andrea Mitchell will lead NBC's coverage. The network already announced they will be on live at least until 4 a.m. Eastern, and even longer if there is still news to report. Kate Snow is scheduled to join the broadcast beginning at 2 a.m.
PBS also is planning a late night. "PBS NewsHour" will kick off its election coverage at 6 p.m. Eastern. Judy Woodruff will anchor, with Amna Nawaz, Lisa Desjardins and Amy Walter in the studio, as well.
"PBS NewsHour" executive producer Sara Just told TV Newser's A.J. Katz, "As of now, we're slated to stay on broadcast until at least 2 a.m. (Eastern), but it may likely be later. We will stay on the air as long as we feel the story can be advanced. If at some point in the night, there is no imminent decision on the major questions of the night, we will sign off from broadcast and redirect viewers to our online coverage."
Meanwhile, the cable news networks are all-day, all-night on the election. For primetime, MSNBC's coverage will really crank up at 6 p.m. Eastern and will be led by Rachel Maddow and Brian Williams, along with Nicolle Wallace and Joy Reid.
Fox News also will have all-day coverage and then really hunker down starting at 6 p.m. with their main coverage anchored by Bret Baier and Martha MacCallum.
CNN's "Election Night in America" will come from the network's election center in Washington and be anchored by Dana Bash, Wolf Blitzer, Anderson Cooper, Abby Phillip and Jake Tapper. Chris Cuomo and Don Lemon will lead the network's late-night coverage.
What can we expect from the coverage from all the networks? Patience and transparency, as I wrote about in this story for Poynter.
I found this quote from Susan Zirinsky in a Washington Post story by Sarah Ellison and Jeremy Barr to be especially noteworthy:
"When the hour comes, and the polls close, we are going to characterize every state that has closed: likely, leaning toss-up, late-in-the night call. But what we have to maintain very clearly to the audience is what we know, how we know it. We're educating the public on how we are making this assessment. We have to prepare the audience: it may not be over that night, it may take days."
Who I'll be watching
So who will I be watching today and tonight for election coverage? Like you, I will be watching everyone.
Truly, all the networks do outstanding work covering elections, but I do have my favorites and recommendations, such as:
What about the cable networks?
While we all likely will be wearing out the batteries on our remotes flipping from station to station, many viewers will go for their comfort food, too. For conservatives, that means tuning into Fox News. For liberals, that means tuning in to MSNBC. And while many will argue that CNN leans left, too, I would argue that CNN is closer to the middle than it is often given credit for. However, I would expect that when the night is over, Fox News, MSNBC and CNN have a good chance of having the most viewers.
Back in the studio

Fox Business' Neil Cavuto. (AP Photo/Richard Drew)
Neil Cavuto will be back in studio for the first time since March to anchor Fox Business Network's election coverage. This is a very big deal. Cavuto has spent most of the past seven months at home because he considers himself at high risk for a severe case of COVID-19. He has multiple sclerosis, underwent bypass surgery in 2016 and is in remission from Hodgkin lymphoma.
He told People magazine's Julie Mazziotta, "I'm a little extra cautious about this than maybe a lot of people because I'm at target for all the stuff that could possibly make you vulnerable to COVID-19. You just don't know. I don't get a cavalier or arrogant attitude with this. More than 230,000 Americans are dead and more than a million worldwide are dead. There are millions more, who've dealt with this in hospitalizations. You don't take this lightly."
Cavuto could've worked from home today, but wanted to be in the studio.
"I think it was too important to do otherwise," Cavuto told Mazziotta. "Any delays, like audio or video freezes that happen when you're going from a home studio to a Skype phone call, are minimized when you're in the broadcast studio. I think that this was too big an event to risk it."
A useful tool
As you watch tonight's coverage, you might want to have this incredibly helpful piece by The New York Times' Alicia Parlapiano at your fingertips. Parlapiano breaks down all 50 states and lists when the polls close, how and when early votes are tabulated and when we might have a result in those states. This is good stuff.
AP also has an explainer on how it all works.
Today's headline
Here's a look at the front page of today's USA Today.
Extra, extra, read all about it!
Poynter's Kristen Hare has put together a neat piece: some of the great front pages from 100 years of presidential elections. (My favorite headline of the ones Kristen listed is from The Palm Beach Post in 2000 when George Bush ran against Al Gore. Check it out.)
Now I'm wondering what tomorrow's front pages will look like. With earlier deadlines for many print editions of papers and the low likelihood that we'll have an early call, I don't envy the headline writers who have to come up with some version of: "We Don't Know Who Won Yet."
Also worth mentioning …

President Donald Trump at a rally in Pennsylvania on Monday. (AP Photo/Gene J. Puskar)
Hot type
Have feedback or a tip? Email Poynter senior media writer Tom Jones at tjones@poynter.org.
More resources for journalists