Lam Wing-Kee, one of five booksellers who vanished from Hong Kong last year and turned up in the People's Republic confessing to "mistakes" on TV, says mainland agents are tailing him "without restraint" and has requested protection from Hong Kong police
Epilogue:
*Daydream Island owner China Capital Investment Group has snapped up South Molle island in the Whitsundays in the heart of the Great Chinese Wall @ Great Barrier Reef for about $25 million
Chinese snap up another Whitsunday island for $25
Patrons of the Australian Council for the Promotion of Peaceful Reunification of China include Bob Carr, Philip Ruddock, Chris Bowen, Senator Dastyari and Barry O'Farrell, according to its website.

Second labor MP aligns with Beijing over south china sea
It can't be said that the FBI, which is already reeling from its dismal performance in the Hillary Clinton EmailGate scandal, looks good in any of this. Moles happen—they're part of the SpyWar—but the rising pattern of betrayal by Chinese immigrants indicates that the Bureau got hit badly by a longtime employee who managed to act as Beijing's mole for a half-decade. . . .

The FBI, like all of our intelligence agencies, employs numerous naturalized immigrants, some in very sensitive positions. In many cases, for instance language support, immigrants are invaluable to our intelligence efforts. However, immigrants also pose counterintelligence risks, particularly when they come from countries that actively seek to recruit their nationals abroad as spies. China is far from the only country to do this, but it heads that list, as the Chun case demonstrates yet again.

Political correctness is a factor too, and nobody wants to be accused of ethnic bias—or worse "racial profiling"—over molehunts. As with counterterrorism in the age of Obama, it's worse for your counterespionage career to be accused of racism than to miss the mole right in your midst.



Wherever we go we urge friends not to purchase products by communist regime as there is no such thing as Occupational Health and Safety Law that anyone can enforce - Our sister Aga dies of leukaemia as a result of working at a chemical factory Svit. We understand that toxic is found also in different fabrics and such romantic items like candles. I do not trust communists ... Any extremes are bad some capitalists envy the communist managers what they can get away with but the lucky democratic west has the Fifth Estate - God Bless the Media...
RICHARD BUTLER. Interesting Times
The so-called Chinese Curse: " May you live in interesting times", is apparently not of Chinese origin, but certainly apocryphal and wonderfully ironic.
I think it is hard to recall more "interesting times" than those in which the world finds itself today, nor a time fraught with more danger, since the sleepwalking towards World War I.
Here's a list of today's main issues in international politics, 15 of them.
By way of necessary preface, I caution that this will almost certainly be found to be incomplete, and that it refers almost exclusively to politics.
Continue reading
China threatens reprisals on NZ dairy, wool and kiwifruit if government doesn't back off cheap steel inquiry Stuff
PHILIPPINES REJECTS CHINA TALKS: The link goes to a Reuters report. Why reject bilateral talks? China demanded an unacceptable condition: the Philippines couldn't mention the The Permanent Court of Arbitration's decision that nixed most of China's claims in the South China Sea. This morning StrategyPage's Jim Dunnigan was a bit pithier: "…the Philippines does not consider the situation a dispute but rather a case of unwarranted Chinese aggression. Now the Philippines has international law on its side."
It's hard to imagine a worse headline than " Asbestos found ... in children's hospital". A staffer put it this way: "It's the sort of thing that sinks Governments."
You know it's bad when a Liberal Premier praises and thanks the CFMEU for its conduct. One can only imagine the horror workers who suffered potential exposure must feel.
The big question the public rightly asks is how on earth could such a thing happen.
While investigations will try to establish that, the answer is more likely to be a stuff-up than deliberate deception. I
spoke yesterday with an Australian who spent more than a decade in China managing local manufacturing operations for large western companies that sold white goods and machinery into Australia, the US and Europe.
Western Australia's peak medical body has flagged concerns in a letter to the state's Premier with the ongoing safety of workers after asbestos was found at the new Perth Children's Hospital.
Health Minister John Day has confirmed white asbestos was found in a roof panel on the eighth floor of the building.
Workers were first exposed to the asbestos on Monday, but initial testing — which later came back positive — was not done until Tuesday.
The roof panels were supplied by a Chinese manufacturing firm, Yuanda.
This is the second asbestos discovery linked to a construction site in Australia supplied by Yuanda, which has at least five major high-rise projects around Australia, as well as a medical research facility in South Australia.
Asbestos Perth Children's Hospital asbestos find: AMA flags concerns over clean-up and worker safety
"Part of the problem, of course, is that false claims are often manufactured by full-time professionals who are really good at planting pieces. Ordinary news consumers are hardly the match for a slick disinformation campaign, but journalists have the tools and resources to puncture the myths." — Craigslist founder Craig Newmark
Beijing's dismissive response to the ruling against it by The Hague sums up precisely why we should
be worried about rules and law and order as China pushes outward
South Communist China Sea Dispute
People across the Philippines are celebrating victory after an international court in The Hague ruled China has no historic title over the waters of the South China Sea.
There has been an ecstatic reaction in Manila to the Permanent Court of Arbitration's ruling that China has no right to build artificial islands in the Philippines' territory, or force Filipino boats away.
Philippines celebrates short victory in South China sea case
Philippines celebrates hollow victory
Likely hack of U.S. banking regulator by China covered up: probe Reuters
Free Trade with China: Many Losers
Global arms race escalates as sabres rattle in South China Sea Telegraph
Bob Hawke wept ...

then threw a lifeline to mostly sons and daughters (Chinese students ) of Communist elite...
In 1989 Bob Hawke cried over the Tiananmen Square massacre and allowed 42,000 Chinese students to stay in Australia. That decision changed the face of Sydney. Cynthia Banham reports.
Bob Hawke cried ... Jun Yang was a man looking for a new life when Bob Hawke and Paul Keating came calling. As a professional clarinettist in China before the Tiananmen Square massacre, Yang played in a Bei jing orchestra and studied Russian at a Beijing university. But he yearned for freedom from China's communist regime.
Hard Core Irony as Only Sons and Daughters of Members of the Chinese Communist Party were allowed to travel or study overseas ...
China is relying all the more on credit and state fixed investment.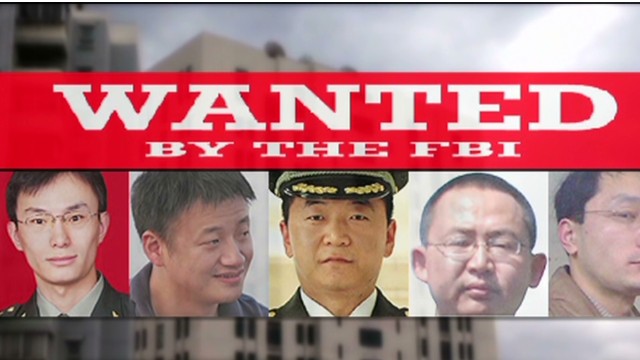 FBI agent charged with acting as agent of China
A veteran FBI electronics technician – who had top secret clearance – was charged by the Manhattan U.S. Attorney's office on Monday with acting as an agent of China.
The man was identified as Kun Shan Chun and also went by "Joey Chun," according to the official complaint. He was expected to plead guilty, Reuters reported.
Security experts have discovered that the Maxthon web browser collects sensitive information and sends it to a server in China. Researchers warn that the harvested data could be highly valuable for malicious actors.
Overall, attitudes toward China today tend to be either mixed or negative. Just 37% of Americans, for example, express a positive view of China.