The impossible story
Crossing Freud's Morava River
"If you want to express something impossible, you must keep to certain rules. The element of mystery to which you want to draw attention should be surrounded and veiled by a quite obvious, readily recognisable commonness."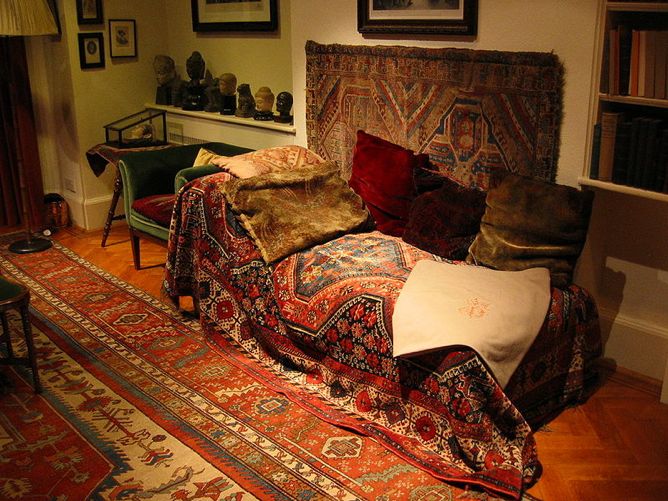 Freud's couch at the Freud Museum in London.
Let me propose a simple definition for nonfiction: Any piece of prose that isn't fiction. What does this mean? That nonfiction is capacious, amorphous, that it contains a multitude of subjects and approaches. Defining nonfiction
"The memoirist … must engage with the world, because engagement makes experience, experience makes wisdom, and finally it's the wisdom — or rather the movement toward it — that counts."
....
"The act of writing is an integral part of my mental life; ideas emerge, are shaped, in the act of writing… a special, indispensable form of talking to myself."
Who we are and who we become is in large part the combinatorial product of the people and ideas we surround ourselves with — what William Gibson so memorably termed our"personal micro-culture"and Brian Eno called"scenius." The more different those people are from us, the more they expand the echo chamber of our own mind, the more layered and beautiful the symphony of the spirit becomes. Nowhere is this self-expansion via relationship more evident than in the friendships between great artists and great scientists, one of the most heartening examples of which is the friendship between legendary neurologist Oliver Sacksand the poet Thom Gunn.
"Every man, every woman, carries in heart and mind the image of the ideal place, the right place, the one true home, known or unknown, actual or visionary."
"As the desert offers no tangible riches, as there is nothing to see or hear in the desert," Antoine de Saint-Exupéry wrote in his exquisite memoir of what the Sahara Desert taught him about the meaning of life, "one is compelled to acknowledge, since the inner life, far from falling asleep, is fortified, that man is first animated by invisible solicitations." No one captures this invisible animation of inner life more bewitchingly than Edward Abbey in Desert Solitaire (public library) — a miraculously beautiful book, originally published in 1968, which I discovered through a passing mentionby the wonderful Cheryl Strayed. (How right Laurence Sterne was to call digression "the sunshine of narrative," and Calvino to consider it, even, a hedge against mortality.)