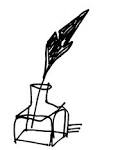 "Noble deeds and hot baths are the best cures for depression."
~ Dodie Smith,
I Capture the Castle
The coffee culture that is Welsh?
Johnny Depp says he did not have to dig deep to tap into his evil side for his portrayal of the Irish-American gangster James "Whitey" Bulger in the film "Black Mass", screened out of competition on Friday at the Venice Film Festival.
"I found the evil in myself a long time ago and I've accepted it and we're old friends," Depp said when asked how he had transformed himself from the whimsical Captain Jack Sparrow of "Pirates of the Caribbean" into the Boston gangster
Gangster Bulger
"Just about no one has a good feeling about the word "criticism." Most of the time, it simply means chastisement; it sounds like what you don't want to get on your performance review, or from your parents. If you have a critic, that person is likely to be your enemy, and to be critical means to be ill disposed, hard to please or actively hostile — in short, a hater. When it comes to the arts, for many people a critic is someone whose job it is to tell you why you're wrong to like the movies or music or books you like."
The New York Times
Australia peppered with earths largest continental volcanic ring
Asbestos found in crayons
(compliments of free trade from China)
One Day a Year Prickly Wonder
The phrase 'information overload' used to imply something active. It happened as a result of searching out information and consequently consuming too much, and feeling swamped. Today, 'information overload' has somewhat different connotations, precisely because technology allows us to be continually connected Overeating at the intellectual buffet
All art is abstract
Enjoy whiskey in zero gravity
Yet, so many of you lawyers remain word-centric. You can disrupt that pattern by learning the power of infographics, how to create them, and even the low-cost of outsourcing this to the Philippines.
Following is an interview with a marketing expert, Jasmine, who is employed by Onlinejobs.ph.
**********************************************************************************************
JG: Why is the Infographic such a powerful marketing tool?
Jasmine: The power is its brevity. It's information you can consume at a glance. It looks authoritative because it contains reliable data in bite-sized pieces. If you have great content and amazing design, people will want to share it because it looks pretty AND it provides value.
Here is a recent infographic I created for Onlinejobs.com. It has boosted every metric, ranging from search engine rankings to responses for Calls To Action (CTA).