International executives flown to Sydney likely to remain for several months as investigations of tax leak continue
PwC will seize long-term oversight of its Australian business following the local team's involvement in a tax leak scandal.
International executives — some of whom were flown to Sydney by the Big Four accounting firmto assess the immediate damage to its brand are set to remain in place for an extended period, according to two insiders with knowledge of the decision.
How we broke the PwC tax leaks scandal. A podcast riff on how it developed, where it's going, with

,

&


Alex Gow
On budget night in May 2015, then-treasurer Joe Hockey had a plan to stop multinational companies from shifting profit out of Australia to avoid paying tax. He announced the new Multinational Anti Avoidance Law.
That night, partners from consulting giant PwC sent pitches to US tech companies warning of the threat the new law posed for them and offering a "suggested work plan" to get around it.
Listen below or stream The Fin on Apple, Spotify or wherever you get your podcasts.
It was called Project North America. By January 2016, they had 14 new clients and $2.5 million in fees.
While PwC's "work plans" may have brought in new clients and more fees, they turned out to be too effective. They attracted the attention of the Tax Office and, eventually, triggered one of the biggest crises in the firm's history.
Last week, PwC Australia boss Tom Seymour stepped down after internal emails were released showing that, for years, dozens of PwC operatives used confidential updates on government tax plans obtained by one of the firm's partners, Peter Collins, to drum up new tax clients.
On Monday, PwC appointed former Telstra chief executive Ziggy Switkowski to lead a review into the leaks. He will examine all aspects of PwC's governance, accountability and culture and report back by September. Meanwhile, the government is considering whether to fine the firm.
Key questions remain: who was involved, not just in the five-year period from 2013 to 2018 that Mr Collins was receiving confidential material, but after that time? And why did it take so long for anyone to take action against the firm?
This week in The Fin podcast, senior writer Neil Chenoweth and professional services editor Edmund Tadros on the tax scandal engulfing PwC, how the story broke, who was involved and what happens from here.
Explore the big issues in business, markets and politics with the journalists who know the inside story. New episodes of The Fin are published every Thursday.
Read more about the PwC leak
Acting PwC chief executive Kristin Stubbins has apologised to retired partners over the firm's ongoing tax leaks scandal in an email that details how the firm has multiple "workstreams" underway to "ensure we get our business reputation back on track" with the federal government and regulators.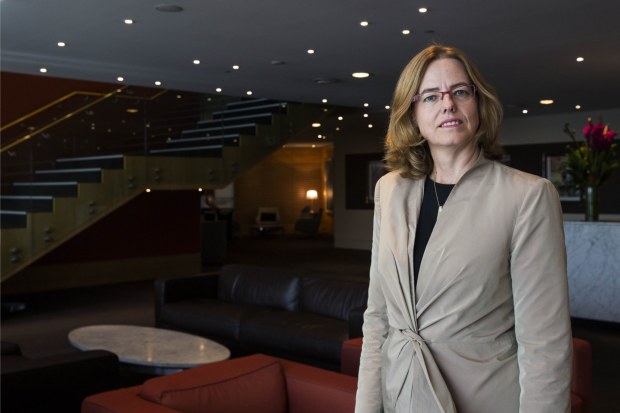 Ms Stubbins also provided more detail about a review into the leaks being run by former Telstra CEO Ziggy Switkowski and assured the former partner group "that leadership accountability and the appropriate consequences are [being] taken for this situation".
The email was sent on Monday afternoon to what appears to be a select group of retired partners, at around the same time that PwC announced former chief executive Tom Seymourwould retire in September and Dr Switkowski's review into the firm's governance, accountability and culture.
The early retirement and review are happening in response to growing political, client and community pressure over the scandal, which involves dozens of PwC partners receiving emails that discussed plans to use confidential government tax policy information to win new clients.
"I want to start this note with an apology for not having been able to reach out over the last week to address the issue of unauthorised sharing of confidential tax policy information," Ms Stubbins wrote in the email to retired partners.
Seymour to leave in September
She went on to write Mr Seymour's initial decision to step down from the CEO role showed he had "taken accountability for leading the tax team at the time confidential material was shared. Today I can share that he will be retiring from the partnership on 30 September 2023."
Ms Stubbins wrote Dr Switkowski would "begin work immediately" and report his key findings and recommendations in September 2023. She also indicated that even partners might only be privy to a summary of the review's key recommendations.
"When complete, we will share a summary of the key recommendations with our partners, people, the retired partner community and also make them publicly available," she wrote.
The firm declined to comment when asked about which partners within the firm would see the full Dr Switkowski report.
The firm's decision to only commit to publishing a summary of recommendations from the review has already been criticised by Labor senator Deborah O'Neill, who said it showed the exercise had "little credibility".
Reputation rebuild
Ms Stubbins also wrote that the firm is looking to rehabilitate its relationship with the federal government. The firm has already appointed lobbyists, including former Labor senator Stephen Conroy, to assist in this task.
"It's important you are aware that we have also set up a full response plan which [partner] Nicole Salimbeni is leading with me, and that workstreams are underway to ensure we get our business reputation back on track," she wrote.
"We recognise we need to rebuild trust. We're listening closely to clients and other stakeholders, including the federal government and regulators, and will engage openly and transparently as we move forward.
"Finally, I'm sorry that the actions you're reading about don't reflect the high standards we expect of ourselves and the firm."
Retired partners speak
A retired partner told The Australian Financial Review that they do not think it is feasible for the firm to wait until September to announce any further partner exits over the leaks.
He said that to him, the email seemed "a bit cynical...there's no real surgical removal [of those involved]. They're trying to buy time. They've got a review which will take until September."
Another former partner said the firm's leadership seemed to be at a loss about how to response to the crisis.
"I think they must have believed that if they keep their heads down it will go away," he said.
A third former partner said the firm was likely taking other action outside of the email.
"Clearly from what's she's saying this isn't the entire sum...of what the firm is doing," he said. "Their problem is being absolutely [certain] that when they take action it's on solid ground."
Under PwC's partner retirement plan, eligible former partners are paid an average $140,000 a year – some for life – out of the continuing profits of the firm.
Read more about the PwC leak