Keating cannot resist noting Labor blood flows through the driving forces behind the city's icons. "Jack Lang gave Sydney the Harbour Bridge. Joe Cahill gave Sydney the Opera House. And I gave Sydney Barangaroo."
Despite the raging controversy over both the Crown Casino and raised heights of some of the commercial and residential towers, former Prime Minister Paul Keating has described Barangaroo as "Sydney being hit by a rainbow".
"The thing is a triumph!" he told Domain. "It now presents a lyrical scene for everyone, complementing the greatest harbour landscape in the world.
Former Prime Minister Paul Keating on Sydney's Barangaroo

Paul Keating's love affair with Barangaroo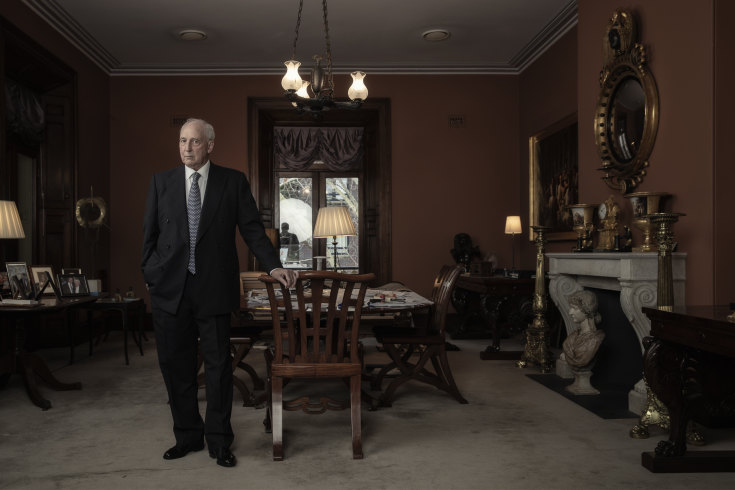 Paul Keating's self-referential praise for Barangaroo is cringeful in its exultation of a development that is short on both architectural merit and social conscience. By Elizabeth Farrelly.
Suddenly everyone's an architecture critic. This is good, because at last we're discussing things that matter. It's also bad, because so much of the conversation comprises Christmas-cracker cliché dressed as scholarship.
Take Paul Keating's recent mad, ignorant, arrogant, pro-developer, pro-Packer, anti-public interest, self-justifying half-hour Barangaroo rant.
Keating has always been quick, venomous and narcissistic. He's always yearned to remake Sydney Harbour in his own image. This chutzpah is his appeal, and he knows it. "There are only ever two ingredients in leadership," he declared in 2007 as he announced his dumping of Barangaroo's competition-winning architects Hill Thalis, "imagination and courage." Forget wisdom. Forget knowledge. Forget truth.
But even by Keating standards this recent speech was extreme, its innumerable non sequiturs, sophisms and deceits suggesting a final wild plunge from ordinary political narcissism into the quicksands of lunacy.
We've long accepted this former Bankstown boy's predilection for Zegna suits, French Second Empire clocks and 18th-century parquet floors as harmless affectation. We're used to his derision of any who advocate for a more liveable city fabric as fruitcakes and sandal-wearers. But still, to hear him laud the ultra-rich and right-wing, the uglifiers and the shameless privatisers of public land, as benefactors of "the ordinary people" was genuinely bizarre.
To start, he could not heap enough praise upon Premier Dominic Perrottet. The premier – who proposes to trash the Blue Mountains World Heritage area to facilitate further floodplain development and cares more about a few traffic gantries on the Anzac Bridge than the destruction-by-skyscraper of our treasured heritage at Central Station – is Keating's new bromance. "States get lucky," Keating averred. "They get people with a civic conscience. And we have one with the premier."
Keating equally adores Lendlease. Their immense harbourside phallus known unaffectionately as Packer's Pecker was specifically exempted both from the lockout laws that killed Sydney's nightlife and from the statutory smoking ban. It has deprived the public and its neighbours of sun and views and spent some of its vast profits on court action to stop anyone else doing the same.
None of this deserves praise, yet Keating heaped it upon them. "This project was the first and leading one of its kind in the world," he said, repeating the "in the world" part for emphasis. Then, as if private profit somehow proved public benefaction, he continued: "Lendlease has made a business of this now around the world." Does anyone still buy this trickle-down nonsense?
But also, first? Of its kind? In the world? What could he possibly mean? First skyscraper? First ugly skyscraper? First ugly casino skyscraper exploiting public land for private profit? No, no and no. What Keating seemed to mean was this was Lendlease's first "precinct development". But still no. Think Pyrmont. Think the Harry Seidler/Lendlease proposal to demolish The Rocks, 50 years ago.
Keating has been pivotal to Barangaroo's redevelopment throughout its whole, sorry, 20-year saga. Back in the early 2000s there was a little Bob Carr–Frank Sartor–Paul Keating love triangle. Keating backed Carr when he killed the working harbour and promised, in recompense, that the headland would bear a public cultural icon to rival the Opera House. Sartor was the planning minister who made it happen.
Keating claims he "had" Bob Carr legislate Barangaroo as 50 per cent open space. He sat on the original 2005 competition jury that chose the Hill Thalis team's scheme, then single-handedly dumped them in favour of a bigger, more profitable bit of bling. For a decade, he chaired the Barangaroo Design Excellence panel, during which time the floorspace doubled again. I doubt anyone has ever rolled Keating in committee. So yes, Barangaroo is 100 per cent Keating's baby.
Perhaps, then, he had no choice. To cement his historical position as Sydney's equivalent of Napoleon and Haussmann – who reshaped Paris – he must not only take credit for Barangaroo but urgently reposition it as the public delight he promised in 2007, rather than what it looks like: a wasted public opportunity and ruthless private cash-grab.
Back in 2007 Keating promised a "residential precinct … defined by its cohesion and human scale … with a perimeter block form" that would "turn Hickson Road into a true boulevard. Indeed, Sydney's only boulevard".
Instead, we have a "precinct" of glassy towers; private, windswept streets; exorbitant apartments and some soulless faux-village shops. The heartbroken Hungry Mile is now Australia's most expensive neighbourhood, with one apartment selling for $140 million. Where Bob Carr's icon should be squats a mammoth, grubby-fingered casino and some faux-nature atop a car park.
All of which seems only to spur Keating's classic mix of undeserved praise and unwarranted derision to greater intensity.
The Thalis scheme he helped select he now describes as "dull … a piece of rubbish … basically keeping the concrete wharf and grassing it with a few buildings down one end". Yet the same description, on steroids, fits what he has bequeathed us: a vast clump of towers to the south, with expensive grass, trees and fake rocks to the north.
For the casino's invasion of public land Keating quite spuriously blames Lord Mayor Clover Moore. "The casino is here because of Clover Moore and her former deputy," he insists. "If we'd left this to the ning-nongs at the City Council this woulda been built out." Wrong and wrong again. The council has had no jurisdiction over Barangaroo. None. Plus, even from outside, it fought to dump the casino and preserve this land for its intended public cultural use.
"Let's not have any rewriting of history," said Keating, with a small chuckle as he did exactly that.
Thereafter Keating traipsed ever more boldly into the land of the unhinged. "At 75 storeys," he declared, Crown casino "is one of the most important of its kind in the world. In the world." That repetition, again, designed to dignify what is simply silly. Important? What about a casino with inextricable links to money-laundering, human-trafficking and organised crime could possibly be important?
It's true the casino tower is a pretty enough form, as phalluses go and in a 10-second drive-by sort of way. The glass skin does interesting things with light, and the bulge-and-twist, halfway up, makes good Instagram fodder. But Keating insists this is all about the public. "P.U.B.L.I.C.," he snarked. "Those ordinary people. This is all about them." But for we ordinary people, ground level is where it matters. And there everything is as crude, hostile and stiffly jointed as a clunky small-town mall. Still, Keating loves it.
Then it was Packer's turn for flattery. "If it hadn't been for James Packer's personal commitment to the quality of the building, it wouldn't be there…" In truth, we now know, it was Packer's Crown that brought the grime, the grunge, the laundered money. But it was Keating himself who briefed the architect, WilkinsonEyre, to emulate a Brâncuși sculpture.
What did he say? Do me a Barangaroo Brâncuși? That's just embarrassing, like asking some jobbing artist to paint the Mona Lisa on velvet with your wife's head instead. The mere idea shows how little Keating understands either sculpture or architecture.
Brâncuși was a Platonist. He sought purity, dignity and deep truth. The extreme simplicity of form was his struggle to express the essences of things. There's nothing essential about a casino. Nothing pure or simple. To imagine that a skin-deep similarity of form implies such a link discredits architecture and sculpture both.
And when it came to architects, Keating was characteristically rude. "If you need kitchen amendments, or another odd toilet off the corridor, Philip Thalis is your person," he quipped, then repeated the insult in reference to the entire Institute of Architects.
But Keating is nothing if not shameless. "We haven't had a development ever in Sydney which has a dividend for the public," he insisted. Not only is this not true but to start with a CBD-sized portion of public waterfront land, privatise half of it and pretend that's some kind of public gift is downright – there's no other word for it – dishonest.

Former prime minister Paul Keating, who delighted Labor supporters over decades by ridiculing his Coalition opponents in parliament, on Thursday praised the NSW Liberal government and troubled billionaire James Packer over the Barangaroo casino precinct next to Sydney Harbour.
Mr Keating and Premier Dominic Perrottet traded expressions of appreciation at a Sydney press conference to explain the government's decision to reduce the height of apartments planned by developer Aqualand next to Crown Resorts' hotel, apartments and casino.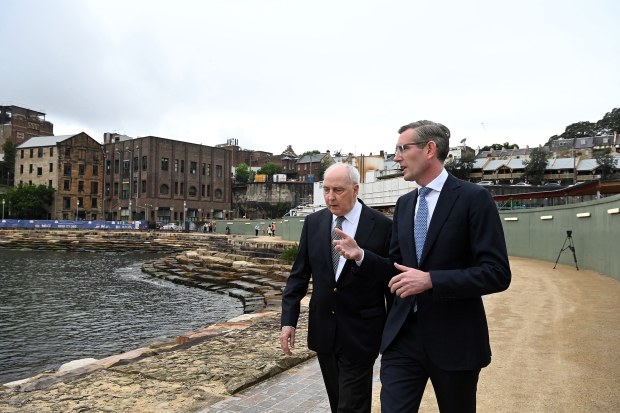 "Thank God for the premier," Mr Keating said. "States get lucky. They get people with a civic conscience. And we have one with the premier."
Mr Keating complained about criticism of Crown's 75-storey building, which he said was "easily" the most beautiful in Australia, by "fruitcakes" at the NSW Institute of Architects, ex-Sydney councillor Philip Thalis and his home-town newspaper.
"If you go to New York, people have always celebrated those wonderful tall buildings that sit at the end of New York, you know, except of course The Sydney Morning Herald," he said.
"It celebrates nothing of this kind. Talk about warped sense of news.
"If you need kitchen amendments, or another odd toilet off the corridor, Philip Thalis is your person."
Praising Packer
This is the 10th anniversary of the start of construction at the site on the western side of central Sydney. The Herald has published about a dozen articles on the development, including some citing architects complaining the Crown building is too big.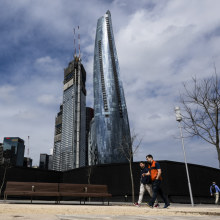 "If it hadn't been for James Packer's personal commitment to the quality of the building, it wouldn't be there," Mr Keating said. "And his family, his sister and his mother knew that they were committing their equity in Crown to this, this building, which would not have been otherwise commercially built."
Mr Packer, who was Crown's biggest shareholder and executive chairman, obtained bipartisan support in NSW for the casino, even though he was never required to tender for the licence. He sold out of Crown this year after the company admitted to enabling money laundering.
Mr Perrottet, who faces an election in five months against a Labor opposition leading in the polls, praised Mr Keating, who became prime minister when Mr Perrottet was nine.
"I want to end the press conference by thanking the former prime minister Paul Keating for his leadership – for his vision – because without it, we wouldn't get the public benefit that we have had here at Barangaroo," the premier said.