Nice try unknown number, I don't even answer calls from people I know.
Shao Hong, 44 is a high-flying audit assurance partner at PwC Australia
She and her husband Di Wu are accused of stealing $3.3million from his bosses
Mr Wu allegedly created fake and inflated invoices to defraud his company
They allegedly spent the money building dream home in Sydney's north shore
Couple's assets have been frozen as they face legal action to recover cash
High-flying first Chinese executive at PwC Australia is accused of $3.3million fraud to buy a Porsche and pay for renovations to the six bedroom mansion she shares with her husband
NSW parliament admits 'toxic' work culture

What to Do If Your New CEO Is an Incompetent Moron

Millions of employees choose to WFH to avoid toxic workplaces

Image management has long been a tool used by people trying to get ahead in the corporate world. Everyone wants to put their best foot forward and paint themselves in the best light possible, but research conducted by leadership training company, The Mindful Leader, indicates that in most organizations, 40% of employee time is wasted by people managing their images.
The toxic workplace trend that's stealing leadership integrity

There's no such thing as a 'perfect' workplace. However, that's no excuse for maintaining a toxic environment and letting your employees feel like they're undervalued and don't belong there.
"It Breeds Such A Toxic Culture": Employees Are Sharing Specific Traits Of A Problematic Workplace


The COVID-19 pandemic may have caused you to rethink your work life. Maybe you realized you're unhappy in your job, or you want better work-life balance. Regardless of where you are, knowing if your work environment is toxic or healthy can help you make important career decisions going forward.
No job is perfect. But a toxic workplace can hurt your mental and physical health. On the other hand, a healthy workplace can boost your overall well-being.
Another account of the extent of the private equity health care grifting, as well as some avenues to check these abuses.
Bezos and Gates ex wives club are very impressive with their charity. Bezos probably was feeling outdone.
Some people thinking this is a genuine effort to fight climate change
, he's fighting his tax liability, nothing else
Someone got visited by 3 ghosts last night / Jeff Bezos pledges to donate majority of his $124 billion fortune to fight climate change and unify humanity.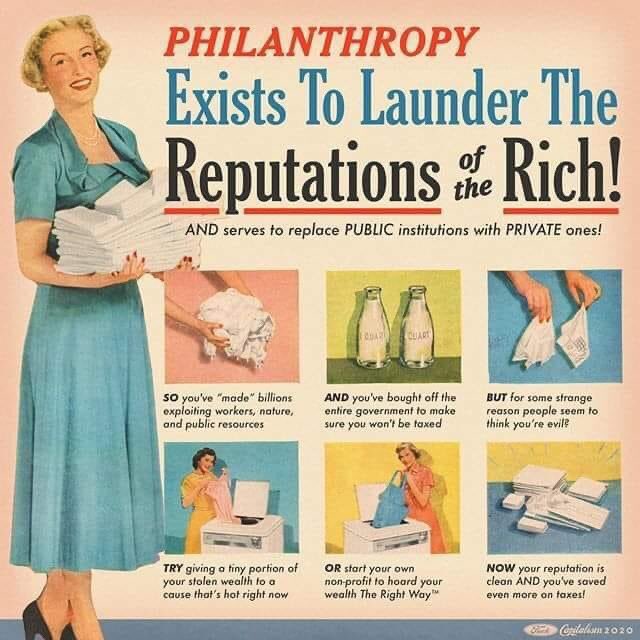 Piketty when billionaires like Jeff Bezos say they are going to "give away all their money to charity", it's a lie.

"This is the UK National Health Service site written by many health and medical experts. As you find yourself recovering from COVID, you may still have symptoms that affect your body and mind. These symptoms should get better over time and some may last longer than others, but there are things you can do to help. Your COVID Recovery is here to support you and help you to understand what has happened and what you might expect as part of your recovery. This website is regularly updated to include all the latest news and thinking around COVID and long COVID."
Harry Potter-loving ex-girlfriend of disgraced FTX founder bragged of 'regular amphetamine use' on Twitter – which she said made her 'appreciate how dumb a lot of normal, non-medicated human experience is' Daily Mail
Sam Bankman-Fried oversaw FTX's meltdown, and the fallout is reaching DC The Verge, The deck: "He had friends in high places — and they are probably embarrassed right now."
Is Effective Altruism to Blame for Sam Bankman-Fried? Eric Levitz, New York Magazine
Tom Brady, Gisele Bündchen, Larry David sued by crypto investors after FTX collapse NY Post