Poorest families pay 47.6% of their income in tax as top earners hive off wealth to tax havens
Secrecy surrounds GST registered sellers, leaving online consumers vulnerable to profiteering - Courier Mail
Report of the IBA-OECD Task Force on The Role of Lawyers and International Commercial Structures
Our filing last year with the ATO is a standard tax filing." Netflix confirmed to the Financial Review that ...




| | |
| --- | --- |
| | The Australian Financial Review |
Following up on Wednesday's post, An Open Letter To The 2020 Presidential Candidates: It's Time To Tax Us More: Wall Street Journal editorial, An Open Letter to Patriotic Billionaires:
Nineteen uberwealthy Americans posted an open letter Monday calling on "all candidates for President" to support a "moderate" wealth tax. Signatories include the investor George Soros, Berkshire Hathaway scion Molly Munger, Mickey Mouse heiress Abigail Disney, Facebook co-founder Chris Hughes, and a couple of Hyatt Hotel progeny from the Pritzker family. ...
The letter brushes by the arguments against a wealth tax, calling them "mostly technical and often overstated." Would courts find it unconstitutional? How would assets like Picassos be valued? Why has Europe largely abandoned this kind of taxation? Doesn't it diminish the incentive to save and invest? What's to keep a wealth tax from expanding, like the income tax did, to cover more and more Americans?
Instead of seriously grappling with these objections, the letter tries to sweep readers along in sheer patriotic fervor. The rich "should be proud to pay a bit more," the authors say. "Taking on this tax is the least we can do to strengthen the country we love."
Tax, Inequality, and Human Rights (Philip Alston (NYU) & Nikki Reisch (NYU) eds. Oxford University Press 2019)
We don't let dead people vote.
We don't let dead people run for political office.
But we do let dead people donate money that shapes the world, using charitable trusts.
And as we learn on this episode of the Future Perfect podcast, letting zombie donors pull the strings often doesn't turn out all that well.
She says the all-powerful zombie donor is a relatively new American phenomenon.
For the first century or so after the American Revolution, the idea that the dead would have much control over the resources of the world seemed very undemocratic. But then came the Gilded Age, and the rise of a class of unprecedentedly rich people. Some of these robber barons were willing to spread their wealth around — in exchange for immortality. And that immortality came in the form of charitable trusts that lasted forever.
In the decades since, perpetual charitable trusts have become the norm.
The problem? Forever is a long time. And when donors write specific instructions in their trusts, they can't predict the ways the world will change.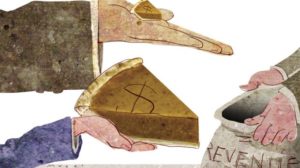 It dwarfs all other government spending. It is secretive. A huge chunk of it does not even go out to tender. The lion's share goes to foreign multinationals who pay no tax in Australia. It is defence spending.
Ben Butler