"Orwell didn't foresee Trump. But if Trump were ever to find out about Orwell, he would probably tweet. 'Really dumb @AnimalFarm. A total loser – no clue!'"...
No Idea
Australia: Coalition urged to charge 10% royalty on offshore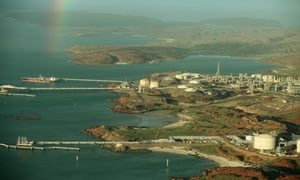 The north-west shelf project in Western Australia which the Tax Justice Network says pays high royalties. Photograph: Graeme Robertson
Last year the Panama Papers scandal shook the world and lifted the lid on murky offshore dealings in spectacular fashion. The political consequences and investigations, criminal and otherwise are far from over. The European Parliament
set up the Panama Papers inquiry committee
tasked with investigating
"alleged contraventions and maladministration in the application by the EU Commission or member states of EU laws on money laundering, tax avoidance and tax evasion."
Today
Bloomberg reports
that the committee begins a series of 'secret fact-finding meetings' in London for two days. It has come to the heart of the beast.

Panama Papers: Mossack Fonseca founders arrested over bribery scandal
Authoritarian Populism Of Donald Trump Could Burn Us All
India's Tax Collection Soars Belying Demonetization Fears
Transparency, Lobbying and Fake News: how transparent are think tanks?
Panama Papers: Mossack Fonseca founders arrested over bribery scandal
MEPs Quiz UK Authorities Over London 'Dodgy Dealings' Global Tax Haven Web
UK Becoming 'Prime' Tax Haven: EU Panama Inquiry Vice Chair
How the Flash Crash Trader's $50 Million Fortune Vanished
MPs set to probe Cerberus over toxic-loan 'tax avoidance' claims
German, Swedish Banks Back Tougher Beneficial Owner Rules
Australia - Consultation on increasing transparency of the beneficial ownership of companies
With growing inequality, tax avoidance and evasion is a hot issue which the government has yet to fully address
Tax – Is the UK avoiding the real issue?