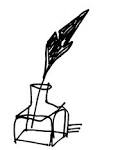 "It was extraordinary how fond she had become of this man, thought Mrs. Pollifax, and she reflected upon how few persons there were with whom she felt an instinctive rapport. There was never anything tangible about this. It was composed of humor, attitude, spirit—all invisible—and it made words completely unnecessary between them."
Dorothy Gilman,
The Elusive Mrs. Pollifax
[
Stanthorpe sinks to minus four degrees on Sunday - Reports of snow ... or something like it ]
Over homemade passata and a glass of red with Annabel Crabb, the Prime Minister answers those questions with some of his most expansive answers to date. And the thrust? Many of his critics just "don't get it"
Last Sunday at the Marickville Markets Annabel was busy buying fresh ingredients: PM opens up on Kitchen Cabinet
British press unite over soccer team's dismal performance
Financial institution Citigroup says it has trademarked "ThankYou" as a marketing term in connection with customer loyalty and reward programs and is suing AT&T for using the term in its own new marketing campaign. [
David Kravets, ArsTechnica
]
In case you missed it,
One MEDiaDragon Click at a Time
LRB. On "post-capitalism."
The Guardian
: "
Google
has rolled out new tools to let users see what its ad-tracking service has learned about them, and to let users opt in or out of a new personalised ads service. The addition to Google's account settings,
called My Activity
, allows users to review everything that Google has tracked about their behaviour – across search, YouTube, Chrome, Android and everything else – and edit or delete it at each step. If you use Google for everything you do, you might be surprised by just how much it catalogues about your comings and goings on the internet…"
KURT SCHLICHTER:
The Mainstream Media Chose a Side and Now It's Paying the Price.
The MSM, of course, wants to have it both ways. It wants to be hailed as an institution composed of crusading truthtellers whose integrity and willingness to speak truth to power make them the cornerstone of a free society. Except most of them are really partisan hacks who lie endlessly for the liberal politicians they suck up to. Their relationship with Democratic politicians is less speaking truth to power than sexting their masters. When it comes to covering for their progressive pals, it's "50 Shades of Newsprint" and the MSM eagerly chomps down on its ball-gag.
How The Huffington Post is mobilizing its newsroom to take on social issues
New platforms can be tools for connection with colleagues and outside experts, but can also serve as distractions while on the job
– "Social media influences and permeates many aspects of daily life for Americans today, and the workforce is no exception. These digital platforms offer the potential to enhance worker productivity by fostering connections with colleagues and resources around the globe. At the same time, employers might worry that employees are using these tools for non-work purposes while on the job or engaging in speech in public venues that might reflect poorly on their organization. A Pew Research Center survey of 2,003 American adults (including 795 who are currently employed on a full- or part-time basis) conducted Sept. 11-14 and 18-21, 2014, finds that social media plays some role in the lives of many American workers – but that role is not always clear-cut or entirely positive."
Harrisburg, PA Mayor Picks And Chooses Who The 'Real' Journalists Are
With Twitter's stock in the gutter and investors clambering for a turnaround, C.E.O. Jack Dorsey has embarked on an acquisition spree that could give 2013-era Marissa Mayer a run for her money. Fresh off a $70 million investment in audio-streaming service SoundCloud, Twitter announced Monday that it has purchased Magic Pony, a British artificial-intelligence start-up, for a reported $150 million. Magic Pony is the third machine-learning start-up Twitter has purchased in as many years. Prior to buying up Magic Pony, Twitter bought A.I. start-ups Madbits in 2014 and Whetlab a year later.
Why Twitter Just Bought an Artificial-Intelligence Start-Up Called Magic Pony
Keeping Earth up to date and looking great
– "Three years ago we introduced a
cloud-free mosaic of the world
in Google Earth.
Online Tracking: "Have you ever wondered why some online ads you see are targeted to your tastes and interests? Or how websites remember your preferences from visit-to-visit or device-to-device? The answer may be in the "cookies" – or in other online tracking methods like device fingerprinting and cross-device tracking. Here are answers to some commonly asked questions about online tracking — how it works and how you can control it…"
Do echo chambers actually exist on social media? By focusing on how both Italian and US Facebook users relate to two distinct narratives (involving conspiracy theories and science), we offer quantitative evidence that they do. The explanation involves users' tendency to promote their favored narratives and hence to form polarized groups. Confirmation bias helps to account for users' decisions about whether to spread content, thus creating informational cascades within identifiable communities.
"I was afraid of going to a country that was younger than most of Vienna's toilets "
The jury is still out, but at this early stage, there's good reason to doubt the legitimacy of claims that more than 32 million Twitter passwords are circulating online. The purported dump went live on Wednesday night on LeakedSource, a site that bills itself as a breach notification service.
Maksym Gabielkov, Arthi Ramachandran, Augustin Chaintreau, Arnaud Legout.
Social Clicks: What and Who Gets Read on Twitter?
. ACM SIGMETRICS / IFIP Performance 2016, Jun 2016, Antibes Juan-les-Pins, France. 2016.
https://hal.inria.fr/hal-01281190
Submitted on 13 Apr 2016.
"Online news domains increasingly rely on social media to drive traffic to their websites. Yet we know surprisingly little about how a social media conversation mentioning an online article actually generates clicks. Sharing behaviors, in contrast, have been fully or partially available and scrutinized over the years. While this has led to multiple assumptions on the diffusion of information, each assumption was designed or validated while ignoring actual clicks. We present a large scale, unbiased study of social clicks – that is also the first data of its kind – gathering a month of web visits to online resources that are located in 5 leading news domains and that are mentioned in the third largest social media by web referral (Twitter). Our dataset amounts to 2.8 million shares, together responsible for 75 billion potential views on this social media, and 9.6 million actual clicks to 59,088 unique resources. We design a reproducible methodology and carefully correct its biases. As we prove, properties of clicks impact multiple aspects of information diffusion, all previously unknown. (i) Secondary resources, that are not promoted through headlines and are responsible for the long tail of content popularity, generate more clicks both in absolute and relative terms. (ii) Social media attention is actually long-lived, in contrast with temporal evolution estimated from shares or receptions. (iii) The actual influence of an intermediary or a resource is poorly predicted by their share count, but we show how that prediction can be made more precise."
New Belgium is making a cookie dough beer with Ben and Jerry's
The
Global Trends 2015
compiled by the Office of the UN High Commissioner for Refugees (
UNHCR
) notes that
65.3 million people were displaced at the end of 2015
, an increase of more than 5 million from 59.5 million a year earlier.
In May, 23,000 people voluntarily took part in thousands of social science experiments without ever visiting a lab. All they did was log on to Amazon Mechanical Turk (MTurk), an online crowdsourcing service.
"25 quick takes (no kidding!) on the EEOC's proposed national origin guidance" [
Robin Shea
]
It wants to be the YouTube of social media:
Facebook has cut deals with about "140 media companies and celebrities to create videos for its nascent livestreaming service, as the social network positions itself to cash in on a lucrative advertising market it has yet to tap — and keep its 1.65 billion monthly users engaged." (
The Wall Street Journal
)
Here is why facebook is paying news organizations millions of dollars
Via LLRX.com –
Journalism Resources on the Internet 2016
–
Marcus Zillman's
new comprehensive guide is focused on journalism resources and sites of ongoing value in your process to refine topical and subject matter research and deliver actionable work product. This guide is a value added discovery tool that includes a wide range of reliable, comprehensive and actionable government, academic, corporate, news, training and business resources.
Lack of hard evidence of money laundering doesn't mean the City is clean
Federal Court: The Fourth Amendment Does Not Protect Your Home Computer
Electronic Frontier Foundation
Google is the World's Biggest Censor and Its Power Must Be Regulated
USNews
154 million voter records exposed, revealing gun ownership, Facebook profiles, and more
DailyDot
Aerial Shots That Demonstrate The Stark Divide Between Rich and Poor Colossal
"MSU Law's First Amendment Law Clinic is the only clinical program in the country solely dedicated to the protection of student speech and press rights. Now, a $500,000 donation from leading Michigan attorney and MSU Law Trustee Richard D. McLellan will expand the clinic's impact nationwide by creating a Free Expression Online Library and Resource Center
TalkTalk chief Dido Harding has been paid £2.8 million by the budget telco in the past year during a period that included the high profile hack attack on its systems, which put a serious dent in the company's profits and reputation. Ex-jockey Harding vowed in TalkTalk's annual report—published on Monday morning—to donate her £220,000 annual bonus to charity. It comes on the same day that MPs called for company bosses to take more responsibility for security gaffes. MPs and peers sitting on the culture, media, and sport committee have recommended that "a portion of CEO compensation should be linked to effective cyber security"—which, put another way, means that bonuses, and other salary incentives could be held back if a boss fails to act "before a crisis strikes."
It has been said on more than one occasion that, in the area of international taxation generally, the OECD/G20 BEPS project will be a game-changer. Pascal Saint-Amans, Director of the OECD Centre for Tax Policy, recently reiterated the claim in an interview with Axel Threlfall [
Click here to open this document
] , Reuters editor-at-large, at the recent OECD Ministerial Council Meeting in Paris.
Learn from the word craft of 'Hamilton' and make your stories sing