This attack on a public official cannot be viewed in isolation. It occurs against a backdrop of an ugly public mood in which we have been told to despise the political class, to distrust those who serve, to dehumanise those with whom we do not readily identify."
Google on Joe Cox Tragedy
On am dark day for democracy, Mrs Joe Cox, a 41-year-old mother of two, was shot three times and repeatedly stabbed by a killer screaming "Britain first".
Mrs Cox was the first MP to be murdered since the death of Ian Gow, who was assassinated by the IRA in a car bomb outside his home in 1990. She is the first female MP to be murdered and is also believed to be the first killed by a constituent in modern times. Following the attack, MPs were told by the Commons' authorities to call police if they have any concerns about security.
Joe Cox Assassination
As news of British MP Jo Cox's death spread around the world, tributes from international public figures flooded in.
Hillary Clinton, the presumptive US Democratic presidential nominee, led the tributes saying she was horrified by the 'assassination' and calling Cox a 'rising star'.
She referenced Cox's maiden speech which celebrated the diversity of her constituency
Background on Joe Cox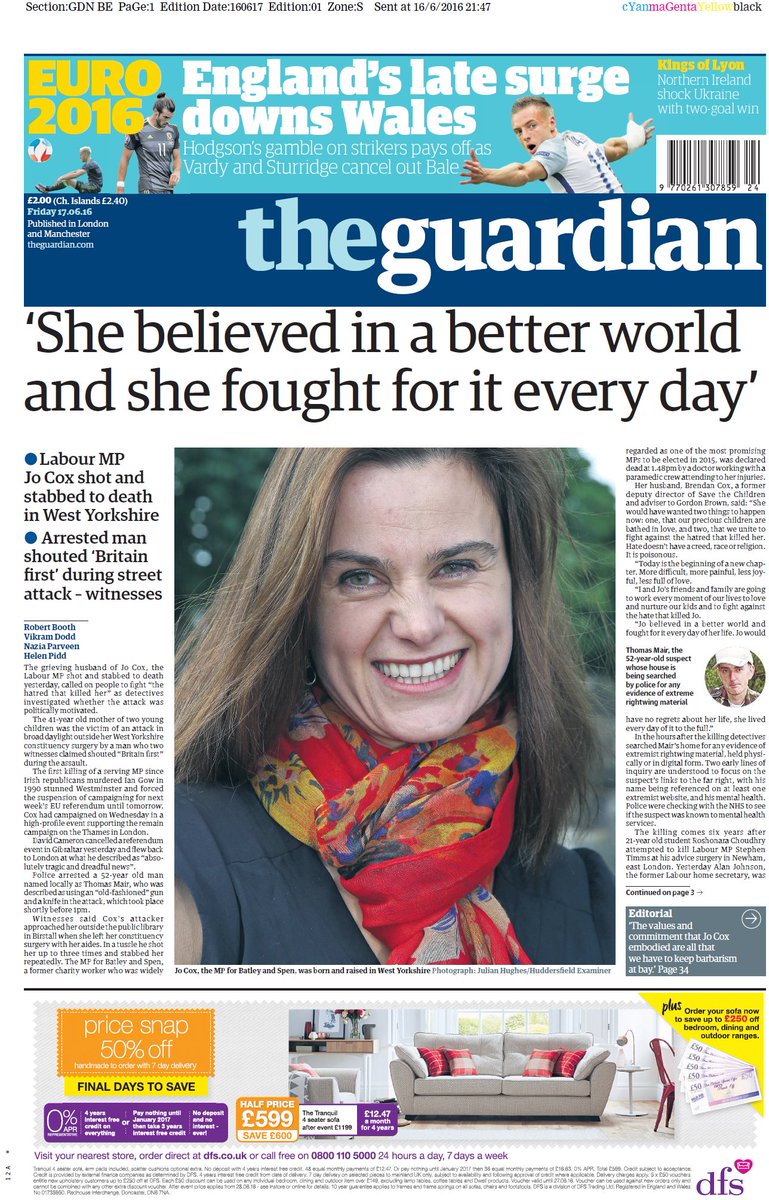 — Nick Sutton (@suttonnick)
June 16, 2016



MPs are forever being told: "You just don't get it, do you?" In fact most do get it. They get it because they hear about it every week in quiet halls and libraries like the one Jo left yesterday lunchtime before being so brutally struck down.

They get it because they listen in their constituency surgeries to the cries of help from those who have nowhere left to turn. They get it because every day they struggle against the national unfairnesses and local bureaucracies that we each encounter just fleetingly. They miss their own families' lives being played out to attend never-ending meetings about other people's.

It is one of the great quirks of British politics that from the prime minister down our elected politicians make themselves available to their constituents openly and warmly. We now know what a risk that can be. It has since emerged that Jo had faced months of abuse and police were poised to put extra security in place. Other MPs are fearful for their safety. One of the foundations of our democracy will inevitably be chipped away.

It's true that some MPs could earn more money elsewhere. They could all have an easier life. But they put up with it all because they think it is the right thing to do, because they want to change the world.
The brutal murder of Jo Cox comes less than a year after women MPs raised fears about security.
A study for the Commons Administration Committee recorded how politicians had dealt with incidents involving stalkers and people with knives and guns.
It also highlighted MPs' concerns about working alone or in pairs in tough parts of town and worries about constituents with mental health issues.
Women MPs said that security was a "key concern" when they were surveyed last August.
The "limitations" of parliamentary allowances meant constituency offices "could often only be situated in out of town areas, or deprived areas of town, where rentals were below premium".
"This had potential implications for the security of staff, who were often women working alone or in pairs," the report added.
"Participants also stressed that security is important as staff can be at risk due to the number of constituents they deal with that have mental health issues."
Gabby Giffords sickened assassination British lawmaker
THE ASSASSIN:
In safe assassinations, the assassin needs the usual qualities of a clandestine agent. He should be determined, courageous, intelligent, resourceful, and physically active. If special equipment is to be used, such as firearms or drugs, it is clear that he must have outstanding skill with such equipment.
Except in terroristic assassinations, it is desirable that the assassin be transient in the area. He should have an absolute minimum of contact with the rest of the organization and his instructions should be given orally by one person only. His safe evacuation after the act is absolutely essential, but here again contact should be as limited as possible. It is preferable that the person issuing instructions also conduct any withdrawal or covering action which may be necessary.
In lost assassination, the assassin must be a fanatic of some sort. Politics, religion, and revenge are about the only feasible motives. Since a fanatic is unstable psychologically, he must be handled with extreme care. He must not know the iden tities of the other members of the organization, for although it is intended that he die in the act, something may go wrong. While the Assassin of Trotsky has never revealed any significant information, it was unsound to depend on this when the act was p lanned.
Labor MP Jo Cox, the MP for Batley and Spen, was shot and has died. Cox worked with Syrian refugees and the attack is assumed to be the result of her efforts. The 52 year assailant is in custody. The question is whether he was acting alone or on behalf of an extreme far-right group. The last murder of an MPs took place in 1990 at the hands of Northern Ireland radicals.
Both the Leave and Remain campaigns have been suspended.
An MP has died after she was shot and stabbed in an attack in her constituency, West Yorkshire Police have said.

Jo Cox, 41, Labour MP for Batley and Spen, had been left bleeding on the ground by her attacker. A 52-year-old man was arrested nearby…

Labour leader Mr Corbyn said the country would be "in shock at the horrific murder", describing the MP as a "much loved colleague"….

Cafe owner Clarke Rothwell, who witnessed the attack, said he heard a "loud popping noise that sounded like a balloon burst – a loud balloon".

"When I looked round there's a man stood there in his 50s with a white baseball cap on and a jacket with a gun, an old fashioned looking gun in his hand," he said.

"He shot this lady once and then he shot her again, he fell to the floor, leant over shot her once more in the face area.

"Somebody tried to grab him, wrestling with him and then he wielded a knife, like a hunting knife, just started lunging at her with a knife half a dozen times. People were screaming and running from the area".

Eyewitness Hithem Ben Abdallah, said the mother of two was left lying and bleeding on the pavement after the incident.
Mr Abdallah, 56, was in a cafe next door to the library shortly after 13:00 BST when he heard screaming and went outside.

"There was a guy who was being very brave and another guy with a white baseball cap who he was trying to control and the man in the baseball cap suddenly pulled a gun from his bag".

After a brief scuffle, he said the man stepped back and the MP became involved.

Mr Abdallah said the weapon had "looked handmade" and a man who had been wrestling with the gunman continued even after seeing the gun.

He said: "The man stepped back with the gun and fired it and then he fired a second shot, as he was firing he was looking down at the ground."

"He was kicking her as she was lying on the floor", he said.
After several witness claimed that Jo Cox's attacker repeatedly shouted "Britain First", Paul Golding – the leader of the far-right Britain First party – reiterated the claims are currently "unsubstantiated".

He said: "At the moment that claim hasn't been confirmed – it's all hearsay.

"Jo Cox is obviously an MP campaigning to keep Britain in the EU so if it was shouted by the attacker it could have been a slogan rather than a reference to our party – we just don't know.

"Obviously an attack on an MP is an attack on British diplomacy – MPs are sacrosanct.

"We're just as shocked as everyone else. Britain First obviously is NOT involved and would never encourage behaviour of this sort.

"As an MP and a mother, we pray that Jo Cox makes a full recovery."



CODA:
John Newman aka Jan Naumenko