Apple Watch Series 5 to Use OLED Screens From Japan Display - Wccftech
"Apple Watch 'prolonged my life' by spotting deadly heart illness just days after new ECG feature launched, gadget owner reports. "
Apple and Yoghurt thinking differently
Law Technology Today: "What do popular podcasts like Lawyer 2 Lawyer, Legal Talk Network, and Life of the Law
all have in common? Their creators showed a commitment to the production process, dedicating themselves to their project. Though the early stages of development are long, involved, and sometimes frustrating, they're necessary. With this in mind, new podcasters who are enthusiastic and eager to record need to take a few preliminary steps. Developing a legal podcast isn't as simple as finding the right microphone and going off the cuff. You have to follow proper protocol and prepare far in advance of the maiden first episode…"
Australia Post has opened a retail outlet
that only sends mail to China.
The concept store, located in the Sydney suburb of Chatswood, doesn't provide any normal postal services like selling stamps or mailing parcels around the country. Instead, it sells health and beauty products that can only be shipped to China.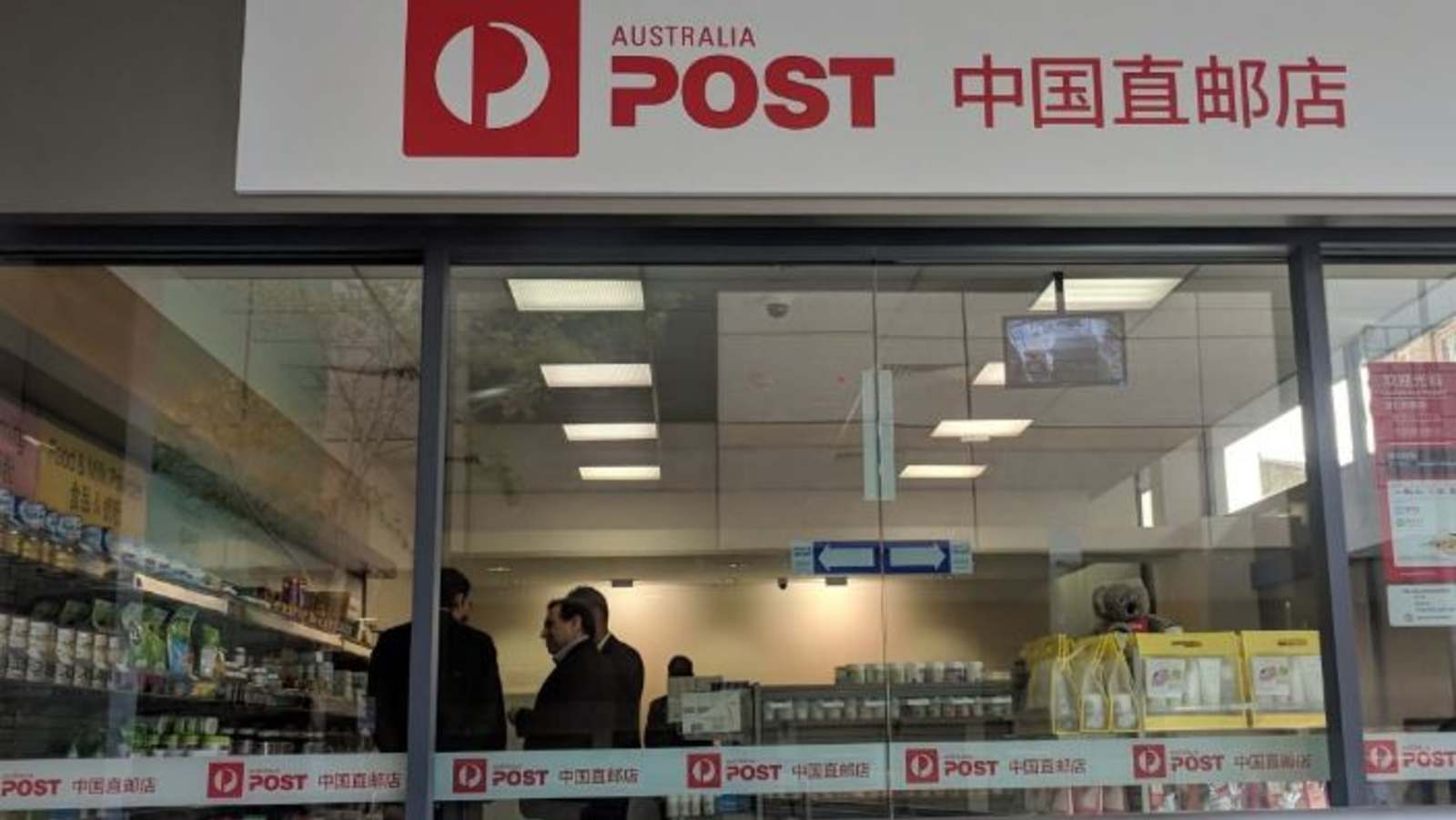 According to Australia Post, the purpose of the store is to "test customer demand for selected products to be sent to China".
"This store is not a post office. It will sell a limited number of lines, such as health and beauty products, in conjunction with international freight options," a spokesperson said.
At this stage it's just a pilot store and there are no plans to extend it to more than one location, but its very existence hints at the spending power that foreign Chinese shoppers wield in Australia.
Targeting Daigou
Overseas personal shoppers, known as "Daigou," are incredibly popular with Chinese buyers who have had to contend with a wave of counterfeit products and are still scarred from a contaminated milk scandal that killed six infants a decade ago. Plus, desirable foreign brands can be so expensive in China that paying someone in Australia to physically buy and ship the product is much cheaper.
Tens of thousands of Daigou – many of them Chinese students – can earn thousands of dollars a week selling health and beauty items via WeChat, Weibo, Tmall, and Alibaba.
When a
giant store
designed just for Daigou opened recently in Sydney, 150 Daigou attended and 730,000 Chinese shoppers live-streamed the event.
Australia Post's concept store is located on a side street next to Chatswood's Westfield shopping centre.
It's a little difficult to find as Australia Post doesn't list the location on its online directory. A staff member at Australia Post's main Chatswood post office gave some confusing directions, but made it clear to this reporter that the store is meant for Chinese tourists.
Chatswood seems like an odd location to target Chinese tourists. The CBD is a short train ride away and Australia Post's grand post office in Sydney is a ten-minute walk from the Sydney Opera House. But it is a strong multicultural hub – those with Chinese ancestry are the largest demographic, making up 34.1 per cent of the community, and it turns out the state's most popular shopping center for Chinese travellers staying longer than a month is
found in Chatswood
.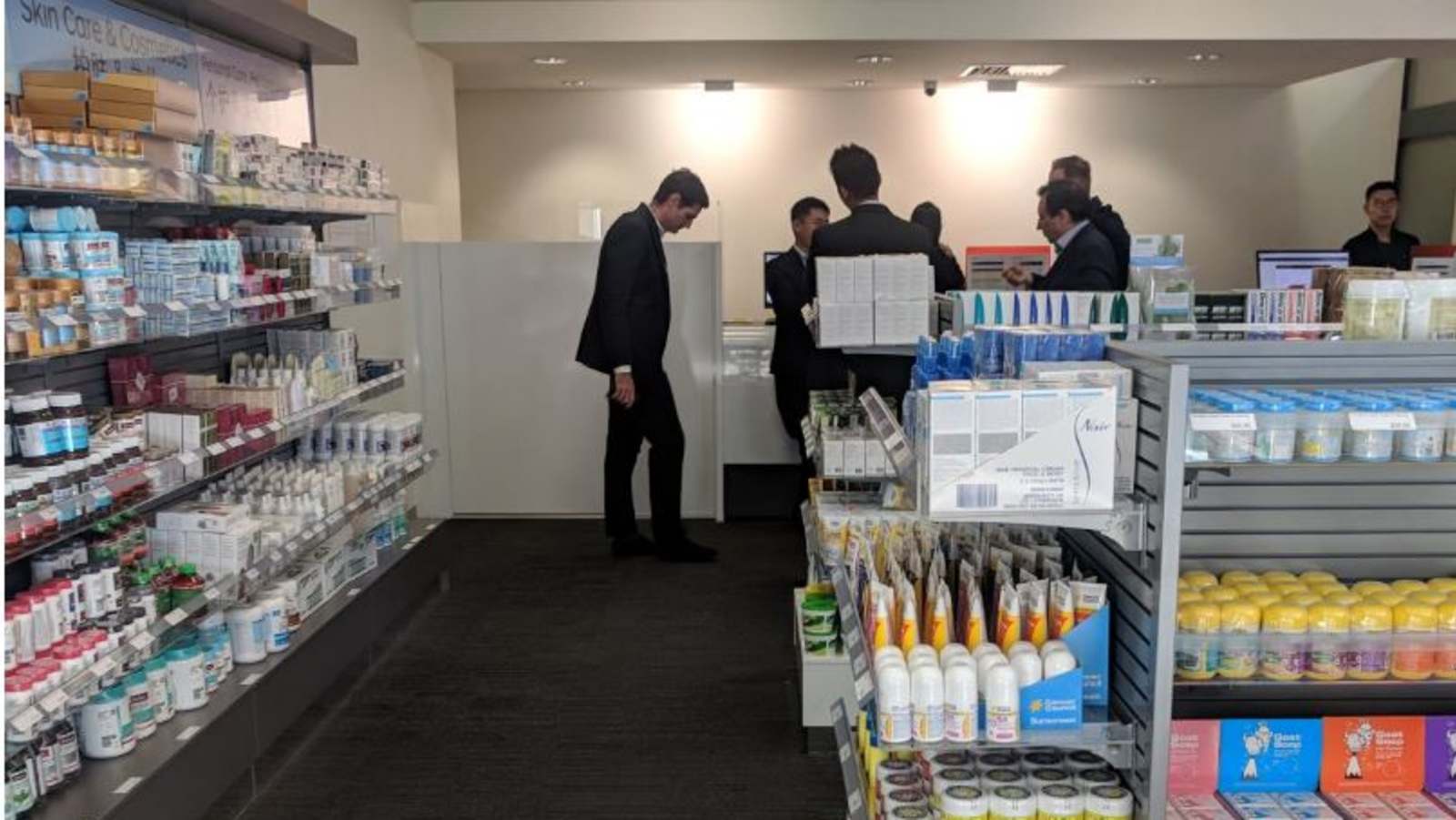 Business Insider finally found the concept store after asking for help from a postman in the middle of his route who knew the shop by its address – 45 Victoria Street. We entered the store when doors opened around 10 am on Wednesday.
The store is rather small, but the left wall is fully stocked with various types of baby formula, vitamins, and skin care items.
Three other stands were filled with a range of small products. Many of these were aimed at mothers: items like sippy cups, soaps, pregnancy vitamins, milk powder, cod liver tablets for kids, and chewable vitamin D for kids. There was also a range of cardboard-packaged, eco-looking products for kids, including toothbrushes and toothpaste.

Pills and potions
Some products were also geared toward adult shoppers; things like soaps, sunscreen, feminine wipes, even dishwashing liquid. Popular brands like Swisse, Blackmores, Natio, Sukin, Trilogy, and the Cancer Council were also available, as were items that could be bundled in gift packs.
There were two staff members at a back counter – one of whom confirmed parcels can only be sent to China and no other countries. On a wall on the right side of the store, there were at least 200 flat-packed cardboard boxes and a long table, likely designed for Daigou to pack their purchases.

In the twenty minutes that Business Insider perused the shelves, only two female shoppers entered, but it soon became clear they knew each other and one of them left shortly afterwards. No purchases were seen.
Shelves of infant formula
The only other people in the store were five men in suits who were discussing business-to-business and business-to-consumer markets in China and how to deal with Chinese customs checks. At one point, one of the men inquired about this reporter, who had been taking photos inside the store. After learning she works for a news organisation, the man walked away silently and rejoined the others who continued their discussions on the Chinese market.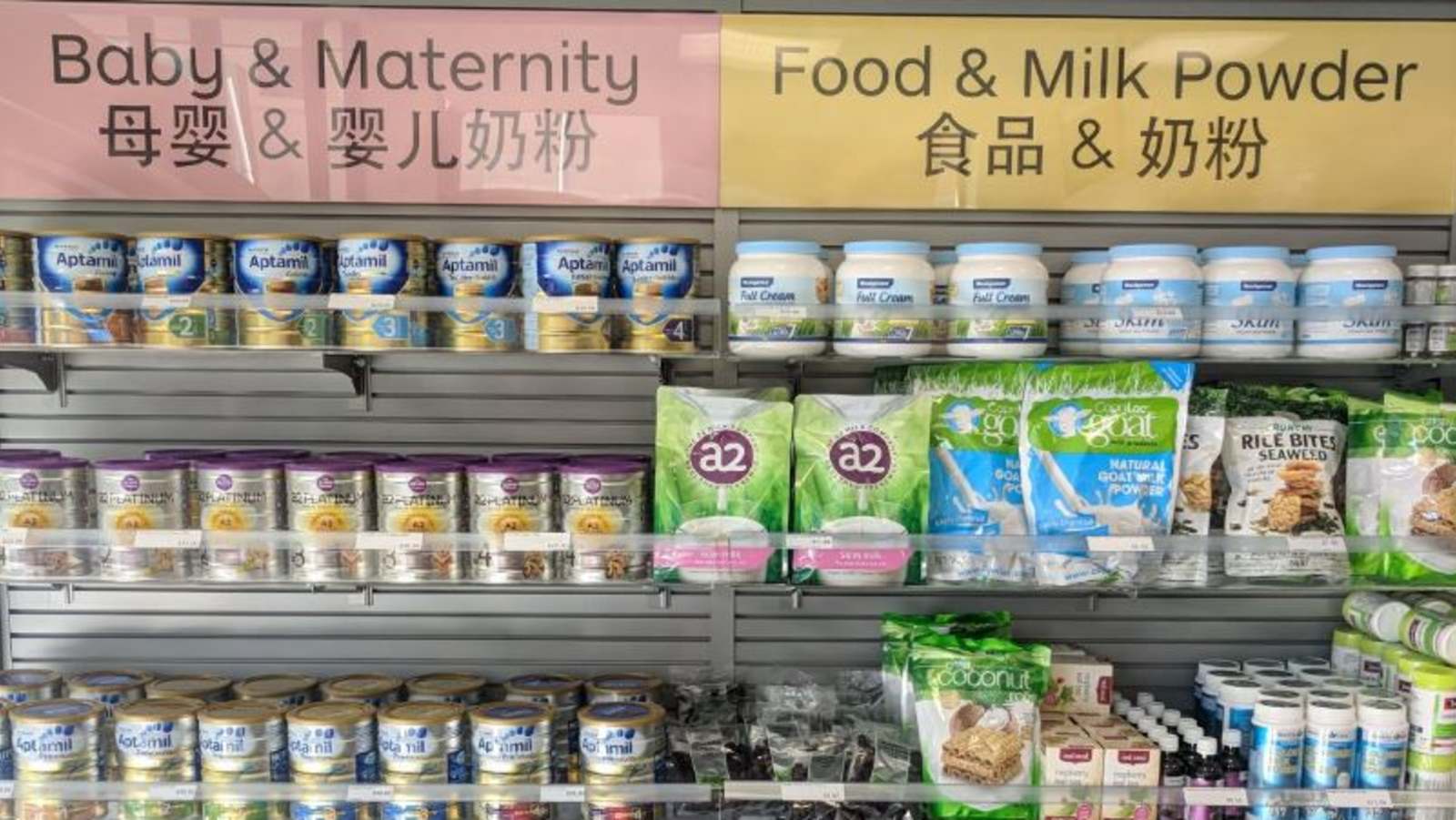 Australian baby formula is one of the most popular products for Chinese shoppers.
In 2015,
half
of all Australian baby formula sold in supermarkets was being shipped to China, accounting for more than $US200 million in sales. The next year, supermarket shelves infamously ran dry of baby formula, and producers had to increase their production runs while stores grappled with limiting customers to a certain number of tins per purchase.
But formula is available at Australia Post's concept store, and appears to be a major part of the store's strategy. The baby food takes up twice as much space as that of other major product categories.
Price vary widely compared to large supermarkets. A2 Platinum Stage 3 is $28 at Coles, but $30 at Australia Post. At $25, Aptamil Gold-Plus 2 is twenty cents more expensive than Coles and Woolworths. But Aptamil Toddler Gold+ 3, Aptamil Junior Gold+ 4 and a number of A2 products are cheaper at Australia Post.

Government-owned Australia Post opened its "concept store" in the suburb of Chatswood just under ...





Chinese Buyers Helped Boost Australian Home Prices. Now They're ...