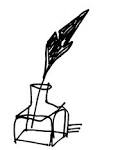 Men tighten the knot of confusion
Into perfect misunderstanding.
~ T.S. Eliot,
The Family Reunion
"In a crumbling park in the crumbling back end of Copacabana, a woman stopped under an almond tree with a suitcase and a cigar. She was a round woman with a knob of gray hair pinned at the nape of her neck. After staring for a minute up into the tree, she bit into her cigar, lifted her suitcase onto the lowest branch, and climbed up after it….[Then] she opened a book across her lap as if she were sitting at a train station."
~Bathroom Quotes a place filled with Ghekos
In his introduction to
Latest Readings
(Yale University Press, 2015), Clive James writes of the writers who haunt his book, including Dr. Johnson and Hemingway, and says of them:
"Piled up, the books they wrote are not a necropolis. They are an arcadian pavilion with an infinite set of glittering, mirrored doorways to the unknown: which seems dark to us only because we will not be in it. We won't be taking our knowledge any further, but it brought us this far."
London: A stunning mass leak purporting to be Islamic State membership forms reveal a would-be Australian jihadist was worried his poor eyesight and inability to operate a manual car could limit his ability to carry out a suicide bombing.
Documents which appear to reveal the personal data of more than 22, 000 foreigners from more than 50 countries signing up to support the terrorist group were leaked by a disillusioned member of Islamic State to both pro-Syrian opposition news website Zaman Al Wasl and Britian's Sky News.
Islamic state defector documents are a goldmine
*Dr Benjamin Koh told Four Corners and Fairfax, doctors were pressured to change their opinions, outdated medical definitions were used to deny payouts, and medical files disappeared from the internal filing system.
He was sacked by CommInsure last year for forwarding work emails to his personal account.
Comminsure Whistleblower
"These are not stories about the weather, these are stories about life and death." Over at Ploughshares,E.V. De Cleyre considers the weather in contemporary literature.
The books and manuscripts were disappearing from a room no one seemed to be entering. Its doors were almost never opened, the room itself closed to public view. There was no believable explanation for where the materials might be going, so the least believable reasoning soon took hold. It was the work of the devil, the residents said. A poltergeist. A symbolic act of God meant to communicate something, if only they could interpret the signs
A guide to book theft
Is the best Manhattan bookstore for Nietzsche lovers
East Village Books
(slogan: so hardcore a bookstore that our website doesn't work)? That's what Stephanie Kotsikonas, a journalism student at CUNY reports in a post at her class blog,
Journalistic Blogging,
along with information about other
bookstores in Manhattan with good philosophy sections
"When I compared humanity to a flower growing in the shadow of a munitions factory,
it may be that I was being unfair to flowers."
Science may be impartial, but
scientific culture
is not. Ask a female scientist about unwanted advances, jokes that aren't funny, grabbing that isn't an accident.
Reality
World's oldest library, in Fez, Morocco, is reopening soon
. Ibn Khaldun studied there
Hacker pirates who are really pirates
Former Hanlong managing director sentenced to more than 8 years jail for insider trading
Crispin Sartwell
, associate professor of
philosophy at Dickinson College
, reports today that he has been "
removed from campus
" for posting a video of Miranda Lambert's song, "Time to Get a Gun."
Crispin Sartwell is not Well ...
A book can open up the world.

Death

is integral to that world. Havel, Imrich, Sontag, Sendak, Updike, Freud: What happens when a writer reaches the end?... Death a Rare Certainty
It's called Killers of the Flower Moon, the latest potential film adaptation that has caught the attention of three of our favourite men, Leonardo DiCaprio, George Clooney and Brad Pitt.
A bidding war has reportedly broken out for the rights to adapt David Grann's nonfiction book, with the Hollywood heavyweights and their respective production companies all fighting for it, according to
The Tracking Board
.
Matthew Noah Smith (Leeds) has anarticle at Slate bringing together philosophy of mind and political philosophy to discuss the United States government's attempts to get Apple to "unlock" the iPhone of a shooting suspect. It's a great example of public philosophy. Professor Smith lays out the basics of extended cognition in clear but not oversimplified language, go..
"These lives are interesting now because they are history; but I suspect there's nothing to recover from the novels. All writers are susceptible, it goes without saying, to vanity and panic, but these things drove the Snows crazy; and in their case too much obsession with the outer forms of success looks in the long run like a failure on the inside – it reflects something hollow in the work, as if the writing has failed to be its own fulfillment, its own life."
tHe truth was written all over her face. The eyes are the window to the soul. From our clichés, you would think that we could read faces like they were … well, open books. In fact, the skill has more in common with dancing, or writing confessional poetry: People tend to overestimate their ability to do it
People are pretty bad at reading faces
Islamic State 'earning millions by playing the stock market'
If human consciousness could be uploaded into digital form, soon we'd have a

box of a trillion virtual souls

. This is the sort of scenario that preoccupies Stephen Wolfram... Digital insiders
Alexandros Karakostasa & Daniel John Zizzob, Journal of Economic Behavior & Organization, Available online 1 October 2015. Compliance to authority is an integral part of how organizations operate. We use an experiment to show that compliance to a cue by an authority is a powerful motivating mechanism.
The study suggests that humans will place an exceptional amount of trust in machines, even when it flies in the face of common sense alternatives and despite the risk of robots malfunctioning.