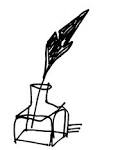 "One of the fundamental differences between extremes of Right and Left is this: in most instances hatred moves the former; fear the latter."
~John Lukacs,
Democracy and Populism: Fear and Hatred
(courtesy of
Rod Dreher)
"Mourning, thought Albert, is nothing but a word. People contrived it to make things simpler. But what you actually feel for the dead isn't sorrow, isn't pity either—what hurts so [effing] bad when someone disappears forever is nothing more than the realization that you've been alone from your very first day in this world, and that you'll stay that way till the end."
~Bathroom quotes existentialism
*ABC Four Corners crew grateful for support after being detained in Malaysia
Christian 'Prophet' Loses His Buttocks to a Hungry Lion While Trying to Prove God Would Save Him
Alternet
Code of conduct for economic modellers
? (Australia, and note there is audio at the link)
Margaret Cunneen has launched a ferocious attack on watchdogs such as the Independent Commission Against Corruption and their "punishers" in the media, warning that "hard won freedoms and protections under common law" are at risk of being "inexorably eroded" Margaret Cunneen attacks her punishers
By gathering information on the nature and cost of this subversion of competition, by distributing this information among the public at large, and by making this information salient, media outlets can reduce the power of vested interests. By exposing the distortions created by special interests, they can create the political demand for a competitive capitalism
Robert Wood,
Cayman Companies Plead Guilty To U.S. Tax Evasion, Handing Over American Accounts
Smart watches that enable exam cheating
Steven Bank
(UCLA) presents
Executive Pay: What Worked?
(with
Brian R. Cheffins
(Cambridge) &
Harwell Wells
(Temple)) at Colorado today as part of its Tax Policy Colloquium Series hosted by
David Hasen
and
Sloan Speck
: CEO pay is a controversial issue in America but there was a time, often overlooked today, when chief executives were not paid nearly as much as they are now.
People "also like to party at the same time and to see movies and concerts with other people" so there is a desire to coordinate leisure-time as well as work-time. The coordination of leisure-time is the subject of an excellent paper by Young and Lim,
Time as a Network Good: Evidence from Unemployment and the Standard Workweek
, in Sociological Science
- Social Animal Farm
Money Laundering and the City of London's "Crime Scene": Haven of Tax Havens for the Mega-Wealthy
RSA 2016: Potential U.S., U.K. Data Deal Would Mean Fluid Data Transactions in Criminal Investigations
Government technology, 1/3/16. U.S. Attorney General Loretta Lynch announced a potential cooperative agreement between the United States and the British government that would provide a reciprocal framework for data sharing between both governments and private industry
Criminal Investigations
*Cyberspace, the cloud, and cross-border criminal investigation The limits and possibilities of international law
At The Dallas Morning News, becoming truly digital means starting over
In
side the third-floor newsroom, The Dallas Morning News looks like a lot of American newspapers. Fluorescent lights stretch across low ceilings. The carpet is speckled gray and sufficiently stained. The floors creak. One elevator only goes to the second and fourth floors, never the third. The Morning News is housed, for now, in what journalists there call the …
"When I compared humanity to a flower growing in the shadow of a munitions factory,
it may be that I was being unfair to flowers."
Offshoring to impact jobs market in 2016, survey claims

Accountants Daily, 2/2/16. A significant number of organisations are considering offshoring core roles within their accounting and finance teams in 2016, which may have implications for the accounting jobs market, according to the latest findings of the Robert Walters Global Salary Survey.
Collusive Tax Evasion and Social Norms

CESifo Working Paper No. 5167, Jan 2015. Although collusive tax evasion by buyers and sellers of commodities and also by employers and employees is widespread all over the world, it has rarely been analyzed in the tax evasion literature. To fill this gap and to compare collusive tax evasion with independent tax evasion, this paper develops a simple non-cooperative game-theoretic model and confirms the model's predictions in a laboratory experiment.
Are HMRC planning to ignore country-by-country reporting?
"Study Shows How Much Work It Takes to Be Supreme Court's Friend": Adam Liptak will have this new installment of his "Sidebar" column in Tuesday's edition of The New York Times. Law professors Allison Orr Larsen and Neal E. Devins have posted online at SSRN their article titled "The Amicus Machine."
Brookings – Jesse Bricker, Alice Henriques, Jacob Krimmel and John Sabelhaus: "Most available estimates of US wealth and income concentration indicate that top shares are high and rising in recent decades, but there is some disagreement about specific levels and trends. Household surveys are the traditional data source used to measure top shares, but recent studies using administrative tax records suggest that those survey-based top share estimates may not be capturing all of the increasing concentration. In this paper we reconcile the divergent top share estimates, showing how the choice of data sets and methodological decisions affect the levels and trends. Relative to the new and most widely-cited top share estimates based on administrative tax data alone, our preferred estimates for both wealth and income concentration are lower and rising less rapidly in recent years."