There are things you can only share with your own flesh and blood, keep buried in the little spot of earth where you have all grown up together, things which you must never, in any circumstances, be mentioned to strangers; and Jordan was a stranger …
~Bathroom Quote
It was a small gathering at the luxurious Guadalmina golfing resort in Marbella.
The agenda was padded with plenty of golf and fine dining. They were there for a good time. But they were also there on business: a three-day brainstorm on share trading, "deal flow", money laundering, and how to make money from the first and second while avoiding being pinged for the third Busting the boiler room
*UK SFO in court defeat over boiler room
High academic achievement now linked to… failure in the workplace? Well, that's simultaneously depressing and comforting. [
Law and More
]
"
The pressure of academia drove me to heroin"
Ann Lipton has an interesting
analysis
of the pros and cons of the
proposal to require auditing firms to disclose the names of engagement partners, and other firms, involved in an audit of a public company
After the Immigration and Customs Enforcement Agency (ICE) noticed a rash of malware infections, it told employees to stop accessing personal webmail accounts from their government computers. Oh, no, said the American Federation of Government Employees (AFGE), which grieved the change as having been made without prior bargaining with the union. An arbitrator agreed, ruling that "federal law did not give federal agencies 'sole and exclusive discretion' to manage its information technology systems." ICE appealed, but the Federal Labor Relations Authority (FLRA) "also sided with the union." [Washington Times]
P.S. Reports of problems at the U.S. Embassy in London suggests that controls on employee use of at-work computers to send and receive private email might need some tightening up at the State Department too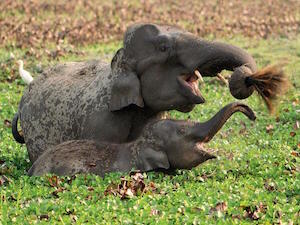 How weak corporate governance contributed to the VW scandal:
My friend and law school classmate Charles M. Elson, who runs the University of Delaware's John L. Weinberg Center for Corporate Governance, along with Craig K. Ferrere and Nicholas J. Goossen, have posted a very interesting and important article to SSRN on the ways in which VW's corporate governance contributed to the emissions testing scandal:
Although the primary cause of the emissions scandal at Volkswagen appears to have been misfeasance and malfeasance on a corporate-wide scale, we argue that such a problematic culture existed at Volkswagen because of the composition of the board itself in combination with the unique governance structure known as "co-determination," that defines many German companies, including VW. There are three major problems from a corporate governance standpoint with the Volkswagen board. First, is the interest-conflicting nature of the dual-class stock held by the dominant shareholding Porsche and Piech families. Second, is the presence of a government as a major shareholder. And third is the organization of its characteristically German "two-tier" board around the principle of co-determination, which mandated significant labor representation. We argue that each of these elements of the VW ownership and governance structure contributed in varying degrees to the board failure of oversight that led to the management decision to evade emissions regulations.
Elson, Charles M. and Ferrere, Craig K. and Goossen, Nicholas J., The Bug at Volkswagen: Lessons in Co-Determination, Ownership, and Board Structure (November 25, 2015). Journal of Applied Corporate Finance, Vol. 27, No. 4, 2015. Available at SSRN:
http://ssrn.com/abstract=2737544
They very kindly cited some of my work in the area, including Privately Ordered Participatory Management: An Organizational Failures Analysis (September 1997). Available at SSRN:
http://ssrn.com/abstract=38600
...financial institution regulatory agencies today issued guidance clarifying the applicability of the Customer Identification Program (CIP) rule to prepaid cards issued by banks. The guidance applies to banks, savings associations, credit unions, and U.S. branches and agencies of foreign banks (collectively "banks").
Attachment (58 KB PDF)
Jeremy Corbyn managed to get a friendly audience on side today as he made a joke at the expense of the Chancellor while blasting the Government's plan to turn all schools into academies at the National Union of Teachers' (NUT) conference. The Labour leader became the first political leader in living memory to address the body at their annual meeting in Brighton. Teachers turn to Corbyn: Labour leader gets standing ovation at NUT conference as angry union members contemplate strikes
Maria Farrell
writes
:
The events that precisely triggered the Easter Rising are a little murky. They involve the capture of Roger Casement's arms shipment, and feature the great hero of the Rising, Padraig Pearse, lying to MacNeill, forging documents and kidnapping and holding his socialist rivals until they acquiesced. Whether the leaders were about to be rounded up and imprisoned is unclear. MacNeill believed it, until he didn't, but by then it was too late.
Eat quinoa, save the world