"Your vision will become clear only when you can look into your own heart. Who looks outside, dreams; who looks inside, awakens."
~Carl Jung
Can a French Friar End the 21st-Century Slave Trade?
Vanity Fair
"We are all invited to make this intention our own, so that Christ's charity may reach and relieve the poorest and most abandoned of our brothers and sisters", said Pope Francis.
Poverty and hard life make us ripen even more than the sun of the tropics ...
Joseph Wresinski and Andrej Imrich
We might think of

magic as medieval

, but its impulse permeates our own society. Consider modern physics, tax policies or economic theory, suggests Rowan Williams... Latitude of East and West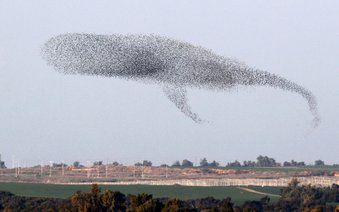 Antidote du jour. "Starlings make a sky whale picture"
More than one-third of Australian pensioners are living below the poverty line, making the country among the worst performers in the world for the financial security of older people.
The findings of the OECD report, Pensions at a Glance 2015, compared Australia to 33 other countries.
The OECD report, Pensions at a Glance, makes a comparative study of pensions in 34 countries. Only in Chile and Mexico was the replacement income as a proportion of average earnings lower than in the UK. The figure of 38 percent compares with 90 percent in the Netherlands and 80 percent in Spain and Italy.
The main providers of residential aged care used to be religious, community-based and charitable organisations; the quality of care may have varied but owners were not motivated by profit. During the past decade, however, the number of privately owned aged-care facilities has grown at twice the rate of those in the non-profit sector.
The Aged Care gravy train
**
In east Buffalo, drug addiction's grip is tightened by decades-long cycle
Guardian. Arresting opening sentence: "Dropped in any new town in the US, I know where to buy heroin, crack or marijuana in a few minutes: near the McDonald's in the poorest section of town."
*How the West Wasn't Won

Bloomberg
Software putting lawyers' jobs at risk New York Times
Companies in the Gig Economy Are Growing, but Where Is All the Job Creation
Atlantic
Making the World Safe for Predatory Capitalism
Dean Baker, Counterpunch
The "white-slaver" awakens: It's not Disney to whom George Lucas should be apologizing
Mark Ames, Pando