Art enables us to find ourselves and lose ourselves at the same time.
— Thomas Merton, born in 1915
Troop Horse Navajo is really getting the hang of those Yoga poses.
Posted by

NSW Police Force on

Tuesday, 9 February 2016
Memories had to be forged, made unique, otherwise they were just somebody else's
"One morning, I remember that it was a Sunday morning, I woke up about five a.m. and couldn't sleep. I felt terribly excited. Something strange was happening in my mind. I was thinking about my research problem, and I was seeing deeply into it. I was seeing it in ways I never had before. The physical sensation was that my head was lifting off my shoulders. I felt weightless. And I had absolutely no sense of my self. It was an experience completely without ego, without any thought about consequences or approval or fame. Furthermore, I had no sense of my body. I didn't know who I was or where I was. I was simply spirit, in a state of pure exhilaration.
"In life that is truly life, everything overlaps and merges." Art as experience
"But what should I, the writer, have my drowning father remember – and in what sequence? At first I took an oblique approach to the problem, rereading 'The Snows of Kilmanjaro'. Before I embarked on the actual writing, I needed to find a way to incorporate bits of history and folklore into the narrative, one by one, without fretting about realism or verisimilitude. At the same time I was trying to layer brief vignettes throughout the story."
Death by Water
Kogito Choko is an author, reflecting on his life as a writer, and in particular about his long-held dream of writing a book about his father, who drowned in a river when Choko was a boy of ten. Oe has already inserted conversations that explain that Choko is referencing a poem that I know, T.S. Eliot's The Waste Land
Jeffrey Harrison
(Florida),
Help! My Dean Won't Let Me Blog
:
The handful of you who come to this blog may wonder why I have not been blogging (although I am sure my anonymous internet stalker is probably relieved).
He passed the stages of his age and youth
Entering the whirlpool
The $100 banknote is affectionately known by numerous names, including Jolly Green Giant, Green Phantom, Mouldy Oldie, Lettuce and Grasshopper, perhaps the most appropriate name at the moment is Hen's Tooth – a comment on how rare it is to see one.
The $100 bank note is "generally held by the public as a store of value", according to the RBA, meaning they are not being actively used or circulated on a day to day basis for buying your groceries or paying for lunch at your local café. Australian love for $100 dollar bill
Veteran U.S. economist Larry Summers says that "it's time to go after big money," in his latest column for The Washington Post.
But rather than going after the top 1 percent, the former chief economist of the World Bank is backing calls for removing the 500 euro and $100 bills from circulation.
Summers argues that the fact that "in certain circles the 500 euro note is known as the 'Bin Laden,'" is exactly the reason why it should no longer be printed; pointing to the illicit activities associated with the bill to give it such a nickname.
I remember the moment I went from being an admired, multi-award-winning debut picture book author to a largely unknown, ignored, and even pitied self-published author. In the past two years I have published sixteen books for young readers, but my books are not eligible for review in the major outlets, public libraries refuse to acquire them for their collections, and major awards are no longer a possibility."
Publishers Weekly
"The not very glamorous economic answer is that it's a lot easier to make money selling used books. … On the whole, the problem with new books is that there's a list price set by the publisher and a discount price that's also set by the publisher. So, as a new bookseller, you have no control over what the book sells for or what you pay for it. With used books, if you're smart, you find ways to get them cheap, and you decide what you price them at."
The Awl
Art and prayer are the only decent

ejaculations of the soul.
— J.-K. Huysman, born on this date in 1848
Everybody has that feeling when they look at a work of art and it's right, that sudden familiarity, a sort of…recognition, as though they were creating it themselves, as though it were being created through them while they look at it or listen to it…
…
What Happens When You Mix Politicians and Old Master Paintings?
Maggie Doherty discusses
how and by whom a writer is paid
might affect how and what they write. For instance, if you are being paid by a big commercial publisher and your compensation and future book publication is tied to how many copies of your current book sells, how much money it makes the publisher, then you are more likely to write the kind of fiction that caters to the mass market. And that is fine if that is what you want to do. What, however, happens to the genre of literature we call art? What happens to experimentation?
United Nations iLibrary is the first comprehensive global search, discovery, and dissemination platform for digital content created by the United Nations
Today's writers must meet market demands. Those who succeed often do so by innovating no more than is necessary. Many of today's most celebrated writers marry experimentalism with accessibility; they produce prize-winning fiction with just a dash of formal excitement, enough to catch the eye of cultural gatekeepers but not so much that it renders a work unmarketable. They forge aesthetic compromise and favor political consensus. Their work reassures readers more often than it unsettles them. This isn't so much bad literature as boring literature. After all, what's more exhausting than reading, time and again, experimentation you've come to expect?
WOW Print Cold River and other books were making a recovery
We speak of being consumed by envy but filled with gratitude.

Oliver Sacks

approached death with poignancy, stoicism -- and gratitude... Some certainty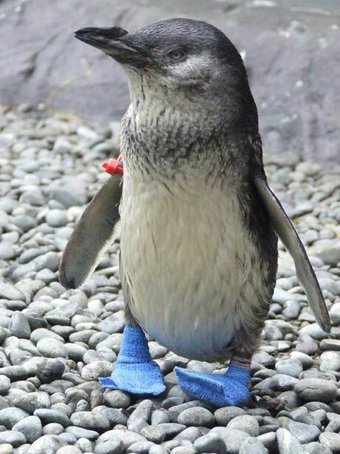 "For fans of sociopathic, self-indulgent, unapologetic humor, this book is for you," Spoutz, then in his early twenties, added. "For all others, save yourself the time and read some art books instead."
Fake art dealer
Isaiah Berlin's letters
: four volumes, 3,000 pages, one million words. "I really must not go on" is a repeated, if rarely heeded, refrain...
Art of lETTERS
"An artist needs a certain amount of turmoil and confusion,"
Joni Mitchell observed in
contemplating madness and the creative mind
. But perhaps the singular turmoil of creative geniuses is precisely this compulsion for iterative betterment, which may give the illusion of madness to the outside world but which remains a central vitalizing force in the interior life of genius
Are all of nature's greatest secrets encrypted in our own selves?
Infinite Jest
is 20 years old and shows its age. So why does the novel still feel so electrically alive? A few
theories ...
"It's funny that it's so plain that it's love that makes the world go round,"
Iris Murdoch wrote in one of her magnificent
her love letters
,
"although it's so very difficult to get it right." Love? What is It? Most natural painkiller what there is. LOVE
…
Stephen King picks winner of Guardian short story contest | Books | The Guardian
Czech out new versions of 2014, 2015, and 2016 translation databases to the master translation database part of the website.
The Seattle company Amazon plans as many as 400 bookstores, Sandeep Mathrani, chief executive of large mall operator General Growth Properties

Inc.,

said on an earnings call with analysts Tuesday.

"You've got Amazon opening brick-and-mortar bookstores and their goal is to open, as I understand, 300 to 400," said Mr. Mathrani in response to a question about mall traffic.

That compares to the 640 stores Barnes & Noble

Inc.

operates and the 255 locations Books-A-Million Inc. said it had as of last summer -

The WSJ story is

here

, here are

others
John Ruskin, The Mystery of Life (New York: T.Y. Crowell & Co, 1907), pp. 38-39:
Because you have no heaven to look for, is that any reason that you should remain ignorant of this wonderful and infinite earth, which is firmly and instantly given you in possession? Although your days are numbered, and the following darkness sure, is it necessary that you should share the degradation of the brute, because you are condemned to its mortality; or live the life of the moth, and of the worm, because you are to companion them in the dust? Not so; we may have but a few thousands of days to spend, perhaps hundreds only — perhaps, tens; nay, the longest of our time and best, looked back on, will be but as a moment, as the twinkling of an eye; still, we are men, not insects; we are living spirits, not passing clouds. . . . Let us do the work of men while we bear the form of them; and, as we snatch our narrow portion of time out of Eternity,
snatch also our narrow inheritance of passion out of Immortality — even though our lives be as a vapour, that appeareth for a little time, and then vanisheth away.
Henri Murger, The Bohemians of the Latin Quarter (Paris: Société des Beaux-Arts, 1905), p. xxxviii:
In artistic struggles it is almost the same as in war, the whole of the glory acquired falls to the leaders; the army shares as its reward the few lines in a despatch. As to the soldiers struck down in battle, they are buried where they fall, and one epitaph serves for twenty thousand dead.

So, too, the crowd, which always has its eyes fixed on the rising sun, never lowers its glance towards that underground world where the obscure workers are struggling; their existence finishes unknown and without sometimes even having had the consolation of smiling at an accomplished task, they depart from this life, enwrapped in a shroud of indifference.
Authenticity and art

. When it's possible to create visually perfect reproductions of famous works, will we discard the originals, or celebrate them anew? Anew Amen
… The book most people have lied about reading – and it's not War and Peace. (Hat tip, Dave Lull.)


Well, I've read War and Peace twice, actually, the second time to review a new translation: Little things give 'War and Peace' its magnificence
In 1927, Hemingway publishes a short-story collection, Men Without Women, which rakes in even more praise. At around the same time, he begins writing A Farewell to Armsand splits from his first wife, Hadley, the mother of his small son, Jack ("Bumby"), and marries Pauline Pfeiffer, a journalist from Arkansas, with whom he presently fathers a second son, Patrick, born in Kansas City in June 1928. In December of that year, Hemingway's father, Clarence, commits suicide. "PLEASE WIRE $100 IMMEDIATELY," Hemingway cables his editor, Maxwell Perkins, from Philadelphia. "MY FATHER DEAD MUST GET FIRST TRAIN CHICAGO." Three hours later, he cables again: "DISREGARD WIRE GOT MONEY FROM SCOTT [FITZGERALD]." After these wires, curiously, Hemingway's correspondence is virtually free of any reference to the suicide or even to his father; indeed, he's soon as jaunty as ever, or so it seems, as if this family tragedy had never occurred. ("Everything goes finely [sic] here. Pat has gotten his second tooth.") As the volume winds toward its close, we see him putting the finishing touches on A Farewell to Arms, which will secure his position in the American literary firmament. /The master off duty