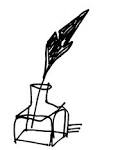 "Only, well…There are days when solitude, for someone my age, is a heady wine that intoxicates you with freedom, others when it is a bitter tonic, and still others when it is a poison that makes you beat your head against the wall."
~ Colette,
The Vagabond
(trans. Enid McLeod)
By the time most of you read these words, we will be somewhere between Bondi Beach and Bronte where we are admiring sculptures by the seascapes ... ;-)
Benjamin Storch's 'undulation' #sculpture during yesterday evening's #sydneystorm
Sky Down Under ...
"There was no protection, no quota system when it came to luck. It was like that moment in math when a child learns that the odds of heads or tails is always one-in-two, no matter how many times one has flipped the coin and gotten heads. Every flip, the odds are the same. Every day, you could be unlucky all over again."
~ Laura Lippman,
I'd Know You Anywher
Declassified CIA documents detail how to sabotage employers, annoy bosses
The previously secret guide might make you wonder whether your annoying colleagues are actually spies ;-)
Lawyer hit with disciplinary charges for comparing judges to Monica Lewinsky
Australian Nugan Hand Bank mystery Michael Hand found living in the United States
Junior lawyers are used to feeling like cogs in a machine. According to a new report, a surprising number of law firm leaders expect to be able to replace them with actual machines—and soon
American Lawyer:
Computer vs. Lawyer? Many Law Firm Leaders Expect Computers To Win
Stoner, a novel about a

beloved but tragic professor

, barely sold when published in 1965. But it has passed likesamizdat among grad students... Cold river of academia »
Disaster capitalism, and the outsourcing of violence in the UK
openDemocracy
Indonesia is burning. So why is the world looking away?
George Monbiot, Guardian
Greater than the sum of its parts
Economist - wolves dogs ..
Vagabond Painter who loves painting old structures and doors in Eaton
Neighbours from hell Private Eye. "AN EXAMINATION by the Eye of British properties frozen by law enforcers and the courts reveals some of the world's most questionable operators channelling fortunes into property while attempting to hide behind tax haven companies."
That headline strung a lot of words together that most of us never expected to hang out in the same sentence. No matter how "ridiculous or salacious" DLA Piper gets, "CIA sex plots and brothel rescues" never seemed in the cards for the Biglaw behemoth.
Yet here we are. Chalk it up to another day living in the multiverse of infinite possibilities KGB exposes CIA agent sex plots brothel rescues and dla piper
The Green door cobble stones and sandstone in Windsor