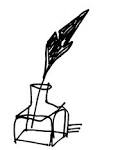 "Melancholy is at the bottom of everything, just as at the end of all rivers is the sea."
~ Henri-Frédéric Amiel,
Journal intime
(trans. Mrs. Humphry Ward)
An international team of researchers is agreeing with Oscar Wilde, who once called sarcasm "the highest form of intelligence," and for good reason,
It turns out that being a sarcastic smart aleck not only requires social intelligence, but also may help you -- and those around you -- to be more creative, according to researchers.
Being Sarcastic May Make You More Creative
Meet Some of Our Top Commenters NYT. NC is not the only online site that values its commentariat!
"Just how dificult it is to write biography can be reckoned by anybody who sits down and considers just how many people know the real truth about his or her love affairs."
~
Rebecca West, "The Art of Skepticism"
In praise of pessimism
. It's the anxious cynics among us who tend to get things right, both politically and
artistically
In America, booze is a necessary balm and tippling an essential liberty. Indeed,

drink fueled democracy

— and almost destroyed democracy as we know it ... »
EMBATTLED inner Sydney Mayor Ben Keneally has announced he will step down from his role leading Botany Bay Council, in a move he denies is a back down to pressure from the NSW Government for local government mergers.
Botany Bay Council Mayor Ben Keneally steps down in advance of Baird Government's decision on local government mergers
Australian politics may seem "bloody" at times (John Newman's assassination), but the recent murder of a Venezuelan opposition leader which has been labelled by the country's president as gang related, puts our country's political squabbling into perspective.
Venezuela's President Nicolas Maduro said Thursday the shooting dead of an opposition leader appeared to be a gangland score-settling, dismissing claims it was politically motivated ahead of key elections.
Maduro said authorities were investigating the "regrettable" death of Luis Manuel Diaz and "the interior ministry has evidence that suggests it was a contract killing carried out to settle a score between rival gangs."
Diaz was murdered at a campaign event on Wednesday just days ahead of a legislative vote that could weaken the major oil producer's socialist government.
What Is Disruptive Innovation?
HBR. Authors: "Uber's financial and strategic achievements do not qualify the company as genuinely disruptive." Meaning that the use of the term in academia is now totally disconnected from its use in the press, let alone in Silicon Valley decks and the world of venture capital.
As you do during burning of midnight oil and going to bed with the ABC's Phillip Adams I came across an article at The Guardian about how the internet is an ideal home for the essay. Some essays tend to say so much more than books these days to MEdia Dragons ...
"Heavy bidding for first timers is ratcheting up the size of some advances, agents say, since the competition offers some reassurance that other houses see big potential in a book as well."
The Wall Street Journal
There is something about Neruda and Imrich ;-) — about the way he glorifies experience, about the spontaneity and directness of his passion — that sets him apart from other poets ...
Social media offers neuroscientists a treasure trove of research material
A video posted to YouTube yesterday has left people online with so many questions.
A video titled: "Is that...... is that a kangaroo on my roof??" was posted to reddit with the caption, "Meanwhile in Australia." (Youtube it)
In their review, Meshi, Diana Tamir, and Hauke Keekeren note that neuroscientists can take advantage of similarities between online and offline behavior--essentially using measures from online social media use as a proxy for real-world social behaviors.
*Paper -
The Emerging Neuroscience of Social Media
Villages by the Lake
Who bears the cost of taxing the rich? An empirical study on CEO pay

An increase in the effective top marginal tax rate by 10 percentage points raises gross CEO pay at the firm level by 12.0 %. CEOs use their bargaining power to shift their tax load partly to the employer. Less powerful members of the executive board - measured in terms of their function or level of pay - are less successful in doing so.
Foggy Morning
Digital Intelligence Today, 9/11/15.
Big Picture. How do we use digital technology to help make people happy? We can use 'PPIs' – positive psychology interventions – that are clinically proven to promote happiness and wellbeing (positive psychologists research the psychology of happiness and wellbeing).
For those who think reportage might be a tough sell in the U.S., let me point you to a more recent example of the genre: Gottland by Mariusz Szczygiel (tr. Antonia Lloyd-Jones), published in 2013 by Melville House. Despite being about the (some might say) obscure subject of "the Czech half of the former Czechoslovakia", Gottland received to raves from the likes of The New York Times, NPR, and Julian Barnes. Apparently it sold out quick, as it is no longer available and copies now go on Amazon for $60.00 (I hope Melville House reprints it soon).
Oh snowflake, how I wish to caress you. But every time you melt...
The benefit of having alienated God, having offended him, driven him away so that the two of you are no longer speaking is that at least he's not telling you what to do all the time.
It's also been said, however, that I am not flammable. In general this is true, except for my hair. My hair burns readily. In fact, once alight it is quite difficult to put out again.