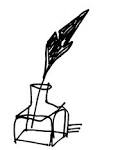 "To expect too much is to have a sentimental view of life and this is a softness that ends in bitterness."
~ Flannery O'Connor, letter to Cecil Dawkins, Dec. 9, 1958
This student absolutely nailed it and his answer to an exam questioned is being shared widely after it was posted online by his parents,

according to the M

irror ;-) [ czech out the doodled image of Starkly thinking Bobby]
The question was: "Bobby has four dimes. Amy has 30 pennies. Which child has more money?"
Robert Stefanic, head of the New South Wales Department of Parliamentary Services, has been appointed to lead the equivalent federal agency.
Stefanic's predecessor claimed she was warned never to take on the job and suggested it was impossible to perform successfully under current governance arrangements. He will certainly have his work cut out for him to impress senators who will eventually scrutinise his performance. Members of the Finance and Public Administration committee commented earlier in the year that the department had low morale and a poor reputation, which made it difficult to recruit senior staff.
Poisoned chalice? NSW Parliament chief to lead federal equivalent
Sydney University student politics is famed for both churning out some of the countries highest profile politicians and public figures - Tony Abbott, Joe Hockey, and Michael Kirby among them - but also for its unruliness Police called to chaotic University of Sydney student representative council meeting
Ten years in the campaign for tax justice - we have a long way to go
The UK: offering companies as abusive and unaccountable as those in any tax haven
David Brooks

knows he's veered into weird territory. The political columnist has grown tired of politics. His new beat: Morality »
Since the first-ever Governor-General's Literary Award was handed out in 1936, only three writers have won the prize for English-language fiction three times: Hugh MacLennan, Alice Munro and Michael Ondaatje.
The Globe and Mail (Canada)
"Written for his high school newspaper, The Green Witch, in the early 1940s, … 'The Moth in the Flame' captures in a very short space the vast range of tumultuous emotions that spring from a distressing encounter."
The New Republic
Anglicke Pivo
"The King James Bible may well be the greatest work of literature ever written by committee – and now we know a bit more about the collaboration that produced it."
Religion Dispatches
There are only a few ways to be liked but many ways to be disliked
Ireland will decriminalise drugs including heroin, cocaine and cannabis.
The Independent
reports the country is undergoing
a "radical culture shift"
towards leniency and will consider safe injecting rooms for users.
Aodhan O Ríordain, (no relation to Tony O'Riordan) the head of the country's National Drugs Strategy, said it would remain a crime to profit from the sale or distribution of the drugs but users found with small quantities could be allowed to carry on with their business.
"I am firmly of the view that there needs to be a cultural shift in how we regard substance misuse if we are to break this cycle and make a serious attempt to tackle drug and alcohol addiction," he said.
Amazon opens its first real bookstore — at U-Village
Seattle Times
"We must reach out more to the private sector, universities, think tanks, not-for-profits, state governments and other countries. We must invite into our ranks colleagues from outside who have expertise and useful experience," Thawley writes in The Australian.
Via Conversation : Message to government better media access to the public service wouldnt be so scary
How to combat tax avoidance and evasion? The traditional command-and-control approach bases on the assumption that taxpayers take rational egoistic decisions. They consider the probability of audits and the severity of fines in cases of detected evasion and pay taxes only if audit probability is high, if the risk of detection of evasion is high, and if fines are high. Audits and fines are relevant, however, the effect is rather weak. To understand the motives for tax compliance it is necessary to understand taxpayers' attitudes towards taxes and tax authorities, their knowledge and understanding of tax laws, their personal and social norms, and fairness concerns related to distributive and procedural justice. Besides the application of deterrence measures to combat tax evasion, it is necessary to establish a sense in society that tax evasion and tax avoidance are wrong.
Erich Kirchler
(University of Vienna) presents
Cooperation Between Citizens and Tax Authorities
at Toronto today as part of its
James Hausman Tax Law and Policy Workshop Series
Streets and Doors at Windsor Castle
Success has a thousand parents, failure is an orphan. The truth of that proverb is illustrated by the blame game now going on around the disaster that is for-profit Vocational Education and Training (VET) in Australia. In the last couple of weeks, I've seen dozens of different storiesillustrating the extent of the failure. The Oz alone has at least ten For profit education plenty of blame to go around
Nina Olsen stated that taxpayer rights are human rights, and urged Congress to enact a new taxpayer bill of rights so both taxpayers and IRS employees understand the principles behind our tax system
Tale from the US Tax Advocate format is pdf