Latin motto, "Veritas odit moras," is found at line 850 of Seneca's version of Oedipus. It means "Truth hates delay." Battle of Ideas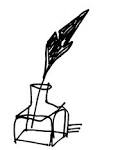 "To expect too much is to have a sentimental view of life and this is a softness that ends in bitterness."
~Flannery O'Connor, letter to Cecil Dawkins
Diwali in communities with new dreams, fresh hopes
Sikh and Indian

community will celebrate Diwali – a festival of light which is observed on the 14th day of Asvina month – on Wednesday as three-day celebrations already started at Gudwaras ... The
festival in Hindu tradition starts by lighting divas – small clay pots with wicks floating in ghee ... (Malckin home made ghee not buttee ;-) They decorate the area around the door with rangoli, kaleidoscopic patterns as big as carpets, created with finely crushed marble or petals.
"Basically Diwali is a celebration of victory of truth over oppression and this holy day gives us message of love, peace and harmony ..."
It struck me recently how few of the most successful people I know are mean. There are exceptions, but remarkably few.
Meanness isn't rare. In fact, one of the things the internet has shown us is how mean people can be. A few decades ago, only famous people and professional writers got to publish their opinions. Now everyone can, and we can all see the
long tail of meanness that had previously been hidden.
When asked if they would help get a collector's child into college to get a great consignment, Mr. Rotter and Mr. Shaw both laughed and nodded yes.
All one can say is that, while civilisation remains such that one needs distraction from time to time, `light' literature has its appointed place; also that there is such a thing as sheer skill, or native grace, which may have more survival value than erudition or intellectual power ...
Bards in Bars at Windsor
In The New York Times Book Review, Marilyn Stasio reviews "The Crossing," the latest crime novel by Michael Connelly. Ms. Stasio writes:
Michael Connelly's maverick cop, Harry Bosch, has been kicked off plenty of important police cases over his long career. But until now, he has never gone over to the dark side to work against the prosecution in a homicide case. In "The Crossing," the forcibly retired (and terminally bored) Bosch, a former California detective, breaks faith by taking on a private investigation for his half brother, Mickey Haller. The slick defense lawyer has convinced Bosch that his client, a reformed gangbanger named Da'Quan Foster, is not guilty of murdering Lexi Parks, a well-liked city official who was bludgeoned to death in her bed. But the case still makes Bosch uneasy. "Did he miss the work so much that he could actually cross the aisle and work for an accused murderer?" he asks himself.
David Cornwell, known to us as John le Carré, spent five and a half years in Britain's secret services — two years in MI5 (domestic security, roughly equivalent to the F.B.I.), a "dead-end sort of place" from which he then transferred to the more glamorous MI6 (overseas intelligence). He had also done some intelligence work at Oxford and, earlier, Bern (tracking students attending left-wing meetings). Few writers have made better use of on-the-job training. The secret service has been source material for a long line of novelists, but it was le Carré who made it a permanent part of the literary landscape, giving us a fictional world so convincingly imagined that even its real-life inhabitants began to confuse the two, adopting his invented argot — "the Cousins," "scalp­hunters," "lamplighters," "mole," etc. — as their own. So blurred did these lines become that the Oxford English Dictionary had to conduct a lengthy usage search before deciding that "mole" had indeed been popularized in "Tinker, Tailor, Soldier, Spy." His 23 books have sold millions of copies, and 10 have been filmed. Anyone writing about espionage is invariably compared with him. The debate, often fueled by commercial envy and mandarin snobbery, about whether he is a genre writer who "transcends" the genre or a serious writer of distinction is by now so tired as to be pointless. He is by any standard one of the important literary figures of the postwar period John le Carre the biography and Frederick forsyths the outsider
Nikon Angle of the Royal Windsor Abode






This week, Joe Nocera did what few Times opinion columnists have the decency to do: he stepped down from his perch. Or more accurately, according to a newsroom memo, he stepped over into a newly created column he'll be writing on the business of sports, a subject he's covered frequently Should there be term limits for opinion columnists
Differing opinions on what constitutes workplace bullying featured strongly in the
report
, released Tuesday, into allegations against former Victorian auditor-general John Doyle by a member of his staff. Doyle's resignation in September cut short the question of whether Parliament should remove him from office. The two-month investigation also covered a sexual harassment complaint from the same staff member.
Four bullying phrases at the centre of A-G harassment case