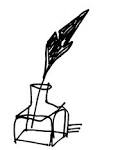 "A success that has outlived its usefulness may, in the end, be more damaging than failure."
~ Peter Drucker,
Management: Tasks, Responsibilities, Practices
Best of 2014: Google's Secretive DeepMind Startup Unveils a "Neural Turing Machine" MIT Technology Review
The Cartel: How BP Got Insider Tips Through a Secret Chat Room Bloomberg. Surprised we have not heard about more of this sort of thing. Most major multinationals run their treasury operation as a profit center, meaning trading operation.
Pope Francis Has Declared War on Climate Deniers New Republic on Tony Abbott
Banking Culture Encourages Dishonesty Scientific American
The jerk himself is both intellectually and emotionally defective, and what he defectively fails to appreciate is both the intellectual and emotional perspectives of the people around him.
Theory of Geoff Myers of Thie Customs World
The True Costs of Corporate Welfare Truthout
"The Securities and Exchange Commission has launched a program aimed at making it easier for investors to dig through and compare company financial filings. Under the program being tested, financial data the companies report will be organized into
structured sets
that the public can then download in bulk. The program will be expanded next year to include data in footnotes of the financial statements. The structured data are currently available as eXtensible Business Reporting Language (XBRL) exhibits. The SEC will now make the information available in other formats. Data sets will be updated quarterly."
Fingerprint 'cloned from photos' BBC (David L). Not sure I believe this since there are people whose fingerprints are so shallow that standard ink fingerprints aren't usable for legal registration purposes. This pol may conversely have atypically dep fingerprintes that are unusually legible. But anything that throws sand in the gears of biometric IDs is all for the good.
Berlin is secretly feeding the U.S. data on Germans Washington Post
via
Daily Nous Philosopher King
I wasn't quite sure how to wrap up the year. A parody of Taylor Swift's "Shake It Off"? Too cheesy. A video montage of action sequences from a year of blogging (me, staring at phone; me, sitting in front of laptop; etc.)? Too boring. An ironic play in which an enormous baby keeps whining about infantilism? Too realistic. A grandiose statement about progress in the profession? I would
never
.
So what, then?
First, some gratitude. I'd like to thank you all for stopping by to read Daily Nous. I put a lot of work into the site, and I am glad that you find it worth visiting. Some of you have taken the time to write me notes, recommend links and ideas, send in news, join discussions, share posts on social media, and provide critical feedback. This really helps keep Daily Nous flourishing, and I very much appreciate it. (For those curious, during the past three months the site has averaged over 10,160 views per day.) If you have suggestions, please don't hesitate to email them to me.
Second, some hopes. While we've covered a number of important topics in the philosophy profession, problems still remain. I hope that in the upcoming year Daily Nous continues to serve as a forum in which a diverse range of voices raise and discuss issues of concern, and I hope that more and more people feel welcome to participate in these discussions.
Third, I thought I would link to a few of my favorite posts/discussions of the year:
Teaching Philosophy in Prisons
.
Bryce Huebner's interview of Jim Maffie
(I'll try to get some more "philosophers interviewing philosophers" for the coming year).
The
Non-Academic Hires
page.
Daily Mousse
(the collection of hair-themed April Fools Day posts).
Philosophers from Poverty
(in which many philosophers discuss the impact of class on their status in and feelings about the profession).
Why Did You Go Into Philosophy
? (130 responses from a variety of philosophers).
Last, but not least, best wishes for a happy new year, everybody!