Deborah O'Neill says she can't take Jeremy Hirschhorn seriously after he's caught leaving out details on a Timeline of Evidence of a Xmas Eve PH call b/w 2 fmr heads of TPB & ATO. Hirschhorn slammed for having no explanation & suggesting it was a friendly Xmas chat #PwC
Exclusive
PwC paid for senior tax officer Jeremy Hirschhorn to fly to Paris to address the big four firm's two-day global tax conference for clients and partners – at the height of the tax leaks scandal.
Second Commissioner Hirschhorn delivered a 12,000 word address at the PwC global tax symposium at the Westin Paris – Vendôme, near the Louvre, in November 2019, an event that followed weeks of tense exchanges with senior PwC leaders.
Mr Hirschhorn is the leading candidate to replace Chris Jordan when he steps down as Commissioner of Taxation early next year.
A month before the Paris trip, PwC tax leaders had discussed a follow-up meeting with Mr Hirschhorn to address his concerns about false legal professional privilege claims, tax promoter penalties and the leak of confidential Treasury information.
Successive timelines produced by the Tax Office and PwC have not shed light on how relations between the two organisations improved to the point where the Paris trip, including two nights accommodation, could be contemplated and arranged.
An ATO spokeswoman said the Paris trip was disclosed in October 2019 and was "an ideal opportunity to speak [about Australia's tax system] directly to international partners of PwC Global and their leading multinational clients".
She said the publicly disclosed trip was "in line with ATO gifts, hospitality or other benefits policy" and that PwC had reduced the cost to the taxpayer.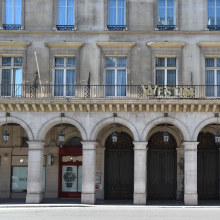 A new timeline released by PwC last week outlines an intense series of exchanges with Mr Hirschhorn and ATO officials in the months before the trip, beginning in June 2019 when Commissioner Jordan and Deputy Commissioner Mark Konza made a series of public warnings about false claims of legal professional privilege.
An ATO disclosure log obtained under Freedom of Information states that PwC on July 1, 2019, offered "Travel and accommodation to present at PwC global conference on large corporate tax in Paris".
On August 7, the ATO advised PwC that it was investigating whether to apply tax promoter penalties for its role in marketing international tax avoidance schemes.
On August 29, Mr Hirschhorn met with PwC chief executive Luke Sayers to discuss the ATO's concerns over the firm's conduct. Mr Hirschhorn has said he suggested Mr Sayers personally review PwC's internal emails.
This was a reference to emails obtained by the ATO which showed that international tax chief Peter Collins leaked confidential information from Treasury consultations which the firm used to market its services to big US tech companies including Google, Facebook, Microsoft and Uber.
Scathing speech
Mr Sayers has said he has no recollection of this. The new PwC reports says that it could not determine what had been said. However, minutes of a PwC governance board meeting on September 3 discussed Mr Sayers' meeting with Mr Hirschhorn.
A note refers to the August 29 meeting and to an unnamed partner who had disclosed confidential information.
On September 12, Mr Hirschhorn delivered a scathing speech to PwC partners in the firm's Sydney office, telling them that a small number of arrogant partners at big four firms were disrupting the tax system with overly risky advice.
"I have seen some advisers who seem to operate almost on the basis that tax is discretionary or for people who are not as clever as them or their clients," Mr Hirschhorn said.
The following day, September 13, Tom Seymour, who then headed PwC's financial advisory division which includes tax, made a public mea culpa, saying community expectations had changed about what was acceptable tax advice and promising the firm would rein in the aggression of its advisers.
However, the new PwC timeline reveals the firm continued to wrestle with how to restore relations with the ATO. In October 2019, leaders within the tax practice met to discuss Mr Hirschhorn's concerns and the reports say that a follow-up meeting between Mr Seymour and Mr Hirschhorn was contemplated.
Talking points for meeting
"In preparation for that meeting, a representative of PwC Australia's Risk team prepared a memorandum with talking points in relation to concerns that had been raised by the ATO," the report says.
These included a potential breach of confidentiality by Mr Collins, though the talking points noted that three emails identified by the firm's risk team as most likely to have raised the ATO's concerns were not covered by confidentiality agreements.
The risk team was looking at the wrong emails. Remarkably, no attempt was made to clarify with the ATO which were the relevant emails. And there is no record that Mr Seymour met with the second commissioner.
Several weeks later, on November 14, Mr Hirschhorn was in Paris as PwC's guest for the tax symposium. An ATO spokeswoman said questions whether Mr Sayers or Mr Seymour attended the conference should be addressed to PwC. PwC declined to comment.
"Mr Hirschhorn spent 48 hours in Paris, where he presented at PwC's Global Tax Symposium, met with Australia's OECD Ambassador and Mr Pascal Saint-Amans, Director of the OECD's Centre for Tax Policy and Administration at that time and attended Mr Saint-Amans' session at the conference, before returning to Australia," the ATO spokeswoman said.
"Mr Hirschhorn did not discuss the Collins matter."
The next meeting recorded was three months later, in February 2020, when Mr Hirschhorn discussed a range of issues with Mr Sayers, including the likelihood that Mr Seymour would replace him as CEO in a partnership election to be held two weeks later.
Testing the waters
"I'm not sure if he was trying to test the waters as to whether we were... how we would respond to the appointment of Tom Seymour as CEO," Mr Hirschhorn told the Senate consulting inquiry this week.
Mr Hirschhorn said he told Mr Sayers it wasn't appropriate for the ATO to comment on the election process but that the PwC board "should ensure that it is fully abreast of the range of concerns the Tax Office has had with PwC tax group's behaviour".
The exchange was notable both for PwC's obvious concern that the ATO might target Mr Seymour, and its apparent confidence that its relationship with the second commissioner meant that it could raise the concern directly with him.
PwC subsequently commissioned a series of reviews including one by former second commissioner Bruce Quigley as the firm assured the ATO that it had addressed its governance issues. The Quigley report said that Mr Hirschhorn had taken part in discussions about a self-regulatory system for big four firms, and had provided feedback and suggestions for PwC's tax policy panel, which was to review high-risk tax advice.
However, the Switkowski report released last week reveals that PwC's risk arm was actually weakened after Mr Seymour's appointment, and plans to appoint a senior compliance director were cancelled as part of a strategic shift to a "business empowerment model".
In April 2020, the ATO began providing information about the Collins leaks to the Tax Practitioners Board. On June 2, it launched a Federal Court action against PwC and its client, meat group JBS, over legal professional privilege claims. On June 5, it dropped its promoter penalties investigation of PwC.
Last week, PwC announced it would adopt a slew of governance measures proposed in the Switkowski report. Nine partners have left the firm in the wake of the PwC revelations. It says reports by two legal firms found no tax revenue was affected by a series of leaks.