Despite privately comparing Donald Trump to the mafia, Anthony Pratt entered an administration whose policies lowered his taxes and benefited his business.
Ben Protess, Jonathan Swan, Maggie Haberman and Alan Feuer
The 2020 presidential campaign was under way, and Anthony Pratt was doubling down on Donald Trump.
Mr Pratt, executive chairman of Visy Asia-Pacific and one of Australia's richest men, had already paid to join Mr Trump's Mar-a-Lago club in Florida. He had also spent top dollar to ring in the new year there while rubbing elbows with the president. And, eager to behold a Mr Trump reelection celebration at the club, he had offered to reach into his pocket once again as election day approached.
"If Potus is having his election party at mar Lago I'll book as many rooms as available," Mr Pratt told an associate in a message obtained by federal investigators and reviewed by The New York Times. "Reasons he should," Mr Pratt continued, are that "1 it will shore up the Florida electoral college 2 it will be good for business."
Mr Trump spent the night of the election at the White House without the company of Mr Pratt. But their relationship – forged over Mr Trump's chaotic four years in office – was indeed beneficial for both men and their businesses, new interviews and documents reviewed by the Times show.
Their interactions were ultimately swept up in one of the two federal criminal cases that the special counsel Jack Smith brought against Mr Trump. Prosecutors have interviewed Mr Pratt in the case in which Mr Trump is charged with taking classified documents with him from the White House when he left office and obstructing efforts to retrieve them. Mr Pratt is listed as a potential witness who could testify against Mr Trump at a trial next year.
In his interviews with prosecutors, Mr Pratt recounted how Mr Trump once revealed to him sensitive information about US nuclear submarines, an episode that Mr Trump denies. Another witness told prosecutors about hearing uncorroborated reports that Mr Pratt spent $US1 million for tickets to a Mar-a-Lago New Year's Eve gala – voluntarily paying the club a huge markup for tickets that actually cost $US50,000 or less, said two people with knowledge of the previously unreported testimony.
New details of how a US president and an Australian billionaire bonded over their mutual self-interest help to document the transactional ethos of the Mr Trump presidency, and show how Mr Trump melded his White House with his personal business in a way that, according to prosecutors, had ramifications for national security.
Mr Pratt was hardly the only favour-seeker circling Mar-a-Lago, which became the fulcrum of the president's two overlapping worlds, and a marketplace of sorts where favours, secrets and opportunities to lobby the president over clubhouse burgers were treated as currency. But Mr Pratt, who rode in Mr Trump's motorcade and attended a White House state dinner, played the game better than most.
Mr Trump, the current front-runner for the Republican nomination, had almost no relationship with Mr Pratt before the 2016 election. But after, Mr Pratt used his money and flattery to get on Mr Trump's radar: Mr Pratt lavished praise on him in public appearances, bought newspaper ads that hyped Mr Trump as a job creator and became a member of Mar-a-Lago.
The president took notice. When Mr Pratt opened a new factory in Ohio that promised hundreds of new jobs, Mr Trump toured the plant alongside then Australian prime minister Scott Morrison.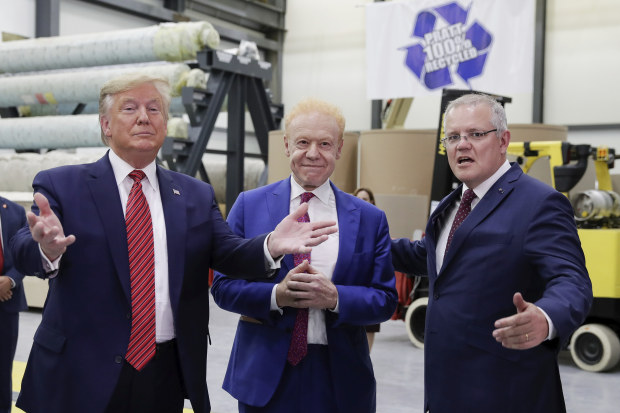 Mr Pratt, in turn, gained priceless publicity and proximity to the power of the presidency, providing him entree into an administration whose policies lowered his taxes and benefited his business.
Mr Pratt said Mr Trump was 'like the mafia'
Behind closed doors, however, Mr Pratt described Mr Trump's business practices as being "like the mafia", according to covert recordings obtained by 60 Minutes Australiaand shared with the Times.
The private comments, captured while Mr Trump was still president, provide a rare glimpse into how a businessman on the other side of Mr Trump's transactions actually viewed the New York real estate developer's tactics – with a mix of blunt acknowledgment and admiration for someone so willing to test the boundaries of the presidency.
On the recordings, Mr Pratt recounts how Mr Trump shared with him in December 2019 what he describes as elements of a conversation the president had with Iraq's leader right after a US military strike there aimed at Iranian-backed forces. Days later, a US drone strike in Baghdad would kill Iran's top security and intelligence commander.
At one point, Mr Pratt said, Mr Trump discussed the phone call he had with Ukrainian President Volodymyr Zelensky earlier that year that had helped lead to Mr Trump's first impeachment. "That was nothing compared to what I usually do," Mr Trump said, in Mr Pratt's recounting.
It is not clear whether Mr Pratt shared these accounts with prosecutors or whether prosecutors are aware of the recordings.
Mr Pratt also describes on the recording how Mr Trump asked his wife, Melania, to strut around Mar-a-Lago in her bikini "so all the other guys could get a look at what they were missing".
In a statement, a representative for Mr Trump condemned prosecutors and said the information was coming from "sources which totally lack proper context and relevant information".
Mr Trump said Mr Pratt 'seemed like a nice person'
In his own statement, Mr Trump defended his relationship with Mr Pratt. "He's a member of the most successful club in the country, Mar-a-Lago, and from a friendly country in Australia, one of our great allies," Mr Trump said. "I don't know him well, but he seemed like a nice person. He built a factory in Ohio and created American jobs, which I'm in favour of."
Representatives for Mr Pratt did not respond to several requests for comment.
Mr Pratt, who had once pledged $US1 billion to fight climate change at the Clinton Global Initiative, was a relative latecomer to Mr Trump's corner.
It was only after Mr Trump won in 2016 that Mr Pratt raced to embrace him, congratulating the president-elect on Twitter. Mr Pratt's spouse, Claudine Revere, an American whose company ran catering at the Mr Trump-operated skating rink in Central Park, donated $US1 million to the Mr Trump inauguration. As a foreign citizen, Mr Pratt could not donate, but he attended the event and soon dropped a reported $US200,000 on a Mar-a-Lago membership.
At an event in May 2017 attended by Mr Trump, Mr Pratt pledged to invest $US2 billion to create manufacturing jobs, mainly in the Midwest. He credited the move to Mr Trump, who called it "beautiful".
"Everything that he does, he is making America greater," Mr Pratt said of Mr Trump on Fox News.
By the end of Mr Trump's first year in office, his presidency was bearing fruit for Mr Pratt. The Australian Financial Review estimated that Mr Trump's 2017 corporate tax cut helped boost Mr Pratt's personal wealth by more than $US2 billion.
At the Mar-a-Lago New Year's Eve party that year, Mr Trump was captured on video feting Mr Pratt, a recording that Mr Pratt then emailed to Mr Trump's agriculture secretary, Sonny Perdue. At the time, Mr Pratt and Mr Perdue were also discussing the US food supply, an issue vital to the packaging industry.
The seesaw of goodwill continued in the spring of 2018, when Mr Pratt took out a full-page ad in The Wall Street Journal linking Mr Trump to the creation of manufacturing jobs. (In an interview with The Australian newspaper, Mr Pratt said he had told Mr Trump that he was building his "next big operation" in Pennsylvania, which he noted was "a big swing state".)
'Ladies and gentlemen, the great Anthony Mr Pratt!'
When the two men crossed paths at a dinner in Mar-a-Lago soon after the ad appeared, Mr Trump remarked, "Anthony, great to see you and thanks for the ad!" The Australian Financial Review reported.
Mr Trump then announced to the dining room, "Ladies and gentlemen, the great Anthony Mr Pratt!"
The room erupted in applause.
Once Mr Pratt had access to Mr Trump, he only wanted more.
"Is POTUS going to be at MarLago again this season and if so do you know when," he wrote to a Mar-a-Lago employee in May 2018, according to records that were turned over to the special counsel's office and reviewed by the Times.
Mr Pratt then returned to Mar-a-Lago for New Year's Eve for a second straight year, inviting a number of guests and clients.
A witness in the federal documents case told prosecutors that Mr Pratt spent $US1 million to attend the party, well in excess of the normal charge, according to people with knowledge of the testimony. The witness did not have firsthand knowledge of the claim, and it is unclear whether prosecutors ever verified it. Mr Trump's company, the Mr Trump Organisation, did not respond to requests for comment.
Mr Trump was a no-show for the 2018 New Year's Eve party. With the government shut down, he remained in Washington.
Mr Pratt soon pivoted to the next big holiday.
Mr Pratt asked the Mar-a-Lago employee in early 2019: "What are the odds the President will be at MarLago for Easter?" Mr Pratt was in luck that time.
Later that year, Mr Pratt attended a state dinner at the White House for Mr Morrison, then the prime minister.
'He's got incredible balls'
By spring 2020, Mr Pratt set his sights on the possibility of an election night party.
Months before the election, Mr Pratt contacted the Mar-a-Lago employee to say that "the us federal presidential election is on Tuesday November 3" and to ask, "Will mar Lago be open the weekend before?"
He offered to book as many rooms as possible at the club, where he liked to entertain clients.
Mr Pratt followed up, asking, "can u find out if election night will be at mar Lago if so I'll come with guests".
Although Mr Pratt's election night hopes ended up being dashed, he often sounds almost giddy in the secretly recorded conversations at his proximity to the leader of the free world and his entourage. He also speaks admiringly about how Mr Trump learned from his mentor – lawyer and fixer Roy Cohn – how to walk up to the line of illegality without crossing it.
"He's got incredible balls," Mr Pratt says. "Mr Trump says, 'Would you go and tell that guy over there to steal for me?' And so he can say, 'I never told the guy to steal.' And things like that is how Mr Trump gets away with it."
Mr Pratt also boasts in these private conversations about his relationship with Rudy Giuliani, now under indictment in Georgia on charges of conspiring with Mr Trump and others to subvert the 2020 election results.
'Rudy is someone I hope will be useful one day'
Mr Pratt says on one recording that he paid Mr Giuliani about $US1 million to come to his birthday party as a celebrity guest. The pandemic prevented Mr Giuliani from attending, but Mr Pratt says on the recording that "now he rings me once a week".
"Rudy is someone that I hope will be useful one day," Mr Pratt says. A spokesman for Mr Giuliani did not respond to requests for comment.
In a draft version of a speech that Mr Pratt gave to a Jewish group in the northern hemisphere autumn of 2019, he bluntly planned to reveal becoming a member of Mar-a-Lago to get a "seat at the table where the president relaxes socially, and mingles with his guests".
The draft speech, provided to the Times by 60 Minutes Australia, tracks closely with the remarks delivered by Mr Pratt but contains several crossed-out lines that describe a transactional relationship with Mr Trump. It is not clear whether Mr Pratt himself wrote the speech or whether he crossed out the lines.
Membership at Mar-a-Lago, a crossed-out line of the draft states, "definitely turned out to be a strategic investment – and a very good investment".
Another crossed-out line: "President Trump is a very reciprocal man."
On one of the recordings, Mr Pratt recounts a drive in Mr Trump's presidential motorcade, in December 2019, when the president regaled him and Republican South Carolina Senator Lindsey Graham about the airstrike he had ordered in Iraq a short time before. He also says Mr Trump told him about a private phone call he had with the Iraqi leader.
"He said, 'I just bombed Iraq today and the president of Iraq called me up and said, "You just levelled my city,' " Mr Pratt recalls on the audio recording. "And he said, 'I said to him, OK, what are you going to do about it?'"
In an interview, Mr Graham said he had no recollection of the conversation. And it is unclear whether the conversation with an Iraqi leader, as described by Mr Trump in Mr Pratt's account, actually happened.
Three months after Mr Trump left the presidency, Mr Pratt joined Mr Trump in his office at Mar-a-Lago for a chat, during which the Australian businessman suggested Australia should purchase submarines from the United States.
That prompted Mr Trump to lean in, as if aware he was sharing a confidence, in Mr Pratt's account to investigators. According to Mr Pratt, Mr Trump described the number of nuclear warheads that US submarines typically travel with, and their stealthy proximity to Russian waters.
In November 2021, Mr Pratt flew to Florida to have coffee at Mar-a-Lago and meet with Mr Trump, records show. It is unclear what they discussed, or if they have met since.
This article originally appeared in The New York Times.