This week has been peppered with breakfasts at Bills with Andrew Denton, by accident, coffees, by intention, with tax gurus mon and tfa and luncheon with Dr Cope and the Bullabarra May Pole dancers ...
I remember Gladys, even then known as the "Northbridge grrl", as a shy and green young researcher when she used to do research at the NSW Parliamentary Library back in the 1980s and 1990s
...
Armenian grrls are partial to New Idea Type of magazines and tend to be fond of
Blokes from the sunny lands of Joh Bjelke-Petersen
Memories keep flooding back after seeing some of these stories again ... One comes across even Marice Payne one of the best dancers at Press Christmas Parties as Gladys worked On the staff when Marice was a Senator ... All roads seem to lead to the Bear Pit ...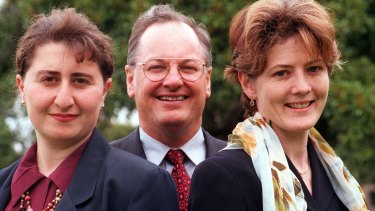 Back then if anyone asked me who might be the leading ladies out of all the potential young women in the Liberal Party I would have thought then Cathy Cusack as Cathy was the most social and friendly out of the pool ... But again even in October 1989 if anyone asked me if the Berlin Wall would collapse I would have said not in my lifetime ... So do not take any tips from me.... ( I think the kiwi birds 🐦 🦅 are better than I am when it comes to predictions
New Zealand Birds Show Humanlike Ability To Make Predictions
)
'Nothing I will ever do in life professionally will compare': Lunch with Gladys Berejiklian
Gladys Berejiklian used to half-heartedly joke to her school friends that she wanted to go into politics. But she didn't mean it. Her heart was set on being a science teacher.
Berejiklian is a self-confessed goody two-shoes, which began the day she set foot in North Ryde Public School. She did not speak a word of English, only Armenian, but that did not hold her back.
She loved everything about school. The bookish Berejiklian, who later attended Peter Board High, was well-rounded, proud of her uniform (a standard public school navy blazer and green tartan skirt) and revelled in the camaraderie of being in the softball team, even if she was anything but sporty.
Gladys Berejiklian has vowed to run again for Premier in 2023, declaring she has not thought about life after politics.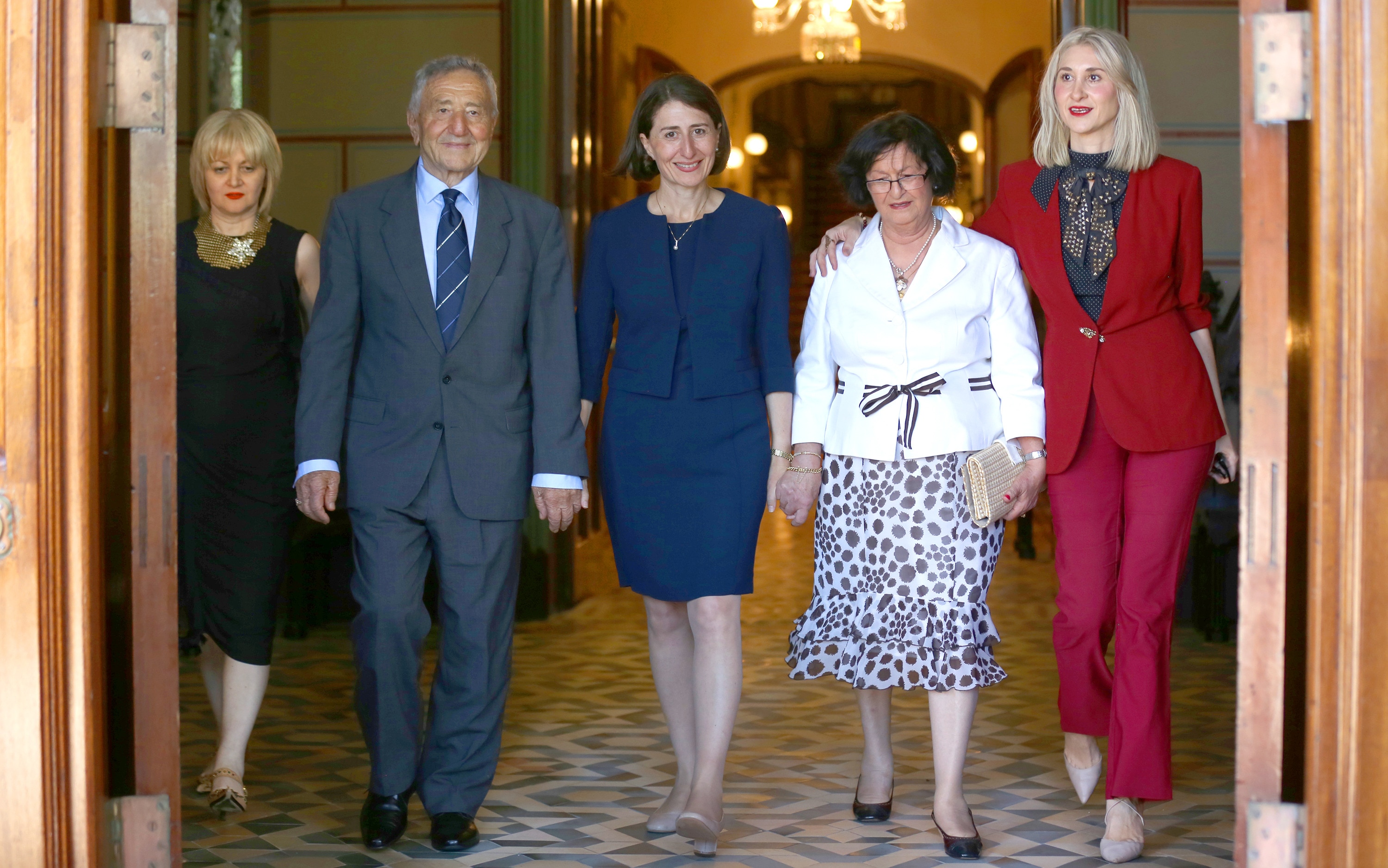 And her competitive streak came through early. "I was obsessed with school and I was always worried about making sure I got into the highest class," Berejiklian says.
More than four decades later public education is still the Premier's passion and she says schools policy will be her focus this year. That and rebuilding the state after the summer from hell.
Berejiklian made history a year ago when she became the first elected female premier in NSW. Before that she was the state's first female treasurer under former leader Mike Baird. But Berejiklian, who is notoriously private and cautious, does not like to focus on her achievements as a woman.
Since rising to become leader in January 2017, Berejiklian has studiously avoided weighing into the gender debate that has at times engulfed the Liberal Party. She repeatedly says that she wants actions to speak louder than words.
It's a warm Friday and the small Lotus Dumpling Bar in Walsh Bay is heaving when we meet. She has brought a media adviser with her, who assures me she is there to just sit on the sidelines.
Berejiklian is apologetic about her outfit (a perfectly acceptable smart purple blazer and trousers). She is off to the women's T20 cricket later and tends to feel the cold at night, she explains.
Berejiklian used to also love gossip magazines but doesn't have time for those anymore. Instead, she tries to make sure she reads for pleasure, mainly biographies, and is halfway through Macquarie by Grantlee Kieza, the story of colonial governor Lachlan Macquarie.
Fashion is her other great love and is just as keen to talk clothes as she is reality TV. She is at her most relaxed when she is not restricted to government talking points.
"You can't tell by looking at me, but I do follow fashion," she says.
"I love fashion, I love supporting Australian designers. I don't wear a lot of their clothes but I love Aussie designers who still manufacture in Australia so I love Carla [Zampatti] and Karen Gee". (Berejiklian wore a pink Karen Gee dress to her election victory party last year).
"I love that they are strong Aussie women, Aussie designers who manufacture here."
Gladys Berejiklian: sky's the limit for self-made Liberal
In her maiden speech in 2003, Gladys Berejiklian thanked her Armenian migrant parents, Krikor and Arsha, "for making me believe­, ever since I can remember, that the sky is the limit".
Since her university days Ms Berejiklian has been on a straight linear path to the top of the Liberal political ladder in NSW through a combination of hard work, competence, a pragmatic approach to public administration, and a good sequential selection of mentors.
Half a dozen other names are floating around as possible challengers­ for the job of just-resigned­ Premier Mike Baird, includin­g the Transport Minister Andrew Constance and Planning Minister Rob Stokes
But support for Ms Berejiklian goes beyond her centre-left faction­ within the NSW Liberal caucus known as the Moderates, and she is expected to easily win a partyroom ballot on Monday, which may not even be contested.
"She has a discipline, she has a knowledge base, she's a hard worker, she's intelligent and she's liked, and you usually need only four out of five of those," an influential figure in the NSW Liberal Party's right-wing faction said.
Liberal sources said in any event, when she became Treasurer and deputy Liberal leader, Ms Berejiklia­n had risen above the factions to become non-aligned, and her upward moves from one echelon to the next had been based on merit rather than factional manoeuvring.
Ms Berejiklian's first political mentor, former NSW Liberal leader and MP for the seat of Willoughby on Sydney's lower north shore, Peter Collins, gave her a part-time job when she "walked in off the street" to his electorate office­ one day when she was at university, and later made her his full-time research director.
"She's standout competent," Mr Collins said yesterday.
When he announced that he would not recontest Willoughby in 2003, "one of the first calls was to Gladys" to encourage her to run for preselection in that seat, which she won and has held since.
But while she had guidance from some influential Liberal figures along the way, Mr Collins cautioned, "she is very much her own person".
"She has very seriously trained for this job … she has put together the skill set necessary," he said.
Ms Berejiklian, 46 and born in Sydney, represents the classic Libera­l battler story: the daughter of working-class immigrants from a troubled part of the world who went to a state school, then put herself through university.
Graham Richardson, aka "Richo" or "Cardinal Richlieu", has infuriated his comrades in Sussex Street with anti-Labor broadsides prompting moves to expel him. Is this a good idea?
Continue reading
She earned a bachelor of arts and graduate diploma in inter­national studies from the University of Sydney, and a masters of commerce from the University of NSW. Politically, Ms Berejiklian was a rising star from an early age, being voted president of the NSW Young Liberals from 1996-97.
After she moved on from Mr Collins's office and before entering parliament Ms Berejiklian worked as a staffer for then Liberal NSW senator Helen Coonan, and later as an executive with the Commonwealth Bank.
After a couple of junior portfolios, Ms Berejiklian took on transport where, sources said, as minister starting in 2011 she was tough in demanding results from senior public servants, which grated with some of them.
"She asked the CityRail bosses what they would change to make it better-regarded," a source said.
"They said, 'we could get rid of the graffiti', and she replied, 'good, get me a plan to get it done in a month'.
"She's very good at identifying the problems and saying, 'give me the solutions'."
The outcomes of big transport projects under Ms Berejiklian were mixed but mostly positive — a new light rail project has suffered massive cost blowouts but the Opal-integrated smart card fare system has been a success.
As Treasurer over the past two years, Ms Berejiklian achieved sterling fiscal results.
Reading her maiden speech, Ms Berejiklian's political philosophy might be divined as social liber­tarian. She quoted John Stuart­ ­Mill, and told the house: "Liberalism ensures that government will always support those in need and allows individuals to live freely so long as they do not imping­e on the freedom of others.
"I strongly believe that governments should strive to achieve the liberal principle of equality of opportun­ity as opposed to the Labor Party's ideological position of equality of outcome."
Ms Berejiklian has kept connec­ted with her Armenian ancestry­; her grandparents were orphaned during the genocide under the Ottoman Empire in 1915, and she attended the 100th commemoration of that tragedy in Armenia in 2015.
Ms Berejiklian has never married­ and has no children.
"I think Gladys is very single-minded: she has been building her life and her career, and she doesn't have a lot of time to socialise," someone who knows her well said.