The more we live by our intellect, the less we understand the meaning of life.
— Leo Tolstoy, born on this week in 1828
When life gives you lemons, make limoncello or create wild meadows
16 Cszheslakish spiritual communal seats at Olek's 28th inside Matinee Coffee is a cafe on (M)addison Street
Inside the cafe one muralled wall references Polish Slavic Soviet-style film poster art, another holds an illuminated menu like the Coming Attractions sign of yore. The long broad sweep of the counter is filled with promise (and lemon meringue tarts), overhung with the most perfect pendant lights and backed by glossy white tiles. I'm expecting an usherette to pop by any minute with a tray of Eskimo Pies.
In a world in which we're always on and always connected, going to a matinee is a strangely liberating act of surrender to whatever might happen. Like a cafe, it's a daytime show, whisking you off the street and into a parallel universe full of action, drama and humanity, where, for a short time, you are part of a larger whole.
And so it is, at Matinee Coffee, down the Coffee Alchemy end of Addison Street, Marrickville. In his post-Brewtown-Newtown phase, cafe industry stalwart Charles Cameron has opened the cafe of his dreams, open all day, every day.
The lively dynamic comes from openness to the street, the visible wall of graffiti across the laneway, and the theatrical cast of people that wander in, from young mums with wagon-trains of prams to girls huddled over coffee and homework.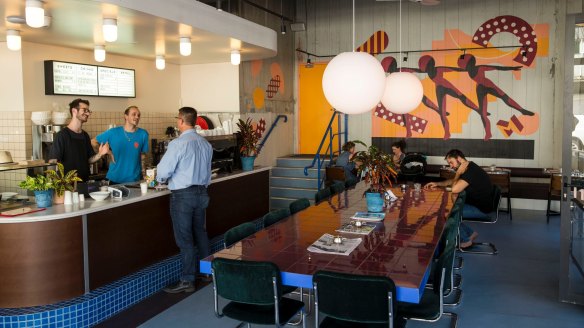 The 16-seat communal table with glossy cranberry tiles and green velvet seats is Matinee's centrepiece.
DOMINIC LORRIMER
When life gives you good godson
Welcome to the daytime show at Matinee Coffee, Marrickville Jill Dupleix

"Ask yourself how old would you be if you didn't know the day you were born."
Turmeric as effective for acid reflux as pharmacy drugs, trial shows New Atlas
Vicki Wild and Martin Benn's book is designed to demystify as much as inspire.
Family Knows Best, The Bohemians Italians Coming
The Dinner Party
The real hasselback potato, invented in the Hasselbacken restaurant in Stockholm in the 1950s, has had a renaissance over the past few years," says Martin Benn.
"This version doubles down on the crunch by stacking the sliced potato vertically in the baking dish."
Ingredients
Method
Heat the oven to 185C. Peel the potatoes, rinse under cold water and trim the ends flat.
Using a mandoline or electric slicer, slice each potato into rounds about 2mm thick.
Melt the butter in a small saucepan until it bubbles, then pour over the potato slices. Season with salt and toss gently until each slice is coated.
Start filling a 20cm round ceramic pie dish with a few potato slices, placing them vertically and side-by-side. Use one hand to hold the slices in place, as you add further slices, three or four at a time, until the dish is tightly packed.
Dust paprika over the top, bake for 40 minutes until crisp and golden. Remove from the oven, allow to cool for five minutes before serving (or bake ahead and reheat at 180C for 12 minutes).
It's a sign of the times when one of our most creative and lauded chefs wants you to stay home and cook



Australia's best organic wines The recent national awards illustrate how far this market segment has come. And consumers are the winners
Back in the early 1990s, when I started writing about organic wines, if you were one of the mere dozen or so grape growers and winemakers in Australia who had converted to certified organics or biodynamics in your vineyard, you were seen by the rest of the industry as a bit of a loony – a fringe dweller catering to tree huggers.
There were exceptions – Penfolds even had an organic vineyard in the Clare Valley for a while – but these were usually operations established by more commercially minded Australian producers targeting European export markets, where organic wines were more accepted.
A decade or so later, with organic food inexorably drifting into the Australian mainstream, more and more winegrowers jumped on board for the ride. At a wine show I judged in the mid-2000s as part of Organic Expo, 25 producers entered 85 wines. At a show a decade later, there were 150 wines from 34 producers.
These days, of course, organic wines have become a comfortable feature of the vinous landscape and are no longer seen as weird and niche.
Not only do huge-volume commercial brands such as Jacob's Creek now have organic labels, but some of this country's top winemakers – from Grosset and Mount Horrocks in Clare to Cullen in Margaret River and Yangarra in McLaren Vale – are now certified organic and biodynamic.
And no one bats an eyelid.
The results of the 2023 Australian Organic Wine Awards, announced in Sydney last week, reinforce this message of acceptance – and quality.
Forty-five certified organic and biodynamic producers from 32 regions across the country entered 211 wines made from 70 grape varieties. The wines were judged by Mike Bennie, wine writer and co-founder of P&V Wine + Liquor Merchants; Ramon Arnavas of wine distributor Negociants Australia; Alexandra McPherson, group beverage director of STK Group; and the show's scholarship recipient, Sophia Gannon.
The trophy categories this year and the diverse line-up of wines that won them provide a good picture of the various factors driving the organic wine sector.
As well as the usual Best White, Best Red and Wine of Show trophies (reviewed below), gongs included Best Park Wine (which went to the 2022 Yalumba Gen viognier from South Australia), Best Left of Centre Wine (2022 Stormflower pét-nat from Margaret River), and Best Chillable Red (2021 Tscharke A Thing of Beauty grenache).
So: a sub-$15 fresh and fruity white made by a large company and recommended for stashing in the esky the next time you want to catch up with friends for a picnic; a cloudy, wild-fermented fizz with no additions and no preservatives; and a slurpy, smashable chilled red. All wine styles, in other words, that are hugely popular with the 20-something consumers who are driving this category, and for whom organic certification is important.
There's another trophy category, too, Best New Entrant, which encourages more winegrowers to take part in the show. This year, the gong went to the 2020 Carlei Estate Fruit Day shiraz from Heathcote, a wine picked – as I wrote about here – according to the lunar and planetary cycles of the biodynamic calendar.
As I say, once upon a time producers such as Carlei were dismissed by the wine industry as nothing more than – in one Barossa winemaker's unforgettable words – "the mung-bean munching hippie crowd".
Now they're winning trophies at national wine shows and being embraced by Australia's wine drinkers.
Tasting the best in organic wine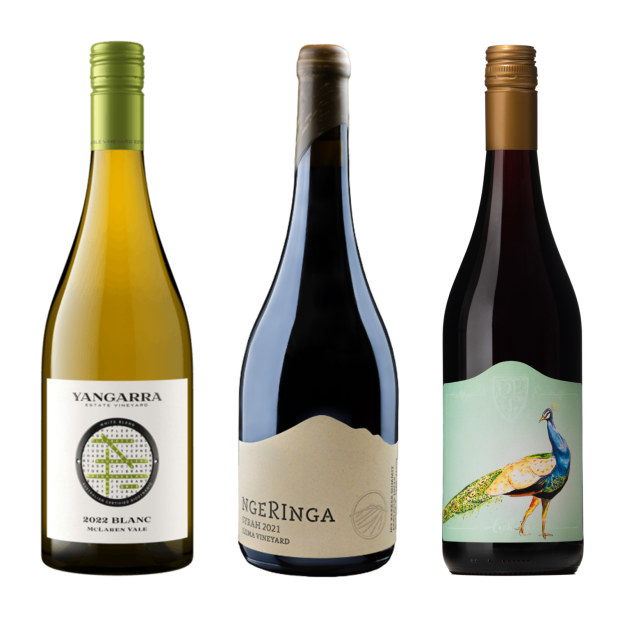 2022 Yangarra blanc [McLaren Vale]
Winner of the trophy for best white at the Australian Organic Wine Awards, this is a fascinating and delicious blend of 80 per cent grenache blanc, plus roussanne, bourboulenc, clairette, grenache gris and piquepoul blanc – all grapes originally from the south of France, now grown in Yangarra's certified biodynamic vineyard in McLaren Vale. The wine is an excellent example of why so many people are excited about the potential of grenache blanc. There's a lovely, pulpy, creamy texture to it, but also a freshness and mouthwatering quality, as well as some wonderful floral and spicy hints and a line of nerviness provided by the other grapes. $30 yangarra.com
2021 Ngeringa Iluma syrah [Adelaide Hills]
Winner of the best red trophy and named the Cullen Wines Trophy for Wine of Show at the awards, this is a lovely example of how well-suited the Mount Barker subregion of the Adelaide Hills is to shiraz. Grown in a gently sloping vineyard full of micaceous schist and ironstone over clay, the wine is bright, juicy and spicy, with fine silky tannins. But there's also a great density to the dark fruit and a fabulous savoury edge, a hint of earthiness, even truffle. $70 ngeringa.com
2021 Tscharke A Thing of Beauty grenache [Barossa Valley]
Clever trophy, this: Best chillable red. When I tasted this wine recently, I found its fragrant, soft, generous red fruit and slippery tannins veered towards being a little cloying (the wine is partially matured in terracotta amphorae, which can result in a mouth-coating texture). But when drunk chilled, the fruit and perceived sweetness are dialled down and the freshness and snappiness dialled up. $28 tscharke.au
Read next in Drinks by Max Allen