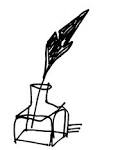 "The very Truth has to change its vesture, from time to time; and be born again. But all Lies have sentence of death written down against them, and Heaven's Chancery itself; and, slowly or fast, advance incessantly towards their hour."
Klokan Kangaroo Paws on level Three Oct 2015 AD
Maung Saungkha has been avoiding the authorities for weeks and could reportedly face up to three years in jail for the Facebook post he published earlier this month, reports The Daily Mirror.
The poem is titled
Image
and a part of it reads: "I have the president's portrait tattooed on my penis / How disgusted my wife is."
Has It Become Impossible to Prosecute White-Collar Crime? Bloomberg.
"But the pattern suggests that law enforcement may have lost the ability to choose the right cases, or that it lacks the expertise to try them in a courtroom in a way that makes sense to jurors, many drawn from the ranks of working people who must struggle to understand the vast, mind-boggling modern financial system."
Truth prevails: How a Small Group of Dedicated People Might Actually Do Something

Well, you've heard that wonderful Margaret Mead quote about how you should never doubt that a small group of dedicated people can change the world, and that, indeed, it's the only thing that ever has. Well, I think it's time we stopped repeating that quotation and came to some agreement about what we happy few might do over the next five years or so. That is the purpose of my remarks today.
· People Power [CommonDreams]
Utopian fantasies are a genre of the Left, more a rebuke to the present than a

vision of the future

. The tradition starts with Thomas More
Up isn't down, black isn't white, and higher taxes on the rich don't do nothing about inequality. The question, though, isn't whether they do anything — it's how much they actually do.
The answer might be less than you think. That, at least, is what William Gale, Melissa Kearney and Peter Orszag
found
when they simulated what raising the top tax rate would do to inequality as measured by the Gini coefficient. It turns out that increasing the top rate to 50 percent would only reduce the Gini, where 0 is perfect equality and 1 is perfect inequality, from 0.574 to 0.571.
We would still be the 99 percent
.

In Prague and Bratislava people compare their Skodas with BMW, Volvo or Volswagen not with Cadillacs and Jaguars. The Austrian model is preferred to Wall Street's free for all. The Austrian model has worked with rather than against the free market, balancing the requirements of social justice and economic sufficiency.
Praha's - Prague's Second Spring
Even Down Under, the word socialism is treated very warily, since more than one communist politician has managed to abuse the concept of socialism. Still the democratic style of socialism practised in West Germany, the Scandinavian countries and Austria is proof that socialism can work.
You see, Money doesn't exist in the 24th century"
FT Alphaville
Six Air France Workers Arrested After Violent Demonstrations Last Week
Gawker. Meaning the effort to strip the execs. Although if the execs resisted having their clothes taken off (which you'd expect), one can see ho things would rapidly get physical.
Auction results at the weekend in Sydney reached a "watershed" low with just biblical evil 66 per cent of properties actually selling — down from a mammoth 90 per cent clearance rate in May, reports The Daily Telegraph.
Angry investor stabs China asset manager
Financial Times
Man arrested, accused of planting bombs on California golf course
Reuters